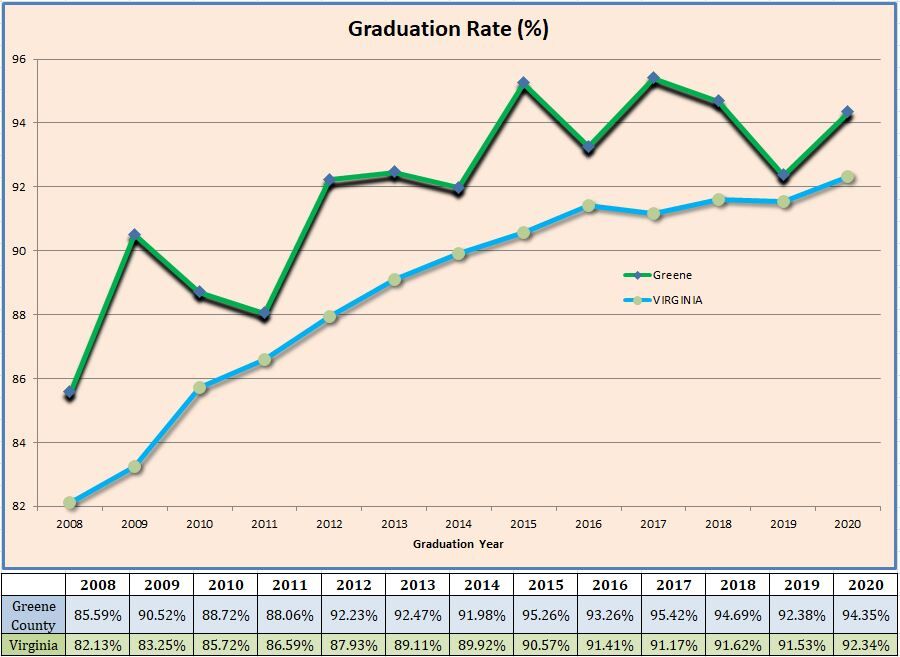 Despite the unusual end to the school year this spring, Greene County's high school on-time graduation rate was more than 94% for the class of 2020. That's a 2% increase over 2019.
The Virginia Department of Education (VDOE) calculates the graduation rates each year based on how many individual students attended the school all four years and completed graduation requirements within four years. VDOE takes into account any transfers in or out of the school and adjusts for students with disabilities who may take longer than four years to graduate. The standard diploma, advanced studies diploma, modified standard diploma and GED are all included. These statistics are used as part of the accreditation process for high schools.
Accurate graduation data for schools, school divisions and the state support decisions, policies and programs to improve educational outcomes for students, according to the VDOE.
In Greene County, the past 12 years have shown an overall improvement of graduation rates. Greene has also consistently scored better than the state average. The graduating percentage for the class of 2020 was 94.35% in Greene and 92.34% overall in Virginia.
"One of the areas of main focus year after year is that graduation rate," said Greene County Public Schools Assistant Superintendent Bryan Huber. "It's an effort pre-K through 12 with all of our staff and teachers. We're excited and proud of the fact that the numbers are where they are and that 94% of the class of 2020 was able to graduate on time; that's a huge achievement."
With the abrupt closure of schools in early March due to the COVID-19 pandemic, extra effort was made to ensure the class of 2020 completed all graduation requirements, Huber said.
"We were able to get really creative in trying to come up with solutions to help seniors finish strong," he said. "We also spent a lot of time making home visits and tracking down students to make sure that they were completing all the necessary requirements and getting everything … that they needed in order to graduate. Our staff did a really good job trying to ensure that we didn't have any students fall through the cracks after the closure."
The school's high graduation rate reflects well on the staff and administrators of not only the high school, but the entire county.
"I really think it's a community effort, and I think it's a K-12 effort," Huber said. "We talk about that all the time with our staff that the graduation rate is not just reflective of what happens in grades nine through 12; it's what happens the moment students come to us from as young as preschool when they're 4 years old and our ultimate goal is for them to walk across the stage and it takes everybody to do that. It takes all of our teachers and staff and leadership. It takes our families working in collaboration with us and it obviously takes the dedication and hard work of our students and the support of our community which we feel was really strong and has really allowed us to maintain that high level of success for our kids."
With only one high school in the county, administrators are able to cater support to individual students to track them through their school careers.
"There's been a definite effort at the high school and at the division level to really try to take each individual student on a case-by-case basis," Huber said. "From the moment the come into the high school, we're watching every single kid to try and make sure they don't get off track when it comes to graduation requirements and the things they need to be successful. So, that's been a concerted effort over the past several years to really monitor each and every student and provide early interventions, not waiting until they're a senior to try to address some issues but trying to do that earlier in their academic career."
Nearby localities' on-time graduation rates for the class of 2020: Albemarle County had a 91.82% graduation rate; Charlottesville city was 94.52%; Fluvanna County graduated 95.56%; Louisa County's rate was 93.72%; Madison County had a 94.70% rate; Orange County graduated 95.02%; and Page County's graduation rate was 98.86%. The state average was 92.34%.
Be the first to know
Get local news delivered to your inbox!