Derek Leake grew up in Albemarle County and took classes at the Charlottesville-Albemarle Technical Education Center (CATEC) before moving to Greene County after high school. A 2018 graduate of the University of Virginia apprenticeship program and former UVA Facilities Management HVAC mechanic, this fall he took on the role of HVAC teacher for the Greene County Tech Center.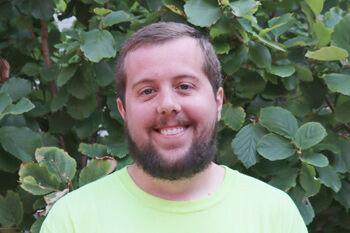 "Derek Leake has already made a meaningful impact on his students," said Tech Center Principal Jess Peregoy. "They are OSHA trained and in the shop every day. He has gotten over $1,500 worth of equipment donated to the program. He has already helped students obtain jobs in the HVAC field and is working on getting representatives from the UVA Apprenticeship program here to introduce students to trade school possibilities after graduation."
Leake said he "sort of fell into" the heating, ventilation and air conditioning (HVAC) field after high school.
"I worked for a small residential company fresh out of high school," he said. "It was kind of one of those things where I … didn't want to go to college, but I didn't have anything I wanted to do. The owner—B. Brown of B's Heating and Air—was nice enough to say come give it a shot and see if you like it. Once I got in, I loved it—he was a great mentor."
To earn an HVAC license, individuals need four years of classroom training and four years of full-time work.
"We get them the two years of schooling (at GCTEC) and then at the end of year two, we have (local companies) come in and hire the students and they can work for two years before they have to take their last two years of classes," Leake explained.
Leake's predecessor in the role, Harold Shifflett, held an annual signing day for students accepting positions with Robertson Electric, Mack Morris Heating and Air, DuctRite and other local employers.
"We hope to make it bigger," Leake said. "Harold started it out and we love it, so HVAC is going to continue and I know Ms. Peregoy is trying to get the other trades involved. The kids love it, the businesses love it, we love it and they get their time to shine."
Leake completed his apprenticeship with UVA before joining the facilities management team at UVA hospital as a mechanic, and said serving as a trainer for other apprentices showed him how much he enjoyed teaching.
"When (the apprenticeship program) would come to our zone, they gave me some apprentices and I loved it," he said. "Seeing those kids—I know how it works and I know if I push this button it's going to turn on, but they don't know—watching them troubleshoot and then figure it out on their own … I loved it, and that's what made me want to come up here."
After the birth of his first child, Leake and his wife were looking forward to finding him a job with more regular hours so he could spend more time at home with the family. Shifflett's retirement opened up the perfect opportunity.
"Working with those apprentices, I was pretty much a teacher but it was one on one; now it's one on 15," he said. "Going through UVA and figuring it out, I think now I can help the next generation get ready … so when they get out, they know what they have to do, where they're going to take their tests."
In addition to his first-hand knowledge of the HVAC field, Leake brings along important connections to help his students succeed. He will be inviting former colleagues from UVA to volunteer with his high school students to share more of what the training is like after leaving high school, and he was also able to secure new equipment donations for the students.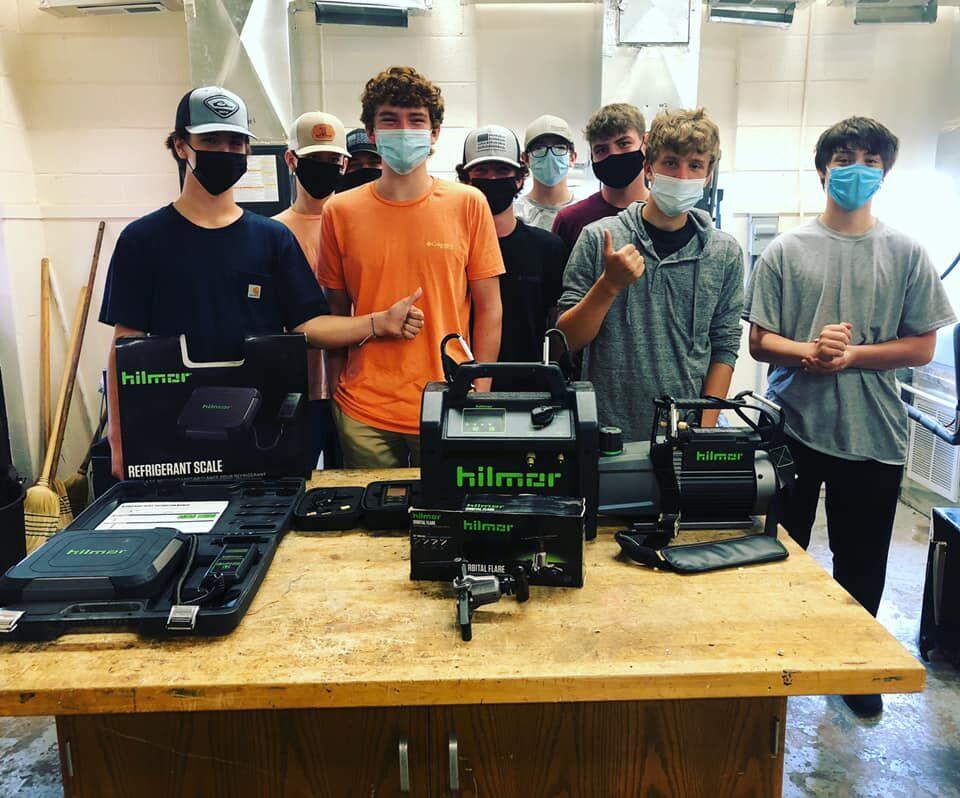 "I sent out emails to all the big corporations that I could think of that sell HVAC equipment," Leake said. "We had Diversitech, Fulmer … they all donated a lot of stuff and we're really grateful for it—just to have the boys touch different types of equipment that we usually wouldn't be able to afford."
The benefit of the Tech Center is the ability to give students hands-on experience with real-world equipment as part of their training. Having the most up-to-date models and technologies available means their skills will be immediately marketable after graduation. Diversitech was one of the companies that made a sizeable donation of gently used or "scratch and dent" equipment to the HVAC program last month—valued at more than $1,500.
"Especially in the last 10 years, how we're all going green and lowering electricity bills, everything's getting more complicated—more electrical circuits, a lot more safety switches," Leake said. "It's an ever-changing field and that's why it's nice to be able to stay up-to-date with the new equipment. Mini-splits are the new thing, especially for old buildings; we were (lucky) enough Robertson donated us two … they're really high-efficiency—barely use any electricity."
A mini-split is a high-efficiency air conditioning unit that is usually controlled by a remote and mounted in the wall rather than ducted. When equipment is brought to the tech center, the students will either practice taking apart old equipment or the teachers will install the newer items and then "break" them so the students can practice finding and fixing the problem.
"I always tell them 50% of HVAC is electrical and 50% is refrigerant, so we do a pile of electrical in here," Leake said. "I hope that even if they don't want to do HVAC—if they want to do electrical, plumbing, welding—we hope to get the students jobs, regardless of what it is." HVAC students can also go into warehouse work or warehouse management or transition into electrical work with the building trades program.
Each of Leake's classes is currently working on braising, which is joining two copper pipes together by melting a piece of silver with a hot torch.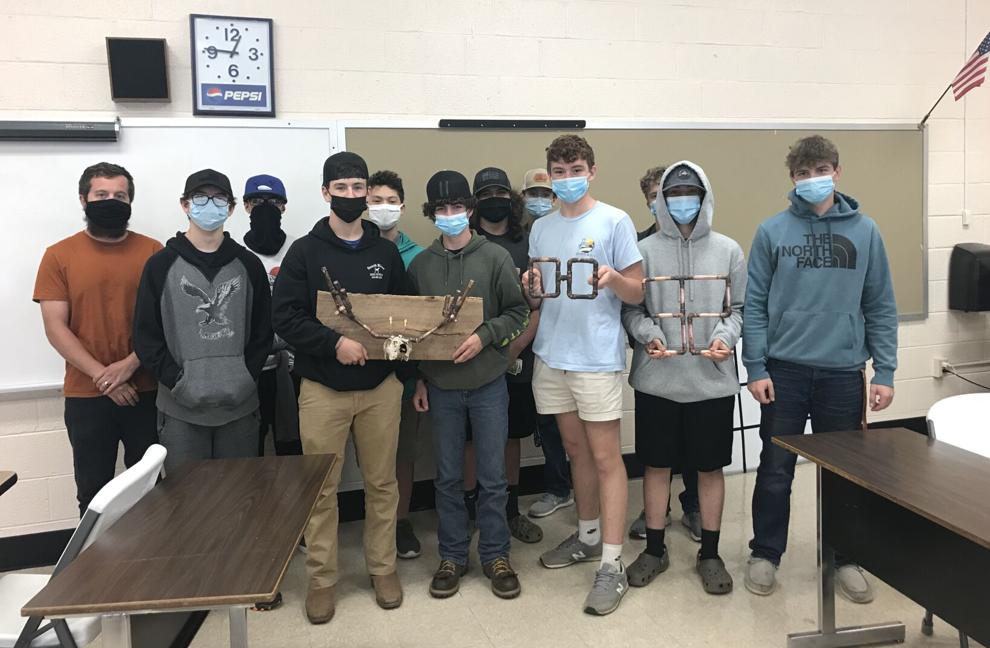 "Each class is making a project and each student has to do one joint, so I have one class doing deer antlers and then I have another group doing 434," he said. "It's nice to learn the theory of HVAC but I think the hands-on is what gets them. I just went out in the shop and took all of our units and broke them all and told the kids, 'it's going to get hot in here—you'd better fix it'."
At the end of the year, the HVAC students will make dragons out of copper that breathe fire. They also plan to collaborate with the building trades students to help install the HVAC systems in the latest Habitat for Humanity project house when the time comes.
With only one female student currently enrolled in HVAC this year, Leake plans to work with Peregoy to introduce HVAC to more underrepresented populations for next year's open house.
"I think if we can get some to come in and just try it, then more will follow," he said. "A lot of them don't know what HVAC is so if I get the chance to talk to them, I let them know. I think it's becoming a more diverse field and I think we'll see more females enter it as we progress along."