1:45 p.m. update: a severe thunderstorm watch is in effect until 8 p.m. for much of Central Virginia.
The watch area includes the Charlottesville area, metro Richmond, the Tri-Cities, Tappahannock, West Point, Williamsburg, Emporia, Farmville and Lynchburg.
Damaging wind gusts would be the main reason we see any severe thunderstorm warnings issued over the next several hours. Today's environment does not favor large hail or tornadoes, but does provide plenty of ingredients for heavy rain and straight-line winds.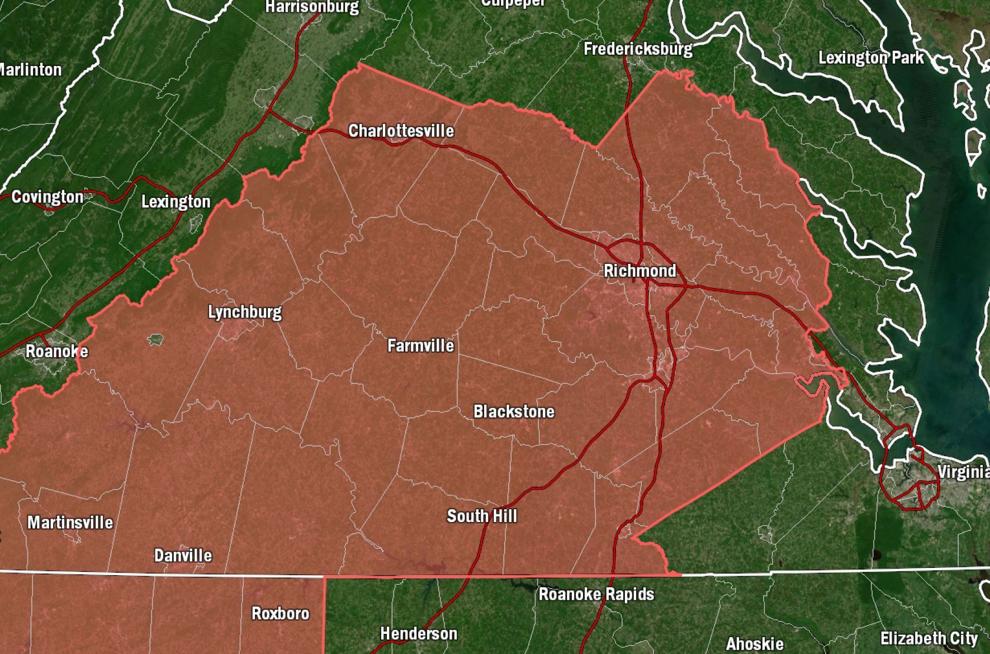 The weather may be a big factor for the afternoon commute, or for traveling across the commonwealth later today.
Scattered downpours could cause parts of central and southeastern Virginia to deal with flooded roads or downed trees this afternoon and evening.
When: A flash flood watch is in effect for much of the region from 2 p.m. to 11 p.m. according to the National Weather Service in Wakefield. Storms are likely to develop in the early afternoon, become scattered or widespread across central Virginia during the late afternoon, then gradually shift toward Hampton Roads or northeastern North Carolina during the evening.
Where: The flash flood watch covers metro Richmond (except Hanover County), the Tri-Cities and points south and southeast through Williamsburg, Emporia and Hampton Roads. Storms and downpours are also possible elsewhere through the Piedmont, but flash flooding may develop more quickly over those aforementioned urban areas.
Rain totals: Some areas may get more than 3 inches of rain, and some may get nothing, but most will see something between 0.25-inch and 1.5 inch on average. It's hard to say where those wettest storms will be until they develop, but there's good forecast confidence that a few spots somewhere in central or eastern Virginia will get enough rain to trigger flash flooding.
Severe chances: Isolated damaging wind gusts are also possible between mid-afternoon and early evening. The Storm Prediction Center put the risk level at a 2 out of 5 (slight) for central Virginia in their Monday midday outlook. But the winds could be impressive for those locales that do experience a stronger storm. The atmospheric ingredients would favor more of the downburst-style winds we've seen in recent weeks rather than a very organized, widespread line. That means a gust of wind may come with less warning.
It's a typical day of summer heat and humidity for central Virginia, but there's a higher than usual moisture level through the depth of the air overhead. So that enables heavier rain rates in any storms.
A weak cold front and upper-level disturbance moving in from the northwest should set off the storms, and cause them to move generally from west to east or northwest to southeast.
The upper winds may be strong enough to form those storms into clusters, but still weak enough to where the activity won't clear out quickly.
So as those cells interact and collide, we may see downpours repeatedly move or 'train' over the same spots. And places that saw downpours over the weekend may see faster runoff if a storm moves through.
Storm chances look much more isolated on Tuesday and Wednesday as that front moves off to the south, but temperatures will heat back into the mid 90s by midweek.