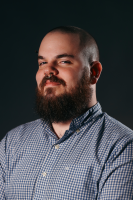 Tyler Hammel
Reporter
Bio

Tyler is a reporter for the Daily Progress. You can reach him at (434) 978-7268
LaQuinn Gilmore claims he was injured by police during a Jan. 11 incident that did not result in any charges. The Charlottesville Police Department is currently conducting an internal affairs investigation.
Charlottesville's business license taxation of a freelance author is unconstitutionally vague, according to a recent order from a Charlottesvi…
Jason Kessler's lawsuit claims that the city improperly deleted text messages about the rally made by former City Manager Maurice Jones and by former Police Chief Al Thomas.
Mario Jarman Hodges, 48, pleaded guilty Tuesday to guilty to attempted rape, malicious wounding and an amended charge of simple abduction.
The $10,000 judgment entry — which is not a settlement — effectively dismisses the Traditionalist Worker's Party from the lawsuit.
The founder and publisher of Vinegar Hill Magazine received the 2021 Alicia B. Lugo Award.
Initially charged with second degree murder and two counts of assault and battery against a police officer, Maurice Jackson accepted a plea agreement in September and pleaded guilty to voluntary manslaughter and one count of assault and battery against a police officer.
"... I have been able to issue additional vouchers for students who need additional items since the numbers are lower. I also have been able to increase the amount of assistance that students receive."
Joyce Farley, a resident of Charlottesville, filed the complaint around a year after her employment was terminated by JAUNT on Jan. 15, 2020, following a panic attack she suffered while working.
As the COVID-19 pandemic causes greater unemployment, legislation from Del. Sally Hudson, D-Charlottesville, seeks to fix several issues with …
View all