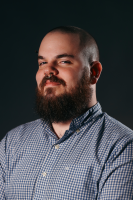 Tyler Hammel
Reporter
Bio

Tyler is a reporter for the Daily Progress. You can reach him at (434) 978-7268
The jury was deadlocked on two federal conspiracy charges, indicating that a second trial may be on the horizon.
An 11-person jury will continue to deliberate in the Sines v. Kessler case, stretching the trial into its fifth week with one fewer juror due …
After more than four years of build-up, the Sines v. Kessler lawsuit is now in the hands of a 12-person jury, who will decide whether more than a dozen defendants conspired to come to Charlottesville in 2017 and commit acts of racist violence at the Unite the Right rally and preceding torch march.
As Chris Cantwell attempted one last-ditch effort at swaying the jury that he is innocent, plaintiffs' and defense lawyers — including those r…
The famously biting social critic will be speaking at The Paramount Theater on Thursday.
Rally lawsuit defendants Chris Cantwell and Richard Spencer asked for charges against them to be dismissed Tuesday, but the judge refused, for…
Throughout the trial, Jason Kessler has been pointed to by other defendants as the primary organizer of both rallies. 
Elizabeth Sines is one of nine plaintiffs alleging in a federal lawsuit that key organizers and participants of the rally conspired to come to Charlottesville and commit acts of racist violence.
Five charges against Richard "Trey" Coe were certified: two counts of rape, two counts of aggravated sexual battery and one count of strangulation.
According to Peter Simi's testimony, white supremacist movements are based around several core ideas: racist ideology; a central role of violence; front and backstage talk; and plausible deniability.
View all