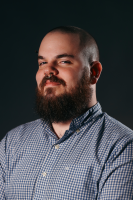 Tyler Hammel
Reporter
Bio

Tyler is a reporter for the Daily Progress. You can reach him at (434) 978-7268
Silk City Printing hopes to provide 93 jobs in the former Thomasville plant in Fork Union. 
"[National Socialist Movement] is plainly not acting in good faith and instead is actively looking for opportunities to deny plaintiffs documents to which they are entitled. This has been NSM's strategy throughout this litigation, and it has not wavered."
In two separate appellee briefs, counsel for the Monument Fund and the other plaintiffs take issue with the four main areas in which the city of Charlottesville is arguing the circuit court erred.
Families, children set up booths to raise awareness for traffic in Greenbrier. 
Cole Evan White, 26, received a lesser sentence than the other three members of the white supremacist Rise Above Movement who were charged with traveling to Charlottesville to commit racist violence.
There isn't one particular event that caused an increase in COVID-19 numbers in Charlottesville, THJD Spokesperson Kathryn Goodman said, though the district has seen an increase in off-grounds University of Virginia cases.
As assistant chief of police, James Mooney said he will manage the Charlottesville Police Department's four divisions, allowing Chief RaShall Brackney to focus on broader changes.
breaking
featured
top story
As the event was happening, Virginia voters were unable to register to vote online due to damage to a fiber optic cable caused during overnight utility work.
Huguely, then a University of Virginia lacrosse player, was found guilty in 2012 of second-degree murder in the slaying of Yeardley Love, who also played lacrosse at UVa and was Huguely's on-again, off-again girlfriend. 
The expansion comes during a difficult time for many industries, though Sigora Solar has so far been able to avoid pay cuts and layoffs for its staff of around 225 people.
View all