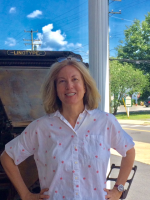 Hilary Holladay
Bio

Hilary Holladay covers education and politics for the Orange County Review. The author of five books, she is currently writing a biography of the poet Adrienne Rich.
For more than 80 years, the dam spanning the Rapidan River at Rapidan Mill has blocked fish from migrating upstream. The Rapidan Fish Passage …
The school year has been underway for a month in Orange County, but it's not too late for children to enroll in Head Start.
Job fair participants chat with deputies from the Orange County Sheriff's Office.
Sheila Hoffman of Orange Pharmacy and My Gordonsville Pharmacy chats with a participant in the job fair at Orange County's Booster Park. 
In a time when many people have been laid off due to the pandemic's impact on the economy, it's good to know there are jobs to be had in and a…
As the COVID-19 pandemic heads into its eighth month, virus numbers in Orange County remain relatively low and stable. On Tuesday morning, the…
Orange County's historic courthouse—the one that faces Main Street in Orange—has sat empty since the early 2000s. But that may change, if the …
In a school division that prides itself on being a family, Monday's school board meeting revealed a family in crisis. Five teachers expressed …
Orange County's historic courthouse, not to be confused with the more modern one behind it, may be put back in service, if the circuit court's…
Orange County High School teacher Caroline Carter-McClure addresses the school board during its meeting on Monday. She and other teachers desc…
View all