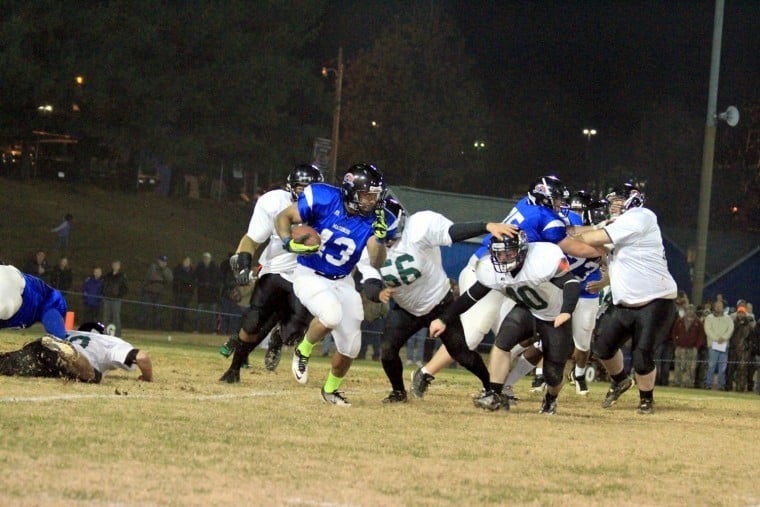 MADISON — All that was missing was Bruce Springsteen's "Glory Days" blasting over the sound system.
Saturday night's alumni football game between Madison County High School and William Monroe High School had all the other prerequisites. There were the former high school stars, lacing up their cleats for one last moment of glory. There was role players, the linemen assuming their familiar position in the trenches. And the cheers were just as loud as when they played years ago.
Part of AlumniFootballUSA, Saturday's game showcased both teams talents — and both team's passion.
Madison came out on top 45-14, but the smiles on the faces of the players showed that everyone was a winner.
"This is about Jesus, football and raising money," AlumniFootballUSA National State Director Jarrod Hargrave said. "It's about the guys looking in the mirror, remembering who they were when they were 18 and finding the fellowship they had."
AlumniFootballUSA has been hosting games for 28 years, and the Madison game was the brainchild of regional director Jonathan Lewis, who played in his alumni game in North Carolina in August and brought the concept back to the Culpeper area.
"I'm very impressed with the community involvement and how much pride they have to come out here and see these guys play, guys that haven't played for years, it's a lot of support that they have out here," Lewis said.
The players clearly enjoyed the competition, especially the Mountaineers.
On the second play of the game Madison's Ralph Yates broke a 57-yard run for a touchdown and an early 6-0 lead. Not wanting to be outdone, former University of Pittsburgh standout Raymond Kirkley followed with an 86-yard touchdown run in the second quarter as Madison went into halftime with a 32-0 lead.
Kirkley also scored a 10-yard touchdown and rumble in from 42-yards out following a hook and ladder play with just three seconds remaining in the first half.
"It's a beautiful thing and we have a lot of fun with it," Hargrave said.
With players ranging in age from 18 to 50, there was a lot of experience and skill on the field, and they all got to relieve their memories — and create some new ones.
Be the first to know
Get local news delivered to your inbox!