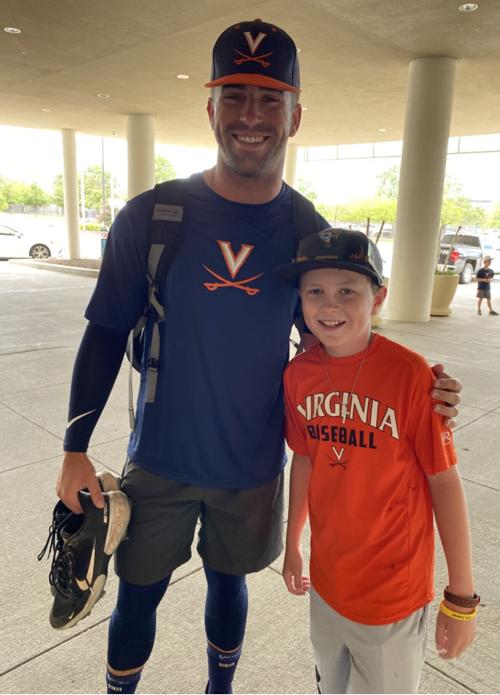 OMAHA, Neb. — Virginia baseball players walked through a small crowd of fans from their hotel out to their team buses Tuesday, many making sure to stop to greet one of their biggest fans before boarding the bus.
"Unbelievable that I got to go," Parker said. "It was like a dream."
The energetic, baseball-loving kid from Waynesboro was diagnosed with Burkitt's Lymphoma in December of 2017. Team Impact, a national nonprofit that connects children with serious illness with collegiate athletic programs, helped link Staples and UVa. Team Impact also helped send Parker and his family to Omaha.
After a challenging stretch, the youngster won his battle with cancer a few years ago, and he's in good health. The team makes sure to keep him within the Virginia baseball family each season, even as the roster turns over.
"It's been amazing," Jessica, his mom, said. "It's been a journey for sure."
Over the years he's hung out with the team often. He's chatted with them in person and spent time in the locker room and dugout as they welcome him into their brotherhood. Some players made time to go to Parker's Little League games in recent seasons, energetically supporting him.
"I felt famous," Parker said. "Everyone was trying to get an autograph."
For much of the last year, his contact with the players and coaches came virtually due to COVID-19 restrictions. Finally, in recent weeks, he's had moments like Tuesday, when he fist-bumped the players as they headed to TD Ameritrade Park.
Senior Alex Tappen was among those who stopped for a photo with Parker on Tuesday. His face lit up as he saw the young fan sporting a Virginia baseball shirt and a College World Series hat.
"It's been amazing how well-received he is and just how they treat him like one of their own," Jessica said.
The Staples family has followed UVa baseball closely for years, and this week's event represented a thrill for Parker. He attended ACC Tournament action and some of the NCAA Tournament games in Columbia, but making it to Omaha for the College World Series represents a bucket list event, especially with a full capacity crowd.
Parker said he was amazed at the size of the city, and he's spent time enjoying things away from baseball. He's made good use of the hotel pool, according to his mom.
It's been a special journey for the Staples family. Making it to Omaha and watching UVa open with a victory felt like a dream to Parker. As the week unfolded, his mom couldn't help but look back at how far they've come.
"Back a few years ago when he was sick in the hospital we had talked about coming to some of the games, but we didn't envision, you know, fast forward two or three years and being here in Omaha and celebrating a win with them," Jessica said.