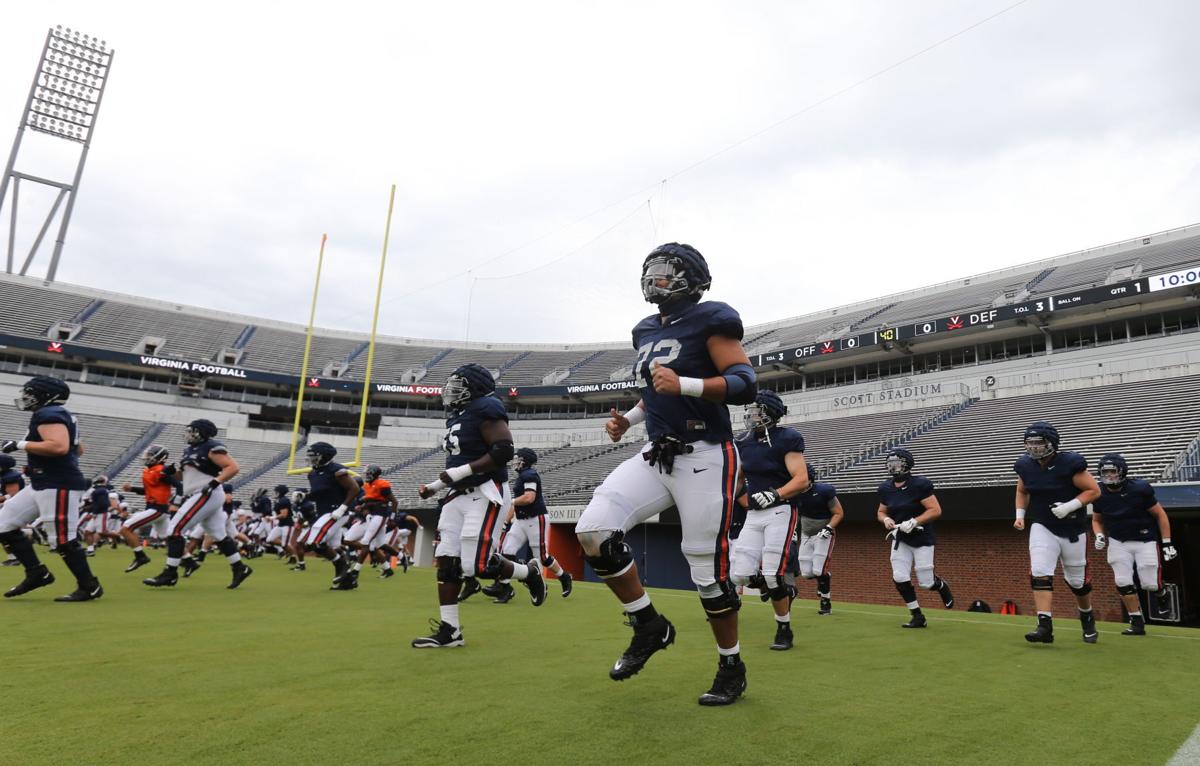 The University of Virginia prides itself on its academic prestige.
Players and coaches within the athletic department frequently discuss academic standing. The football program, especially, highlights the student portion of being a student-athlete.
Embracing academics is an admirable goal for any student-athlete, but it's easier said than done this fall. With COVID-19 still posing a public health risk, there's an argument that for a safe fall college football season to occur, undergraduate students shouldn't be allowed on campuses.
It remains to be seen if college administrators will feel comfortable with that situation, though.
"There is no athletic calculus to engage in if our campuses aren't reopened," Notre Dame Athletic Director Jack Swarbrick told ESPN in April.
Notre Dame finds itself in quite the predicament ahead of the college football season. Swarbrick said in April that the school likely won't play sports if students can't safely be on campus.
After bringing students back earlier this month, Notre Dame is struggling mightily to have an in-person semester.
Off-campus gatherings led to a spike in COVID-19 cases at Notre Dame, and the college nearly sent everyone home. Instead, it moved classes online for two weeks, hoping increased restrictions for the 14 days will help curb the spread within the campus community.
If that two-week time period doesn't help mitigate the spread, Notre Dame plans to move to online-only classes.
Two other ACC schools — North Carolina and North Carolina State — both recently moved to online-only classes after several clusters of COVID-19 cases broke out within each campus community. Off-campus gatherings were determined as the causes of those outbreaks.
"Battling the spread of COVID-19 is a challenging endeavor even when everyone is practicing safety measures," N.C. State Chancellor Randy Woodson said in a statement. "Unfortunately, the actions of a few are jeopardizing the health and safety of the larger community."
As college administrators share shock and outrage over college students partying, the college football season creeps closer.
UNC and N.C. State are moving forward with fall athletic plans despite moving classes online. Would UVa do the same if COVID-19 outbreaks begin when students start undergraduate in-person classes on Sept. 8?
"It is the exact position I was visiting with our athletic director and our team leaders yesterday, and it's a really unique position," Virginia head football coach Bronco Mendenhall said Friday. "I love the idea of student-athlete in that order, and it's very difficult for me to reconcile having football players on Grounds and no other students on Grounds from a philosophical perspective."
On the flip side, Mendenhall often speaks his mind about the issues that come with the return of students. UVa's athletic department hasn't reported a positive COVID-19 test since July 24.
The athletic bubble works well. The student-athletes across the 10 programs back on Grounds have done well to keep COVID-19 case counts low. Safety protocols at practice help reduce any potential spread of the virus within athletic competition.
Outside of practice, football players live in the dorms, eat meals in their rooms and wear masks and socially distance as appropriate. Following the health protocols with regular COVID-19 testing has helped keep the Cavaliers healthy.
When students come to town, the bubble is almost certain to pop.
"Our players are getting ready to move off Grounds and the students are coming and some of our classes will be in person, and so by that very design, the bubble is broken," Mendenhall said. "And so that really is going back to the very core of the initial advice we all received, which is masking and social distancing and washing your hands and the discipline to do all that."
From a philosophical perspective, Mendenhall believes student-athletes are students first. He also wants to coach his team, and he knows the athletic bubble can work.
"Now if I say and I look at my team and see how much they want to play and they want me to coach them and they want me to keep them safe and I want to keep them safe, it's really tricky," Mendenhall said, "because philosophically and morally, I have a strong thought, and then I have these relationships with my team and they want to play and they want me to coach them and they want to be safe at the same time, and I think I can help them do that."
Sending all students home while keeping student-athletes in Charlottesville hurts the amateurism model, as universities move one step closer to admitting that student-athletes aren't treated like regular students. It's also probably the best bet to play college football safely this fall, especially after the outbreaks seen at several ACC institutions once in-person classes resumed.
If UVa students return on Sept. 8, it gives students a chance at an in-person fall semester. A return also places the college football season at risk. If the return of students goes poorly, like the reopening of the Notre Dame, North Carolina and North Carolina State campuses, UVa would face a difficult decision: Play football with students leaving Grounds for online classes or put an end to the 2020 fall athletic season.
"I'm conflicted," Mendenhall said. "That's the best way I can put it."
Be the first to know
Get local news delivered to your inbox!