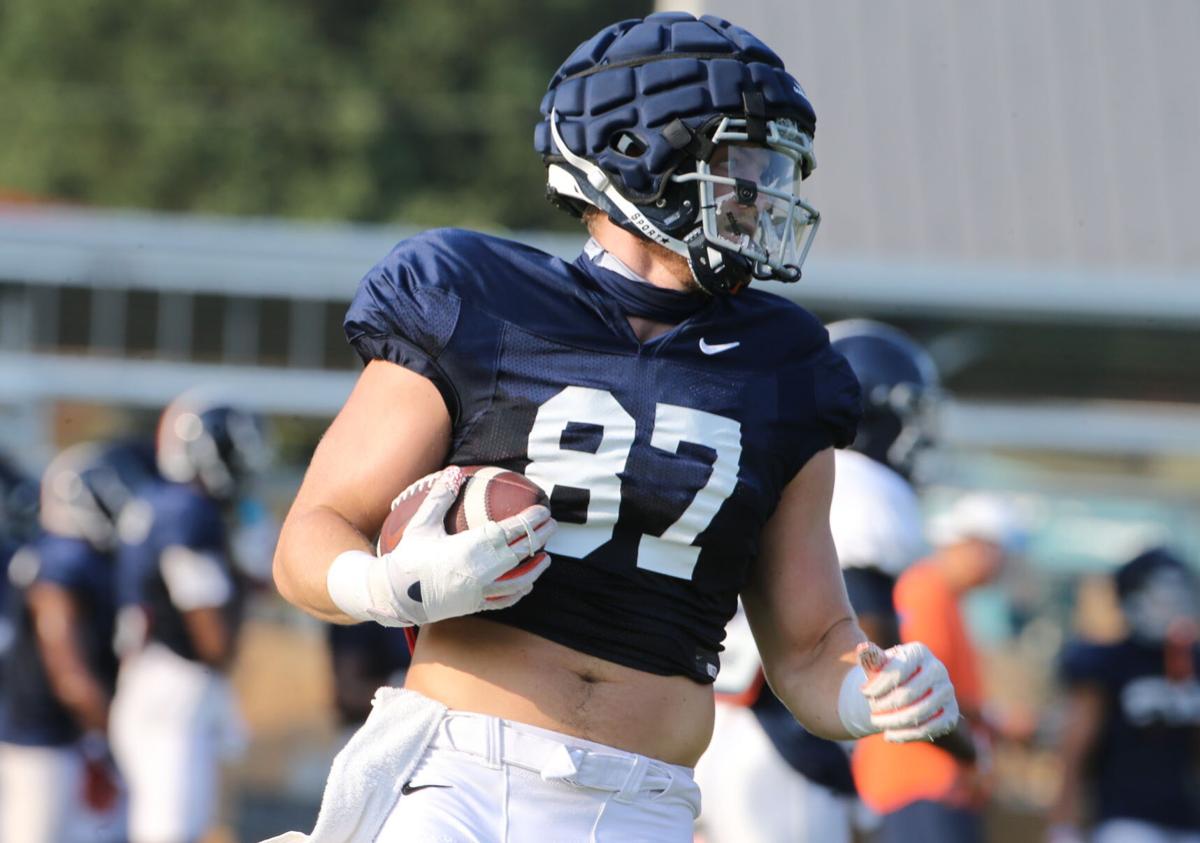 From 2000-10, six Virginia tight ends were selected in the NFL Draft.
Since 2010, no UVa tight ends have been drafted.
While the program's reputation for churning out NFL-quality tight ends seems long gone, the Cavaliers hope they can bring back the sustained success at the position in future seasons.
"I want to bring in guys that have that NFL-caliber body and talent," Virginia tight ends coach Ricky Brumfield said. "I don't think about the NFL or the 'Tight End U' part, I just think of bringing in NFL-caliber players. And if we can keep bringing in those caliber players into our program, then we'll be successful."
That goal of adding NFL-caliber talent at the position came into focus this offseason when the Cavaliers welcomed Central Michigan transfer Tony Poljan. The graduate transfer has one season of eligibility left, and he's expected to be an NFL prospect when his time at UVa concludes.
Standing 6-foot-7 and weighing 265 pounds, Poljan is close to the size of an offensive lineman. He started his collegiate career as a quarterback, however, and features impressive athleticism for his size.
He caught 33 passes for 496 yards and four touchdowns last season for the Chippewas.
"He can kind of do it all as far as blocking, run routes, and I think his greatest attribute is football knowledge," Brumfield said. "Playing quarterback at Central Michigan, he kind of understands defense and what a defense will do."
As Poljan looked for a potential landing spot after entering the transfer portal, he quickly developed a relationship with UVa's staff.
He decided to come to Virginia and a program in need of an NFL-caliber weapon at tight end.
"When I was in the transfer portal, just speaking with Coach Bronco and Coach [Brumfield], it really felt like the right fit, the right culture," Poljan said.
While UVa welcomed an addition at the position, the group was in a respectable position before his arrival. The coaches like what Grant Misch, a redshirt sophomore, brings to the position.
Misch checks in at 6-4 and weighs 250 pounds. According to Brumfield, that's the size the Cavaliers look for in all of their tight ends. Misch caught just one pass last season, but it went for a six-yard touchdown at North Carolina.
Heading into his third season in UVa's program, Misch finally feels comfortable with the offensive scheme and his role within the unit.
"I'd say I'm miles ahead of where I was last year at this time," Misch said. "I was still trying to learn the offense. I was more focused on what I was doing rather than how I was doing it."
Misch also says he's stronger than he was a season ago, taking advantage of quarantine to work on adding muscle.
With fullback Jamari Peacock transferring, the Cavaliers are using Misch in a fullback role at times. He's expected to provide plenty of value in the running game, even if Poljan projects to be the more dynamic receiving threat. With years left in the program, Misch has time to develop into a potential NFL-caliber player by adding to his receiving skills.
He's already seen more meaningful practice reps ahead of a fall season.
"Last year, I was kind of just doing basic things, and this year I've been able to expand my playing style a little more and been able to do some more things," Misch said.
Waiting in the wings behind Misch is true freshman Joshua Ralwings. At 6-5 and 260 pounds, Rawlings looks the part of an ACC tight end.
Brumfield wants to see the freshman become more consistent in his effort and production. When Rawlings is locked in, he's great. When he suffers a lapse in concentration, he slips off.
Look for the freshman to earn increased playing time as his career progresses, though, because Brumfield likes what he sees from Rawlings when the youngster is focused.
"He's gonna be a force to be reckoned with in the future, near future, to be honest with you," Brumfield said. "He's a guy that will probably play for us down the road this year, but he will be really, really good in the future."
Offensive coordinator Robert Anae's offense hasn't relied heavily on tight ends in past seasons. Despite the emphasis on other positions, Anae is open about building an offense around its strengths.
With an influx of tight end talent, the Cavaliers may shift their offense to become more reliant on the tight end position.
That's good news from Brumfield.
"As a tight ends coach, we want 12 personnel every time," Brumfield said with a smile.
Be the first to know
Get local news delivered to your inbox!