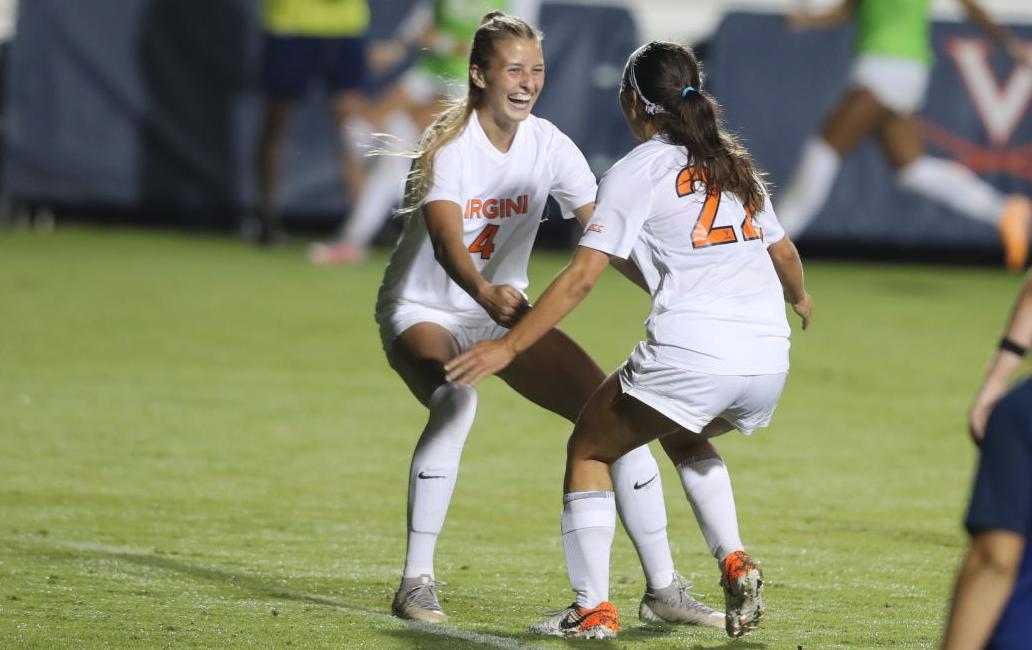 The Virginia women's soccer team opened the fall athletic season on Sept. 12, playing the school's first competition in months. The Cavaliers beat Virginia Tech 3-1 in front of a small crowd that included family of players and coaches because of COVID-19 restrictions.
Also in the crowd, however, was a boisterous group of about 10 guys standing along the fence at the far side of the field. Throughout the 90-minute match, the guys screamed and chanted in support of the Wahoos.
Everyone, from players to other fans, took note of the rowdy bunch.
Saturday, those same fans take the field at Scott Stadium for their first game of the season.
"Small in numbers, but mighty in energy," senior linebacker Charles Snowden said. "We just try to replicate as many people as we can; kind of make up for those lack of numbers."
Snowden is among the group of Virginia football players to attend the Olympic sporting events, hoping to support his peers during an unusual fall season. With fans not allowed, Snowden and company wanted to ensure their athletic peers opened their seasons with a home-field advantage.
They also wanted something to do.
"We're all going through the same thing," senior wide receiver Terrell Jana said. "We all have been here for however long away from everybody else, on Zoom calls for class, on Zoom calls for meetings. We know the impact our presence can have in a game, but also just for us, we're not doing anything. All we're doing is football and Zoom right now, so [when] we can go watch some of our friends play a game it's always fun for us."
Few activities beat watching live sports, and the football players took advantage of the chance to watch the two games held in Charlottesville this fall.
Men's basketball players, including Kihei Clark and Sam Hauser were also in attendance at the volleyball match. The athletes sat in the same section of the bleachers as the football players, becoming increasingly noticeable as the match progressed.
"I think we were surprised," senior volleyball player Sarah Billiard said of the crowd noise. "We were not expecting to have a big, loud atmosphere. They really surprised us, and I think it gave us a boost. It was exciting to have people there. It definitely makes a difference."
Seeing student-athletes support each other isn't a surprise. Athletes typically attend other sporting events throughout the semester, cheering on their peers.
This fall feels different, though.
For months, athletes of various fall sports wondered if they'd ever take the field for games. With the pandemic postponing and canceling games daily, uncertainty still surrounds the fall season.
The football program lost out on potential season openers with Georgia, VMI and Virginia Tech. The Cavaliers hope they're able to face Duke this Saturday for their first game of the year.
Struggling and sacrificing to make it to a fall season is something all of UVa's student-athletes can appreciate.
"With all the uncertainty and anxiety surrounding our respective seasons, it's almost like all the student-athletes have bonded over the chaos," women's soccer player Rebecca Jarrett said. "In a normal year, it's sweet to see other teams at games, but right now it's just that little bit sweeter."
The women's soccer team noticed the football players at their season opener, appreciating the gesture because it served as an acknowledgement of the journey to reach competition safely.
"When other student-athletes are cheering at the top of their lungs for 90 straight minutes, as the football team so enthusiastically did at our first home game, it's like they're excited to be watching the game but also proud of us for making it out on the field," Jarrett said, "because, at some point, we didn't think we'd ever be able to."
Be the first to know
Get local news delivered to your inbox!