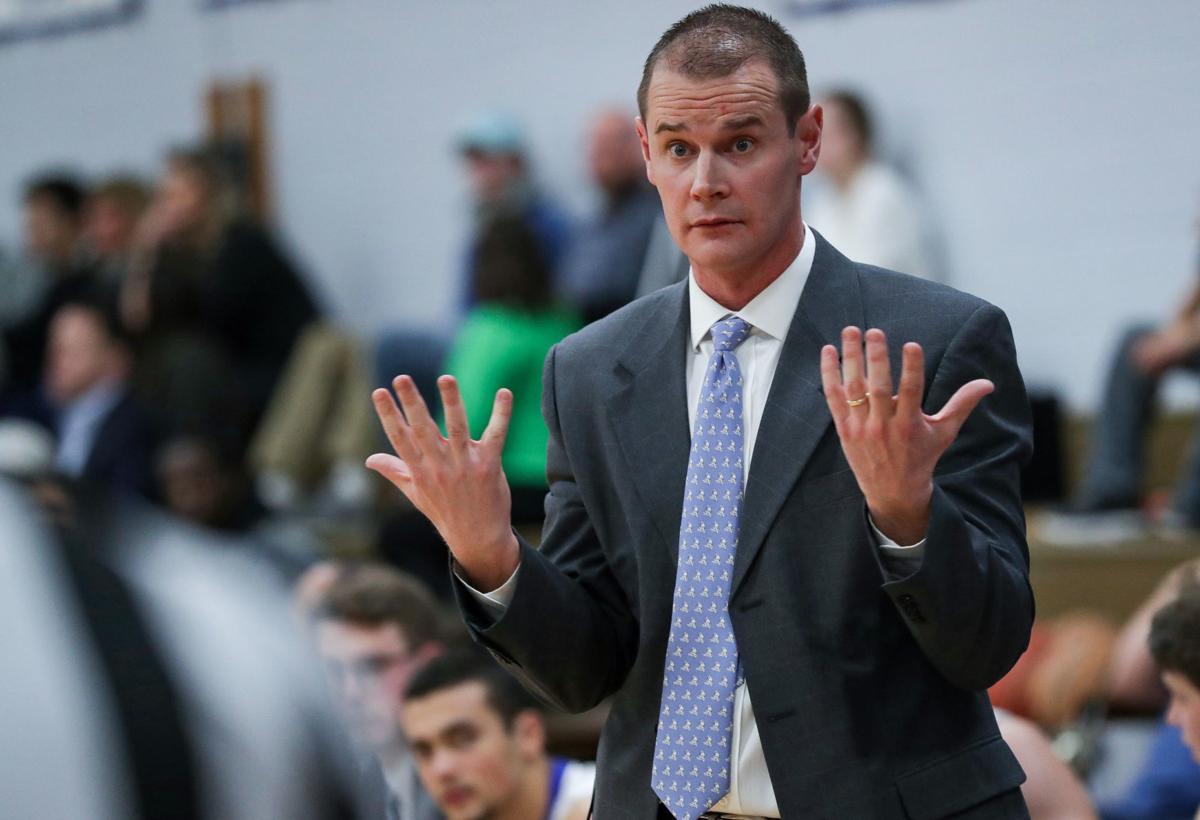 ST. GEORGE — Every high school basketball player taking the floor this winter dreams of winning a state championship.
At Blue Ridge, the trip to Virginia State University for state championship weekend has become a rite of passage.
The Barons have made five straight trips to the VISAA Division II state championship game and Coach Cade Lemcke's team has left Petersburg with three state titles, including last year after a 61-53 overtime victory over rival Miller School in the state final.
For Lemcke, who has guided Blue Ridge to a 103-23 mark since taking over the program in 2015, it's business as usual.
"Every player on our team has their goals for the year," Lemcke said. "I think that they know that when they wear the Blue Ridge School uniform, they're going to have a bull's-eye on their back and they're going to get everyone's best shot every game. For competitors, they love that. They wake up in the morning and they want to really get out there and compete, prove people wrong, and take everyone's best shot."
The Barons return four players that played impactful minutes last season, which culminated with a 14-game winning streak and a state championship.
Michael Gray emerged as one of the premier scorers in the state last year, taking over games in crunch time. The junior averaged 13.1 points, 4.3 rebounds and 3.1 assists a game last season. He also developed into a defensive stopper late in games.
William Lee is a veteran guard that gives Lemcke's team another experienced playmaker in the backcourt. The senior averaged 9.8 points and two rebounds a game last season off the bench, but is expected to surpass those numbers this season.
"That experience was great," Lee said. "I had never won a state championship before in my life. To come in here and be with a great group of guys, we had some great leaders, we just played so well. We were on a run and we had so many great things that we were doing, I think we actually ended with a 14-game winning streak and we did so many great things to win as a team and I've never had that feeling in my life."
Having two experienced guards always is a plus, but Lemcke said the biggest test for the backcourt is filling the leadership void left by the graduation of Chris Rogers and Jaden Frazier.
"For Will and Mike, they'll bring it on the court," he said. "I know they'll have great seasons. Will wants to go out a winner. Mike wants to be able to continue to build a legacy here of what he's been able to do for our program. But it's those things off the court, that I think are going to be the biggest opportunities for them to really grow. Whether it's in the locker room, whether it's in the dorms, on the road trips, is to really grow as leaders and get the troops rallied and excited to move forward."
Andy Nwaoko was a presence inside for Blue Ridge last season as a rebounder and defender. The 6-foot-5 senior averaged 4.3 points and 5.3 rebounds a game, and gave the team toughness and grit off the bench.
Senior forward Sasha Glushkov and sophomores Maliq Brown and Houston Emory were members of last year's state title run as reserves who are expected to play larger roles this year.
"We're excited about this group," Lemcke said. "We graduated a bunch of great seniors, great leaders, but we're really excited about the returning young guys and some newcomers that we have this year. We're excited to get rolling finally get started for us."
Some of those talented newcomers include a pair of local products — former Albemarle standout Derrick Jones and Tandem Friends product Jacob Rice.
Jones averaged 13.1 points and 4.1 rebounds a game last season at Albemarle and is expected to give the team an added spark.
"I transferred here to get a better opportunity for basketball," Jones said. "Albemarle is a great school, but Blue Ridge sends a lot of people to the next level and I really want to play after high school, so this was a pretty good option for me."
Lemcke believes Jones has only scratched the surface of what he can accomplish.
"Derrick is a special player," he said. "He's had a great career so far and I think the coaches at Albemarle have done a great job with him. We're excited to now take him to the next level. To surround him with other competitors, guys that all want to play at the college level. Introduce him a lot more to the strength and conditioning side, and showing him what it takes to really get to the next level. You have to play hard every day and every time you're out there on the court and if he does, the sky's the limit for where he can be and what he can add to our team."
Two more intriguing additions to this year's roster are guards Kobe Jerome and Devin Walker.
Jerome, the younger brother of former Virginia star Ty Jerome, transferred from Bergen Catholic in New York. Walker joins the program after spending last season in Maryland. Both players have impressed in preseason workouts, and Jerome was named one of three team captains.
"This group is super talented and plays with great pace," Jerome said. "I think my skill set brings additional leadership, ball handling, basketball IQ and shooting to our team, day in and day out. Our program's core beliefs are selflessness, hard work and discipline and I think we epitomize all of those on and off the court."
The road to another title won't be easy. Blue Ridge has beefed up its schedule with several high-profile games. Lemcke's team are set to take on Landstown High School, the reigning VHSL Class 6 state champions as well as VISAA D3 state champs Life Christian Academy in December. In addition, the Barons will face perennial national powerhouses La Lumiere and Oak Hill Academy, not to mention tough conference opponents Miller and Virginia Episcopal.
"We have the opportunity here at Blue Ridge to not only play in a great conference, but our nonconference schedule is also very strong," Lemcke said. "The guys want to play against good teams. They come here to play against good competition and play with good competition and hopefully we can provide that again this year."
Lemcke expects playing against high-level competition throughout the season will help prepare them for the rigors of playoff basketball in February and March.
"People don't just roll over and give you a championship," he said. "When they put this uniform on, we try and tell them you're playing for yourselves and your family, what this school represents, the tradition that this school has on the basketball court and other sports. You've got to bring it every day and if you want to leave a legacy, and really be excited and make them proud, you've got to put it together during these games and for a whole season."
Be the first to know
Get local news delivered to your inbox!