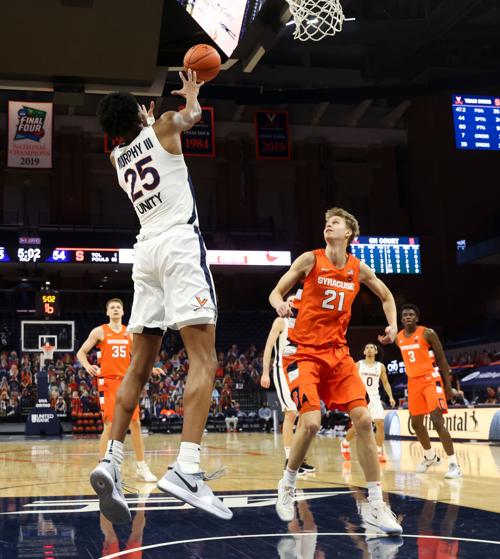 Tony Bennett wanted last season's Virginia men's basketball team to be gritty, rather than pretty. This year's offense, with confident shooters and willing passers, makes basketball look like an art form when it's clicking.
The dramatic offensive improvement was on full display Monday night against a Syracuse team that dares teams to shoot against its 2-3 zone.
Last season, Bennett's team failed the jump-shooting test, going 11-for-56 from beyond the arc across two games against the zone, scoring just 91 points in regulation. Monday, Virginia scored 81 points in 40 minutes thanks in part to 14 made 3-pointers.
Perhaps most notably, UVa assisted on 23 of its 29 made shots.
"They're really good passers, and they really do a good job of moving the ball and those guys get in open spots and they make shots," Syracuse head coach Jim Boeheim said. "They're good. They're a very good team. We're not a top-10 team. They are."
Bennett encouraged Sam Hauser to "hunt" his shot, and the Marquette transfer returned from his hunt with a haul. He made seven 3-pointers, matching his career-best mark.
Trey Murphy, a Rice transfer, chipped in with four made 3-pointers of his own. Hauser and Murphy matched UVa's 2019-20 output with 11 made 3-pointers against Syracuse, using 33 fewer shots to do so.
While Hauser and Murphy aggressively roamed the perimeter, Jay Huff patrolled the paint. The 7-footer finished with six dunks, with many of them coming from alley-oop lob passes by Kihei Clark. Huff tallied a career-high 21 points.
"The big kid is tough," Boeheim said of Huff. "We had to try to take away the lob after they got a couple of those and that leaves some perimeter shots available."
Clark ended the night with nine assists. When he wasn't finding Huff at the rim for basket-shaking dunks, he penetrated into the middle of the zone and kicked out to open shooters. Syracuse had no answer for UVa's effective ball movement.
Reece Beekman and Clark finished with 14 combined assists and just four turnovers.
"It's just making the right play, honestly, and those guys are really good at it," Hauser said.
Monday's game featured few one-on-one opportunities. When UVa players dribbled, the outcome was typically a pass.
"A lot of our offense has just been moving the ball around," Huff said. "We don't over-dribble all that much, especially against a team like Syracuse, you can't because they collapse and they have guys with long arms that'll poke it away from you."
By using what Bennett calls a "next-pass mentality," Virginia created open shots consistently. This led to an impressive efficiency, which Bennett values on the offensive end.
UVa shot 49.2% from the field and 45.2% from the 3-point line. The 3-point shooting percentage is the best mark against Syracuse this season, and the overall shooting percentage is the second-best mark of any Syracuse opponent.
Virginia shooting better than a season ago isn't a surprise, but the team's willingness to make the extra pass makes the offense look magnificent when the shots fall.
"I think everybody has the mindset like, we might have a good shot, but if we make one more pass, it's a great shot," Hauser said.
A season ago, extra passing looked like the result of timid shooters not wanting to miss 3-pointers. This season, there's nothing timid about Virginia's offense.