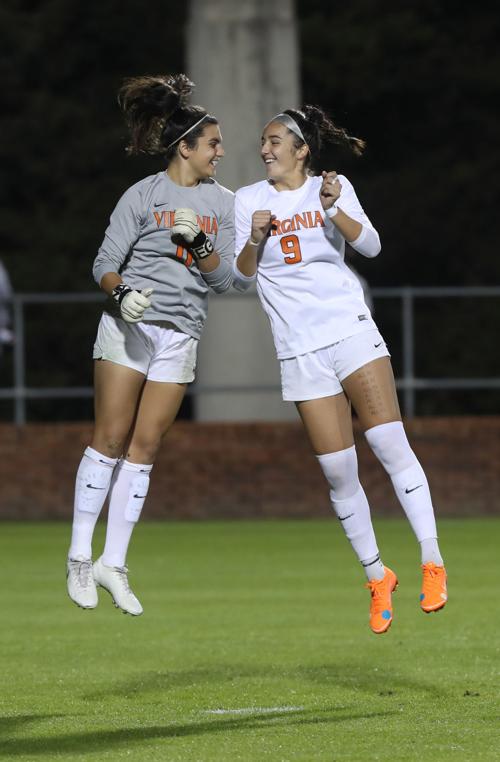 In the 85th minute of the 2019 ACC Championship match against North Carolina, Virginia goalkeeper Laurel Ivory dove for a ball and took a knee to the face. She missed the rest of the game.
It was later revealed that the collision broke Ivory's jaw.
She missed the rest of the postseason, and the Virginia women's soccer team was upset in the second round of the NCAA Tournament just two matches later.
Ivory, who accepts a vocal leadership role both on and off the pitch, was using a whiteboard to communicate with teammates when the Wahoos gave up a season-high three goals in a 3-2 defeat against Washington State.
"Having her out for the initial part of the injury, you could tell something was missing as a player of course, but also just her personality," junior Rebecca Jarrett said. "You could tell something was off. It was a little quieter."
Losing Ivory hurt the team's national title chances, and it also left Ivory with an unusual rehab process. Typically, soccer players may injure a knee or an ankle, requiring time off their feet to recover.
For UVa's senior goalkeeper, recovery looked much different.
"I remember thinking to myself, this would be the injury I get," Ivory laughed. "Just so obscure, like, are you kidding me?"
Instead of going through the standard physical therapy required for a traditional injury, Ivory needed surgery on her jaw and then went on an all-liquid diet for about six weeks. Impressively, she only missed about two months of time on the field with her teammates.
The two months, however, were tough.
Instead of facing drills or conditioning work, head coach Steve Swanson tasked Ivory with finding a way to consume enough calories to stay fit and healthy without eating solid food.
"Steve looked at me and he was like, 'Your workout now is basically eating,'" Ivory said.
That meant working with UVa's sports nutrition staff to eat creatively for more than a month. Ivory laughed when saying she'd stop by the dining hall to "drink lunch" before visiting the team's practice.
"I lived off soup, smoothies and ice cream," Ivory said. "That got old pretty quick."
Despite the challenges of eating solely liquid foods — Ivory says she can confidently say she hasn't had a lot of soup since — she credits UVa's sports nutrition department with helping her progress through the injury. They worked to concoct unique smoothies to keep her from becoming too tired of consuming all liquid foods.
Whether it was a healthy smoothie or S'mores creation, Ivory was well taken care of by the sports nutrition personnel.
"Our sports nutrition department just saved my life," Ivory said. "They put everything up for me. I definitely would not have recovered in the way that I did without them."
In addition to nutrition concerns, Ivory spent a couple weeks using a whiteboard to share her thoughts with teammates because she couldn't speak due to the nature of her injury. The initial days of using the whiteboard were a challenge, especially for her teammates, but they quickly picked up on Ivory's thought process.
Sophomore Diana Ordonez became adept at reading Ivory's moans, groans and whines, understanding almost everything the upperclassmen wanted. There were times, however, when nobody knew what Ivory meant and even the description on the whiteboard left them confused.
Months after the injury and recovery, Ivory and her teammates laugh about the situation.
"After the first couple days, when she would start writing I'm like, 'Oh, she's trying to say this, like, this is what she means,'" Jarrett said, laughing. "It's not funny, but it was kind of funny at times when no one knew what she was saying."
Keeping up with the conversations via whiteboard also proved challenging for the All-ACC Third Team selection.
"I would start writing and then by the time I finished my two sentences the conversation had shifted," Ivory said.
With the Wahoos back on Grounds preparing for a potential fall season, assuming COVID-19 allows for it, Ivory can speak again. She's back to being a vocal presence in off-field interactions and when she's on the field.
Keeping up with the conversation no longer presents an issue to one of the team's most important leaders.
Physically, she's been training since January and her jaw is healed. Whenever the program takes the field for games, she's ready to build on an terrific 2019.
"She's doing really well," Swanson said. "She's got a great, positive outlook and physically she's in a good place. I think she's ready to resume where she left off, that's for sure."
Given the uncertainty facing the fall season and the constant health concerns brought about by COVID-19, Ivory's presence — and voice — might be as important as ever.
"Now that she's fully back as a captain and just as a person, you can't replace her," Jarrett said.
As young players try to familiarize themselves with college life, they're also tasked with staying healthy and avoiding large social gatherings typical of someone's first year in college. Instead of heading to parties and other social gatherings, underclassmen athletes will follow the university's rule of limiting social interactions to groups of 15 people or fewer.
Nothing about the fall 2020 season is easy, but Ivory helps make the transition doable for the younger Wahoos.
"It's nice to have a consistent voice, a consistent presence of someone that you trust and younger players can look up to and know that as a player she's gonna do her job, but also as a person she's looking out for your well being and gonna talk to you if you need it — now that she can talk — or shoot you a text or whatever," Jarrett said. "It's huge any time, but especially in a time like right now."