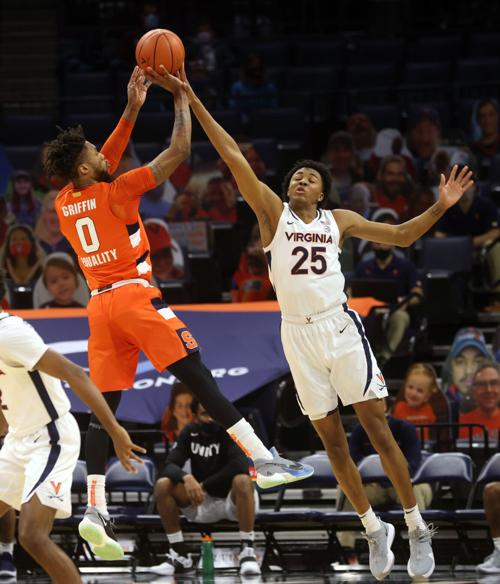 Having just been beaten soundly by Syracuse on Saturday, and with a game against Virginia coming up this weekend, Virginia Tech basketball coach Mike Young found himself tuning in for UVa's win over Syracuse on Monday night.
"I was curious to see them," said Young. "I wish I hadn't watched that one. The Cavaliers looked good, making shots and still as stingy as ever defensively."
No. 8 Virginia thumped Syracuse by 23 points on Monday night in Charlottesville, just two days after the same Orange team drilled Virginia Tech by 18 points in Syracuse. Still, those results and their transitive conclusions not withstanding, Saturday's matchup between the rivals in Blacksburg figures to be an intriguing matchup, particularly with the two teams playing a stout — and remarkably similar — brand of basketball.
Tony Bennett has built Virginia into a national power over the past decade using the Pack Line defense, a man-to-man scheme designed to crowd the lane and deny penetration. Since taking over the Hokies before last season, Young has employed a similar concept on the defensive end.
The results? This season, UVa (11-2, 7-0 ACC) leads the conference in scoring defense, allowing 59.5 points per game. Virginia Tech (12-3, 6-2) ranks fourth at 64.7.
"I think they're a hard-nosed, tough team, playing good basketball," said Bennett. "I'm sure they have variations but good defense is good defense. Man-to-man, you're in position, you're playing hard and making the other team work to get good looks and they've certainly done that."
Wednesday night, playing its first game without suspended sophomore guard Tyrece Radford, Virginia Tech held Notre Dame to a season-low point total in a 62-51 road win.
The Hokies blocked seven shots, forced 12 turnovers and held the Irish — one of the ACC's best long-distance shooting teams — to just 3 for 18 from 3-point range.
So does Young thing his program has reached the level of defensive prowess displayed by Bennett's team?
"I wish ours was as good as his," said Young.
Two ACC coaches who have faced — and lost — to both teams this season, offered their breakdowns of the matchup and the rivals' distinctly similar defenses.
"They're both really tough, hard-nosed teams. Hard to score on," said Wake Forest coach Steve Forbes. "Virginia Tech's maybe a little more aggressive defending ball reversal, maybe a little bit more physical in the gap. But Virginia has [Jay] Huff at the rim who's a rim protector."
The 7-foot-1 Huff, a senior, ranks second in the ACC averaging 2.5 blocks per game. Tech doesn't have a true dominant rim-protector, though in its win over Wake Forest, it blocked nine shots in the first half. In Wednesday's win over Notre Dame, the Hokies swatted seven shots.
Forbes' Demon Deacons lost 64-60 at home to the Hokies on Jan. 17, and fell 70-61 at UVa on Jan. 6. Mike Brey and Notre Dame have now lost twice to Virginia and twice to the Hokies.
"There's some similarities as far as the help and jamming in there," Brey said of the two Virginia schools' defensive approaches. "But where they're different … Virginia lets you pass it. They just don't let you in the lane. Virginia Tech has been doing both. They get out and pressure you and really make you play a little fast. You have a hard time making passes. And then they're in the lane if you drive past the guy who's pressuring you."
Brey described the Hokies' defense as a combination of UVa's commitment to clogging the lane mixed with Florida State's aggressive pressure.
On the offensive end, Forbes said the Hokies are more apt to get out and run, while Virginia has long been known — under Bennett — for its methodical, low-possession, high-efficiency attack.
"I would say Virginia Tech plays maybe a little quicker, a little more opportunistic in transition then maybe Virginia," said Forbes. "But Virginia's gonna stick to their plan. That'll be a rock fight there. Probably whoever controls the glass and turns it over less will have the best chance to win."
So, how do the two rivals stack up in those statistical categories?
Virginia ranks fifth in the ACC in rebounding margin at plus-4.8 and fifth in turnover margin at plus-1.3, while the Hokies check in at sixth in rebounding margin at plus-4.4 and eighth in turnover margin (plus-0.3).