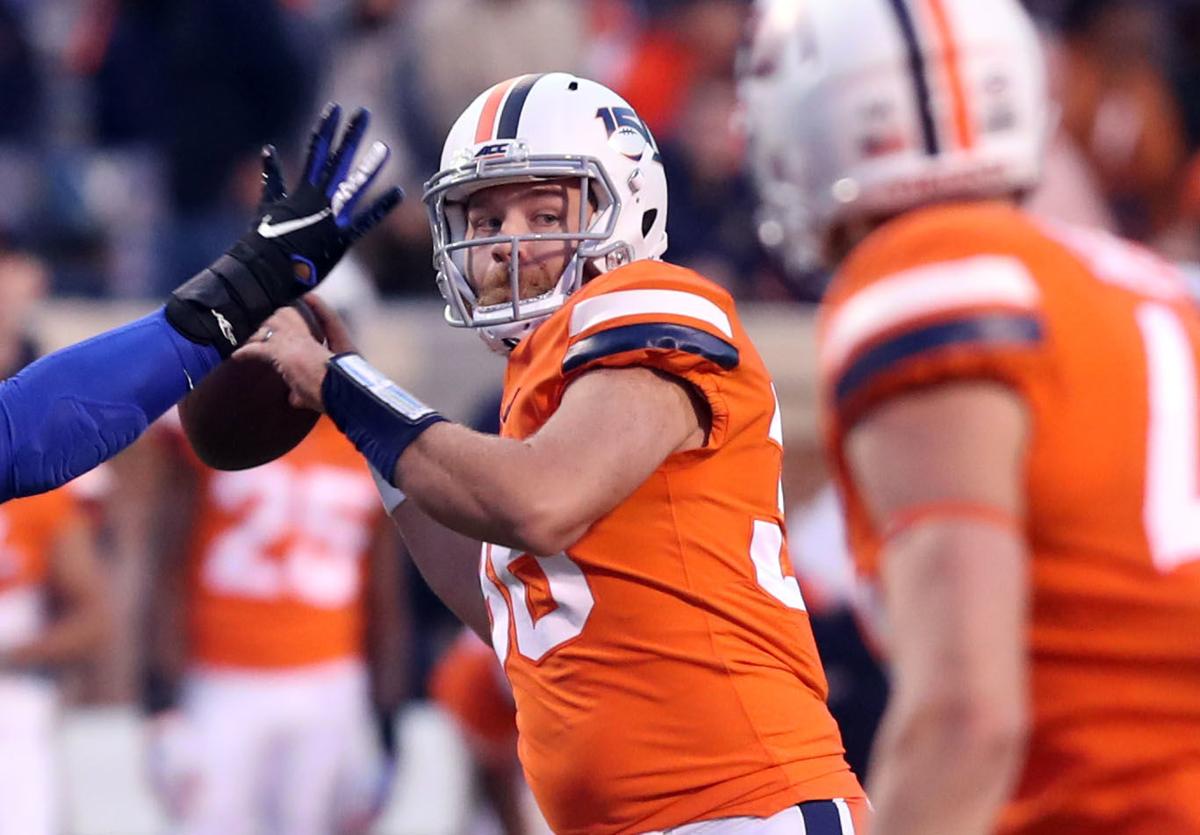 For an offense without a first-quarter point through three weeks, the last thing it wants is to insert a new quarterback into the equation.
Unfortunately for Virginia (1-2, 1-2 ACC), that might be the task Saturday.
Brennan Armstrong suffered a concussion in Saturday's loss to N.C. State, leaving Lindell Stone as the team's new quarterback.
Armstrong is considered day-to-day, but it was Stone receiving the majority of the first-team reps for the Wahoos on Wednesday.
"Lindell was the guy today, so he's the one that got the work and the coaching," offensive coordinator Robert Anae said Wednesday.
Anae added that the cutoff for a player to practice and play is typically Thursday. There's still a chance Armstrong receives clearance, takes the practice field Thursday and starts Saturday.
"If he's here, we'll throw him in," Anae said.
On the other hand, the Cavaliers won't rush the process. If Armstrong is healthy and deemed ready to play, he may certainly earn the start. There's also a chance the Cavaliers and their medical team use extreme caution in bringing Armstrong back into the fold.
The redshirt sophomore is expected to be the team's future at quarterback, and they want to ensure he's healthy for years to come.
"I never really get involved," head coach Bronco Mendenhall said on his radio show Tuesday night. "The medical process, especially with these guys that I love and I want to be healthy even after football, it takes what it takes and it will go as long as it needs to."
If Armstrong is unavailable Saturday, and that seems like a realistic possibility based on conversations with the coaches, Stone will be the team's starting quarterback.
He performed admirably against N.C. State, completing 30-of-54 passes for 240 yards, three touchdowns and an interception in relief of Armstrong. The redshirt junior took advantage of his opportunity, leading all three of Virginia's touchdown drives in the 38-21 loss to the Wolfpack.
"That was one real good thing that came out of the game," Anae said. "Lindell got cold-called, jumped in there, getting hit and having to deliver the ball. I thought for the most part he was able to do what we were asking and what the team needed him to do."
There were mistakes, however.
Stone tossed one interception, which was returned for a touchdown and squashed the team's momentum. He also had a few other passes that could've been interceptions, but they were dropped by N.C. State defensive backs.
Anae puts some of the blame for those mistakes on the score of the game. With the Wolfpack leading by multiple scores, UVa needed to throw the ball in hopes of scoring quickly and remaining competitive.
"We were pressing, and man, I don't like to press," Anae said. "Coming from behind, you put all that stress on the quarterback."
On the plus side if Stone does start, he likely won't take the field with UVa down 24-0. The quarterback was forced to throw the ball more than 50 times Saturday, and the Cavaliers would prefer more balance this weekend.
Through three games, Virginia is averaging 51.3 passing attempts per game. The Cavaliers average 34.7 rushing plays per game. Falling behind early has forced Virginia into passing situations. The Wahoos want to avoid that same fate this weekend, regardless of who starts.
There's belief within the program that Stone can execute if called upon. He may be called upon Saturday against Wake Forest. The Wahoos trust their backup quarterback, should Armstrong be forced to miss this weekend.
"It's kind of like 'next man up' mentality," running back Shane Simpson said. "Lindell's been here for a while, and he's practicing like a starter. He always has been, and I know he'll be ready."
Be the first to know
Get local news delivered to your inbox!