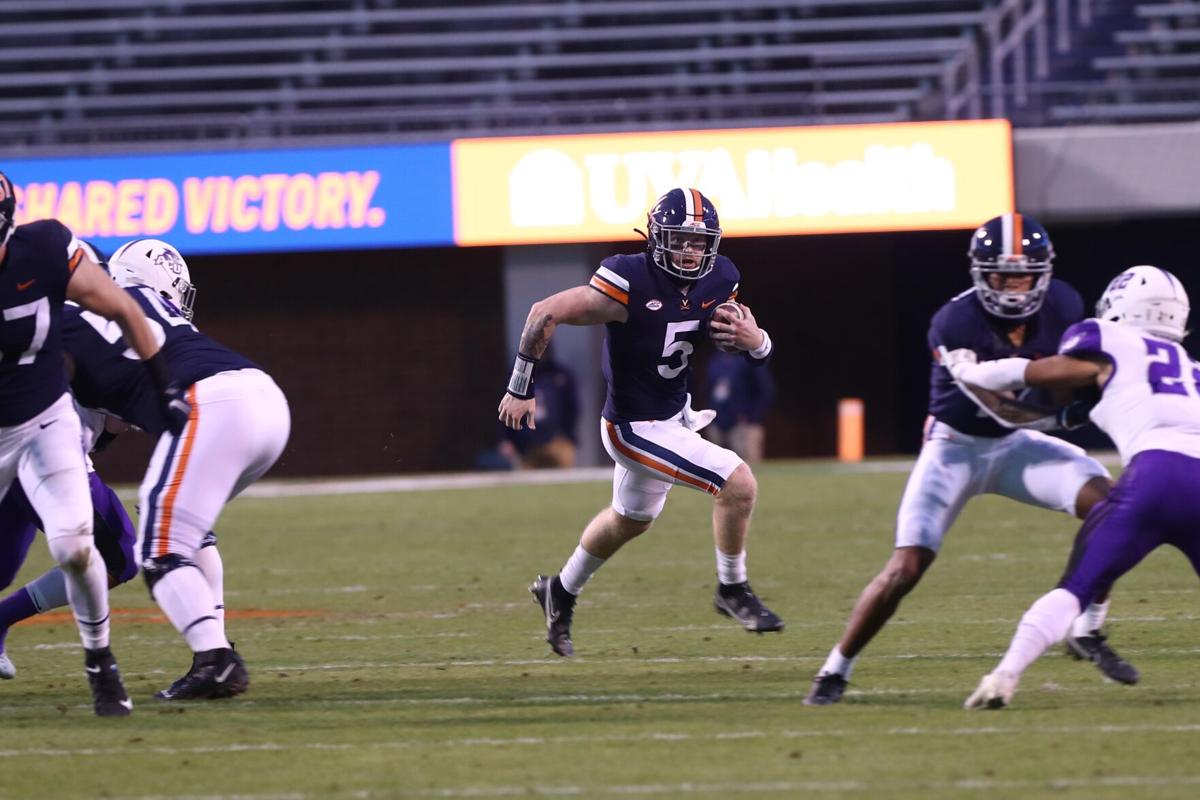 Winning football games requires success in multiple phases.
For the Virginia football team, the formula to win boils down to winning the turnover battle, holding an edge in field position and reaching at least 24 points. The Cavaliers believe those indicators frequently lead to wins.
This season, the turnover margin seems to be one of the best indicators of Virginia's success.
The Cavaliers (4-4, 3-4 ACC) are 4-0 in games when they've won the turnover margin. In games when they've committed more turnovers than they've forced, the Wahoos are 0-4.
Other factors contribute to the results — Virginia didn't need its one forced turnover in its 55-15 victory over Abilene Christian — but turnovers seem to be an accurate indicator to the program's success. Dating back to the start of the 2018-19 season, Virginia is a perfect 15-0 when winning the turnover margin.
"I would say turnovers mostly happen when you're playing really hard, so that's what we try to emphasize is playing hard and playing fast," Virginia defensive coordinator Nick Howell said.
Howell's group has forced 14 turnovers this fall, one of the best marks of the teams playing this season.
Half the battle when it comes to winning the turnover margin is taking care of the football. That's improved dramatically in recent weeks for Virginia, with quarterback Brennan Armstrong cutting down on his turnovers. After tossing six interceptions in his first three starts, Armstrong has thrown just two in his last four outings.
"It makes me happy to actually see it, the progress," Armstrong said.
Once returning from his concussion, Armstrong says he felt "rejuvenated." He's looked much improved since sitting out the Wake Forest game with his concussion. As he develops his rhythm and finds a groove, he's able to make dynamic plays while also taking care of the football.
Limiting turnovers is a key for Virginia's success, and that responsibility lies heavily with the quarterback.
Saturday's game against Florida State comes against a Seminoles offense that struggles to take care of the football. FSU leads the ACC in interceptions thrown with 15. The Seminoles have thrown only eight touchdown passes, tossing nearly two interceptions for every touchdown pass.
Despite a talented secondary, the Seminoles struggle to secure interceptions. They've allowed 14 touchdown passes and only intercepted five passes. Only Louisville and Georgia Tech have recorded fewer interceptions among ACC teams.
Florida State boasts a plus-2 turnover margin when it comes to fumbles, but that's partially due to good luck. The Seminoles have fumbled 10 times but have recovered seven, only losing the ball three times. Defensively, the Seminoles have jumped on five of the nine fumbles by opponents.
UVa sports a plus-1 margin in fumbles, recovering six opponent fumbles while losing five.
Should neither team lose the ball or the turnover margin is tied, head coach Bronco Mendenhall then looks at fourth-down conversions as a key statistic. The Cavaliers are 15-for-23 on fourth downs this fall, converting at a 65.22% clip. Virginia opponents are just 4-for-13, converting on just 30.77% of their attempts.
"If, for some reason, there aren't turnovers, creating extra possessions or stealing possessions is part of a fourth-down philosophy," Mendenhall said. "I view that as a turnover or a possession. Those kinds of things all have to contribute, so if the turnovers don't yield a plus or minus, then extra possessions would be the equivalent of the plus or minus."
Data study and analytics make Virginia believe the turnover margin is a critical part in winning football games. This year's results suggest that to be an accurate assessment.
As the Cavaliers aim for consecutive win No. 4, the turnover battle will be one Mendenhall watches closely.