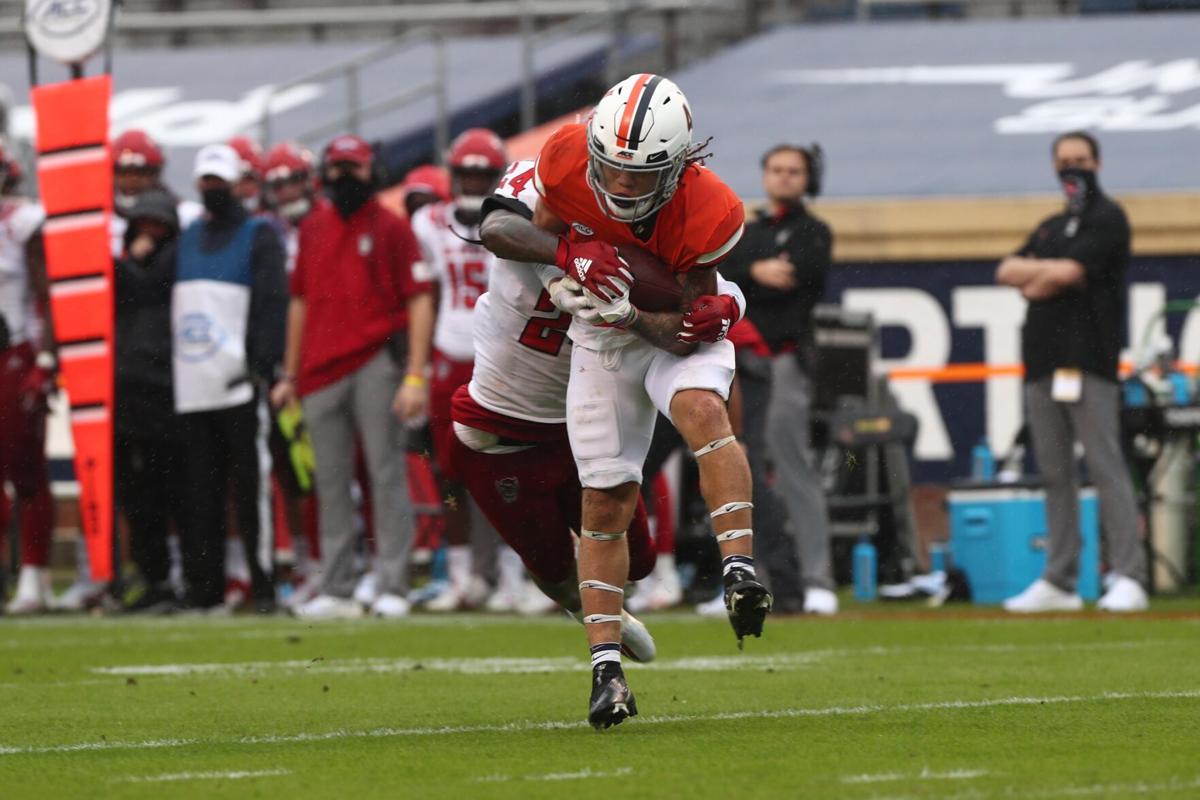 After four consecutive seasons of increased win totals under Bronco Mendenhall, some Virginia football fans wonder why that growth trajectory has dipped to begin this fall.
The Cavaliers sit at 1-4 despite entering the year with an experienced defense, a good, young quarterback prospect and key transfer contributors. UVa fans likely didn't expect an undefeated record this fall, but they're still disappointed with the current outcomes.
Virginia pushed Miami on the road, but only scored two touchdowns in its 19-14 loss to the Hurricanes. It was the team's fourth consecutive loss.
"Regarding our game against Miami, I really like the competitive spirit of my team," Mendenhall said. "I liked their resilience. I liked how they competed. And I actually think we took a step forward in a lot of directions."
Virginia's coaches and players believe they're better than the on-field results indicate.
Understanding UVa's lack of on-field success this fall requires a close look at a few key statistics and being honest about the team's strengths and shortcomings.
A hard schedule
Blaming the schedule for Virginia's 1-4 record isn't completely accurate, but it's impossible to ignore the impact of playing only ACC teams through five games. UVa defeated Duke, the only team on its current schedule with a losing record.
Clemson, N.C. State, Wake Forest and Miami all have winning records, and both Clemson and Miami sit in the top 15 of the latest AP poll. Three of those losses came on the road, and the Cavaliers played the two easier opponents — N.C. State and Wake Forest — without starting quarterback Brennan Armstrong for most of the action.
UVa, which entered the Clemson and Miami games as a double-digit underdog, actually covered the betting spread in both of those games, outperforming the expectations of those in Las Vegas.
A tough schedule and an untimely quarterback injury played a role in the team's slow start.
"What they're realizing is what it truly takes, the level of preparation, the level of consistency, the level of durability and the level of productivity needed week in and week out to win in the most challenging schedule we've ever taken on as a staff down here at UVa," Mendenhall said.
Originally, UVa's schedule would've opened with an elite Georgia team before games with VMI and UConn, two beatable teams. In October, the Cavaliers were scheduled to face Old Dominion in another winnable game. Those nonconference games typically serve as building blocks for younger players — such as Armstrong — to build confidence while picking up victories.
Instead, the Cavaliers and Armstrong built confidence in losses to Clemson and Miami.
Interrupted development
Arguably the team's biggest question entering the fall was its offense.
The offensive line had experience, but Armstrong became a first-time starter at quarterback and receivers Hasise Dubois and Joe Reed graduated. Newcomers like freshman wide receiver Lavel Davis Jr. and graduate transfer tight end Tony Poljan, look good, but the adjustment period still exists. Chemistry builds over time, and UVa's offense lacks consistent chemistry and production.
Absences have hurt the team's development of chemistry.
Armstrong missed the second half of the N.C. State game and the entire Wake Forest game with a concussion. Davis Jr. missed the Miami game for an undisclosed reason, and he's expected to miss the North Carolina game as well.
Ronnie Walker Jr, the transfer running back from Indiana, hasn't taken the field due to eligibility issues followed by an illness that occurred almost immediately after his NCAA waiver for immediate eligibility was approved.
The changes along the offense don't help the team's development, and losing Armstrong for a game and a half changed the Cavaliers' mindset as an offense. Mendenhall believes the confidence returned against Miami with Armstrong healthy.
"We're a different team with Brennan," Mendenhall said. "The throws he can make, how tough he is when he scrambles, just his leadership style. I watched from the sideline against Miami and this team, this year, went to Miami, as well as going to Clemson and played with more resolve and more consistent spirit than playing Clemson and Miami a year ago. Even though we didn't have the outcomes that we wanted. Man, I liked this year's team's effort and mindset better and I think Brennan has a lot to do with that. So he makes a difference for us, even though it hasn't shown on the outcome yet."
Defensively, the lack of development comes as more of a shock. Injuries to several defensive backs — namely safeties Joey Blount and Brenton Nelson — puts the Cavaliers in a tough position, but the overall production has been below Virginia's standards.
At the same time, the Cavaliers held Miami to 19 points and the team still lost. In the win over Duke, UVa forced seven turnovers, and the defense was the main reason the Wahoos won the game.
In many regards, a lack of offensive development leaves the Cavaliers at the bottom of the ACC standings.
Poor play
It's impossible to ignore UVa's subpar performance.
After forcing seven turnovers against Duke, the Cavaliers forced just one turnover in their next four games. They've lost the turnover battle by a combined 10-1 margin in the past four contests.
An inability to create and limit big plays also haunts Virginia. The Cavaliers rank 85th out of 101 FBS teams in yards per completion this fall, checking in at less than 10 yards per completion. UVa checks in at 83rd in completion percentage (60%).
The team's passing attack leaves plenty to be desired.
"We are not the throw-and-catch team we were a year ago," offensive coordinator Robert Anae said. "Some of that's on Brennan, but the majority of that is on the guys that are running out there getting open."
Anae wants to see a team completion percentage above 60%, potentially pushing 70%.
"We've got a lot of room to grow in that regard," Anae said.
Defensively, UVa is allowing about 285 yards per game through the air. Most alarmingly, they're allowing just over 15 yards per completion. Opponents move the ball in chunks against Virginia's secondary, which hasn't been consistent this fall.
Other issues include special teams mistakes. Whether it's missed field goals, poor return coverage, fumbled kickoffs or a blocked punt, the Cavaliers seem to make a special teams error each week.
Virginia's overall team performance through five weeks has been sloppy. Untimely penalties and turnovers turn close games into losses.
The bottom line
UVa players and coaches believe they're a better team than its 1-4 record indicates.
It's not an unreasonable assessment given the schedule and injuries impacting the team.
For the wins to come, however, it requires the Cavaliers to win the turnover battle and start limiting opposing offenses from moving in chunks, while also creating big plays. Improved execution and consistency are needed for UVa to win at the level it has the previous two seasons.
Mendenhall and the Cavaliers believe reaching better outcomes is possible. He's pleased with the team's mindset and feels the positive results may soon follow.
"I'm really, really encouraged and proud of them, because this is kind of uncharted territory for a group of guys that's won a lot in the past three years and had expected to and now it's, it's been 'Well this isn't what we expected,'" Mendenhall said. "And it's harder, but I'm impressed so far."