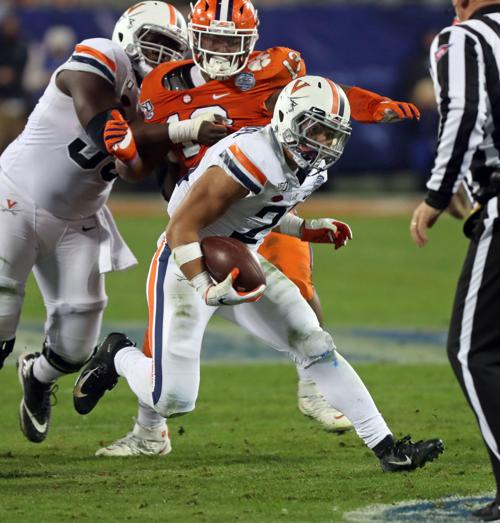 On paper, the Virginia football team's season begins on Sept. 7 with a Labor Day showdown against an elite Georgia team. Bronco Mendenhall and company start the season with a crack at an SEC power.
In reality, that Sept. 7 date sits precariously on Virginia's schedule. If you're keeping track of college football schedules on your calendar, mark the dates down in pencil. Schedule changes are likely to be frequent over the next month.
With COVID-19 still a major threat in the U.S., the college football season may not take place this fall. If it does, it's a guarantee to look different than a typical season. A handful of options are available for college football in the coming months, and there's still time left to decide what works best.
1. Conference-only schedules
Unfortunately, the option of playing the season as originally planned is gone.
The Big Ten and Pac-12 already announced the decision to play conference-only schedules this season. Virginia head coach Bronco Mendenhall hopes the ACC does something similar.
"By playing teams only in our region, only in our conference, we have a better chance to have standardized protocols in terms of testing," Mendenhall said. "We have a better chance to lessen cross-country travel. We have a better chance to mitigate any concerns about lack of consistency because we are in conference. There's already been suggested models about how that might work, but anything that reduces travel, reduces air travel, increases proximity play and keeps our players safer, I'm for that."
If the ACC opts for conference-only play, it can mandate certain COVID-19 testing procedures and safety protocols. In theory, if UVa traveled to play Clemson, both squads would be following identical health protocols, which would give each team peace of mind that they're doing all they can to remain safe amid the pandemic.
Playing a team from a different conference makes it challenging to ensure that they're following the same safety protocols.
Another suggested benefit of the conference-only format is reducing cross-country travel. In UVa's case, removing nonconference games doesn't reduce travel much at all, though.
The team is scheduled to play Georgia in Atlanta and Old Dominion in Norfolk. VMI and UConn would come to Charlottesville. While the trip for UConn likely requires a flight, the other trips aren't overwhelmingly long. UVa is scheduled to play Georgia Tech on the road, so a flight to Atlanta remains on the current schedule even if Georgia is removed.
Given that the ACC spans from Boston College to Miami, the schedule would need to be altered to truly reduce travel.
2. Regionalized conference-only games
One potential proposal is playing home-and-home games with a handful of ACC foes. For example, Virginia could face teams in its region twice during an unusual 2020 fall season.
Yes, that would likely mean facing Virginia Tech twice in one season.
"This is a time for innovation and unique solutions doing the very best we can through the circumstances, and I think that proposal has merit," Mendenhall said. "I'd much prefer to play each team once, not twice, but again, that expands the regional play. I think that probably puts us at more risk than local play, and so the regional pod idea, it might be what the best thing is for us this year."
While UVa's head coach doesn't want to play teams twice, it's a potential solution to reduce travel and ensure standardized testing protocols among teams.
From a football perspective, watching Virginia face teams like Virginia Tech or North Carolina twice in one season would be fun. From a coaching perspective, trying to beat a top-25 caliber team twice brings plenty of challenges.
3. Regionalized nonconference and conference games
While less likely than a conference-only scenario, there's sound logic behind playing regional foes even if they fall outside the ACC. For example, if Old Dominion follows testing protocols that UVa deems standard, that's an easy FBS matchup within driving distance.
FCS teams like JMU, Richmond and William & Mary are all close to Charlottesville. VMI sits on UVa's current schedule. For those FCS teams, the payout from those matchups could help keep their athletic departments from facing drastic cost-cutting measures. VMI is set to earn $375,000 from Virginia if that game takes place. JMU has a scheduled road trip to North Carolina worth $500,000.
There are also FBS options within Virginia and options with FBS teams just outside Virginia.
The drive from Charlottesville to Morgantown, West Virginia, is about four hours. Could the Cavaliers add the Mountaineers to the schedule?
If the ACC works out an agreement with the SEC or Big 12 regarding testing protocols, there's the possibility of games between those conferences working. The same goes for Group of 5 leagues like Conference USA. Games against Old Dominion and Charlotte are within driving distance of Charlottesville.
"I would prefer divisional play and crossover, as close as possible in terms of scheduling within our league," Mendenhall said. "If for some reason we couldn't get that architected correctly, yes, I would play regional games regardless. If for some reason we couldn't get it designed properly within conference, the next-best option is then to look at who's closest and then consider those options as possible non-conference, but I prefer conference first."
4. Move college football to the spring
There's a possibility college football moves to the spring. The logic behind this solution would be that in the spring testing would improve across the country. The hope is also for improved treatments for COVID-19 with additional hope that a vaccine or multiple vaccines would be available by the spring.
Moving to the spring could lead to a safer season.
On the other hand, playing in the spring brings serious health questions into play. Could a player realistically play 10 or more games in the spring before then turning back around and playing a full season in the fall of 2021? The physical toll could be too much to handle.
There's also no guarantee that it's dramatically safer to play in the spring than it will be in the fall. While this solution sounds great in theory, it's much more challenging in practice. It is a potential solution, but it's not perfect.
Nobody wants to consider this option. Unfortunately, there is a possibility college football doesn't take place this fall. If too many hurdles come up in the spring, the next college football game could come in the fall of 2021.
This is the worst-case scenario.
Mendenhall wants a season, even if it's different than normal, to last at least eight games.
"Anything less than eight I don't think would be appropriate to ask of them," Mendenhall said. "So that's the minimum cutoff I have internally just based on my own threshold, nobody else's. Anything more than that I think would be worth it, anything less hard to justify, knowing that I understand the revenue part, I understand, man, the athletic department's need for resources. I understand the effect on other sports, and so I want to help that at the highest level as well."
It's important to note that players want to play. Coaches want to coach. Fans want to watch games. It needs to be done safely, but everyone involved wants a healthy and safe fall season.
Unfortunately, the virus dictates most of the decisions. Wanting a fall season isn't enough to make it happen. If the numbers with the virus improve, fall football in an altered form is a possibility. If not, it's hard to fathom a fall college football season.
Regardless of the uncertainty, UVa's staff and players plan on preparing for a fall season until told otherwise.
"We still have to anticipate and prepare as if we're opening on time," Mendenhall said. "So, it might be like a special forces unit or a unit that's training and preparing and ready to get a green light to be called on the mission but you're never sure if the green light's actually going to go on. It might stay red. You have to be ready as if it's going to go off at any time."
Be the first to know
Get local news delivered to your inbox!