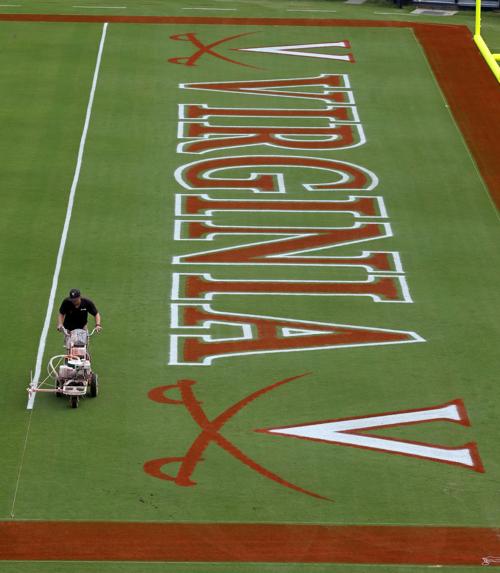 Taking COVID-19 tests a few days prior to Saturday games, attending online classes and wearing masks are just a few examples of how this fall college football season might look completely different than years past.
If — and it's a big if — the fall college football season can occur safely, it's going to look different. It needs to look different.
With the coronavirus still a threat, everything from attendance limitations to frequent COVID-19 tests are needed for the season to occur. In addition to low case numbers in communities, a safe season also requires buy-in from players. They need to socially distance and wear masks when applicable to limit their exposure to the virus.
"This is going to be player-driven," UVa head coach Bronco Mendenhall said earlier this month.
During required activity, players were spending about two hours per day with the team. NCAA rules allowed that hourly limit to increase to four hours per day and 20 hours per week starting Friday.
There's significant time each week when the players are not being coached and supervised by team personnel.
"The individual and social choices and commitment of our players to each other is what will drive the success or failure of this initiative," Mendenhall said. "This can't be managed into success. This is personal choice, based on commitment to team."
Mendenhall believes empathy, "maybe even more than science," will be the key to success. The long-term effects of COVID-19 on college-aged students are unclear, and while student-athletes might not be the most at-risk group to suffer life-altering impacts from the virus, spreading the virus into a vulnerable population requires concern.
Players don't want to contract the virus, and they certainly don't want to spread it within the Charlottesville community.
For a season to take place, it's critical that players avoid contracting the virus. That's a little bit easier during offseason workouts, when the majority of the student body is away from Charlottesville.
"As we get close to playing, obviously their daily routine is going to look a lot more like football," John MacKnight, UVa athletics' medical director and primary care team physician, said. "So there's going to be a lot of close contact in practice and then of course school will be back in session. You've got individuals who are going to class, individual upperclassmen who will be returning to their apartments and non-bubble lives. That's where the challenge is going to be in ensuring they're doing everything they can to continue to mitigate risk in spite of the fact they'll be out of the neat bubble we've got here for the summer workout time."
Without the bubble, mitigating risk becomes a major challenge.
One option for players hoping to limit exposure to the virus is to take some classes online. While UVa hasn't recommended this for athletes, it's a possibility that could make sense for players wanting to avoid contact with other people.
"My gut sense is that most of the kids at this point are looking at the online options as relatively more appealing as long as they can still meet the demands that they have academically and not detour themselves from their course work," MacKnight said. "We have not made any across-the-board recommendations to do that as a means to preserve sport. They all understand what the implications are there, and I suspect as their course of academic work will allow they'll take advantage of that as much as they reasonably can."
If students return to Grounds by the thousand, there's not much student-athletes can do to limit exposure outside of social distancing, wearing masks and making smart decisions. Avoiding large off-campus gatherings will be important.
When it comes to Saturdays in the fall, only players who test negative for the virus earlier in the week will be allowed to play.
The NCAA recommends testing players within 72 hours of competitions requiring close contact.
Off the field, attendance will likely be severely limited.
Teams could move to regionalized schedules with the ACC playing a mostly conference-only slate.
If a fall football season happens, it's going to look drastically different than what we're used to seeing. Expect more clarity regarding the fall season soon, with the ACC planning an announcement by the end of the month.
If the ACC decides to play football this fall, the fate of the season isn't solely up to the players, though. It requires a relatively healthy community and an ample supply of medical supplies and ICU beds in local communities.
"I think the other sort of unfortunate reality is if we reach the point where we're critically challenged in regards to testing supplies and testing capability and it's putting a strain on the Health System, probably sports at that point are not going to be a priority," MacKnight said. "It may already be the circumstance then where the institution has decided we did the best we could but we simply can't pull this off."
Be the first to know
Get local news delivered to your inbox!