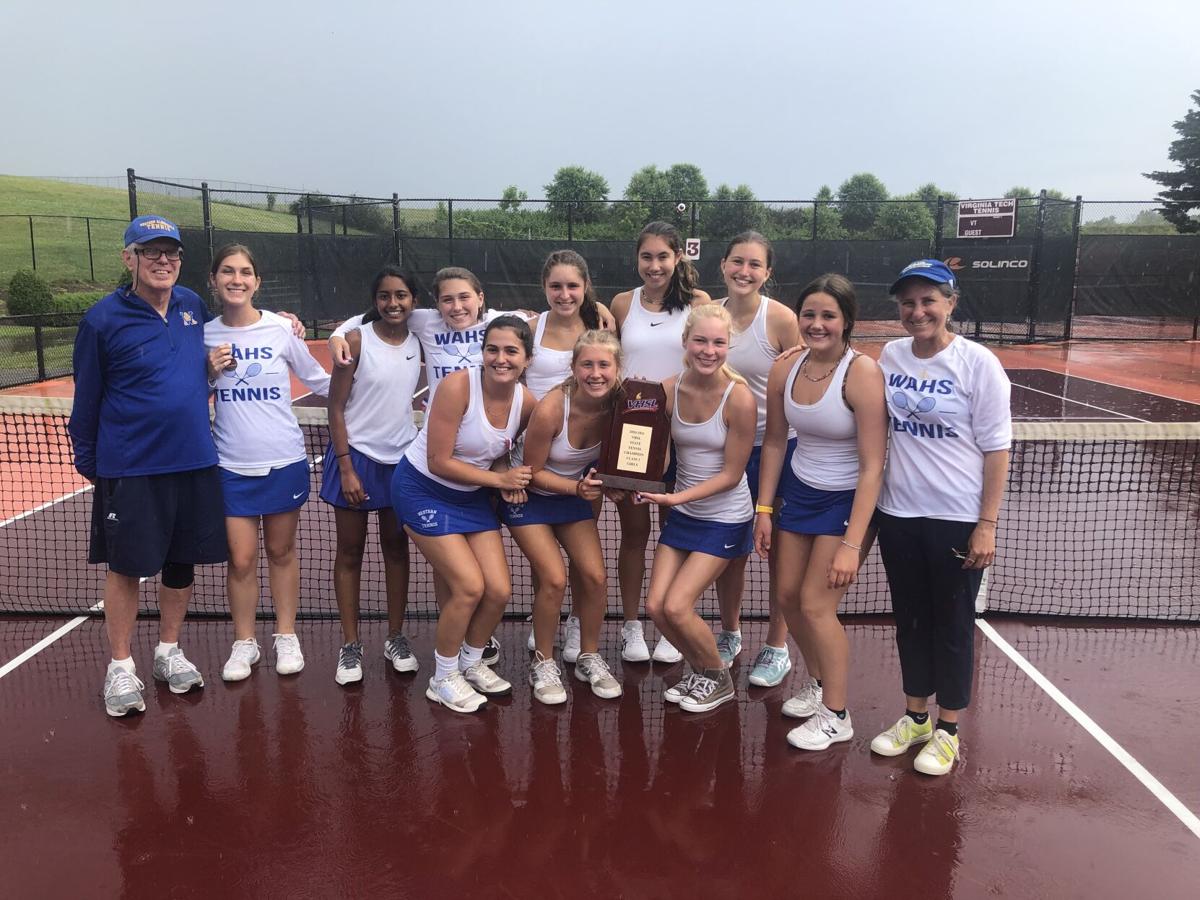 BLACKSBURG – The Western Albemarle doubles team of Alison Selverstone and Lucy Evans took the court Thursday afternoon with the Warriors needing just one more victory to secure a state championship.
Nearly two hours later, the Warriors' No. 3 doubles duo provided the deciding point during Western Albemarle's thrilling 5-4 victory over Maggie Walker in the VHSL Class 3 state championship match at the Burrows-Burleson Tennis Center at Virginia Tech.
Selverstone and Evans rallied from a 3-0 deficit in the tiebreaker to win 7-5, 4-6, 7-6 (7-5) over Maggie Walker's Anna Newell and Waverly Tang to cap an epic seven-hour match and secure back-to-back state championships for the Warriors.
"I definitely think our opponents played super well," Evans said. "There were times, personally, [where I thought] that we weren't going to make it, but I'm so grateful that I have such an amazing doubles partner who was able to stay positive and help me focus on one point at a time and that really helped us get through it."
The doubles victory from Selverstone and Evans capped a long, grueling match that began at 9 a.m. and went deep into the afternoon.
Grace Nolasco cruised to a 6-3, 6-3 victory over Sruthi Vegunta at No. 2 singles to give Western Albemarle the early lead. Sarah Randolph Warren defeated Grace Liu 6-2, 6-1 at No. 4 singles and Austin Winslow grinded out a 6-4, 4-6, 6-2 victory over Eleanor Westerfield on the top line.
Maggie Walker countered as Naadia Rashid defeated Selverstone 6-3, 6-2 at No. 3 singles and Tang outlasted Maya Kelly 6-2, 7-5 to extend the match to doubles.
Maddie Farmer rallied from a 5-2 deficit in the third set to win 2-6, 6-2, 7-5 over Newell to give Western Albemarle a 4-2 lead through singles. The junior won the final five games of the match, all while battling through cramps midway the final set, to give the Warriors the advantage.
The Dragons have shown a propensity to thrive in long matches following Tuesday's epic 5-4 thriller against Tabb to advance to the championship match.
That showed Thursday as Maggie Walker continued to chip away at Western Albemarle's lead as the match shifted to doubles. Westerfield and Rashid defeated Winslow and Nolasco 7-4 in a tiebreaker to win 3-6, 6-3, 7-6 (7-4) at No. 1 doubles to close the gap to 4-3.
At No. 2 doubles, Vegunta and Liu defeated Warren and Kelly 7-5 6-4 to even the match at 4-4. Farmer typically plays with Warren at No. 2 doubles, but sat out the match because of lingering issues with cramps.
That set the stage for Selverstone and Evans.
The duo won the first set 7-5 before falling behind 5-2 in the second set. The Western Albemarle tandem rallied to break serve twice to take a 6-5 lead, but Tang held serve for Maggie Walker to force a tiebreaker.
The Dragons jumped out to an early lead and won 7-5 in the tiebreak to force the game-deciding set.
"It was nerve-racking, I can't lie," Selverstone said. "I was a ball of nerves, I think we both were, but just talking each other through it, kind of having a calm mindset going through that match was really important to us and it paid off. That final moment was just incredible."
Newell and Tang carried that momentum over into the third set as they raced out to a 4-0 lead. Selverstone and Evans didn't back down and they rallied to tie the match and send it to a tiebreaker.
The Dragons jumped out to a 3-0 lead in the tiebreaker before a couple of big serves from Selverstone and a big backhand winner from Evans gave them a 6-5 lead. On the final point, Evans dug deep to get to a ball near the sideline. She was able to get the ball back in play and deep. Maggie Walker tried to answer with a baseline winner, but the ball sailed long, sealing the victory and the championship for the Warriors.
"Lucy and I have been doubles partners through this entire season and I have to thank our coaches for putting us together," Selverstone said. "We work so well, both in season and out of season that we've practiced together and it's such a joy to play with her."
The victory marked the third state championship in program history for the Warriors and second in a row. Selverstone and Evans are happy to continue that championship legacy.
"Not having a season last year really put a damper on our moods," Selverstone said. "We worked super hard and we knew that this year was it. We knew we were going to come in and take the best attitudes and the best mindsets through every single match. Becoming state champions is really the cherry on top of the incredible season that we had as teammates and as friends. We all have a good time out on the court together."