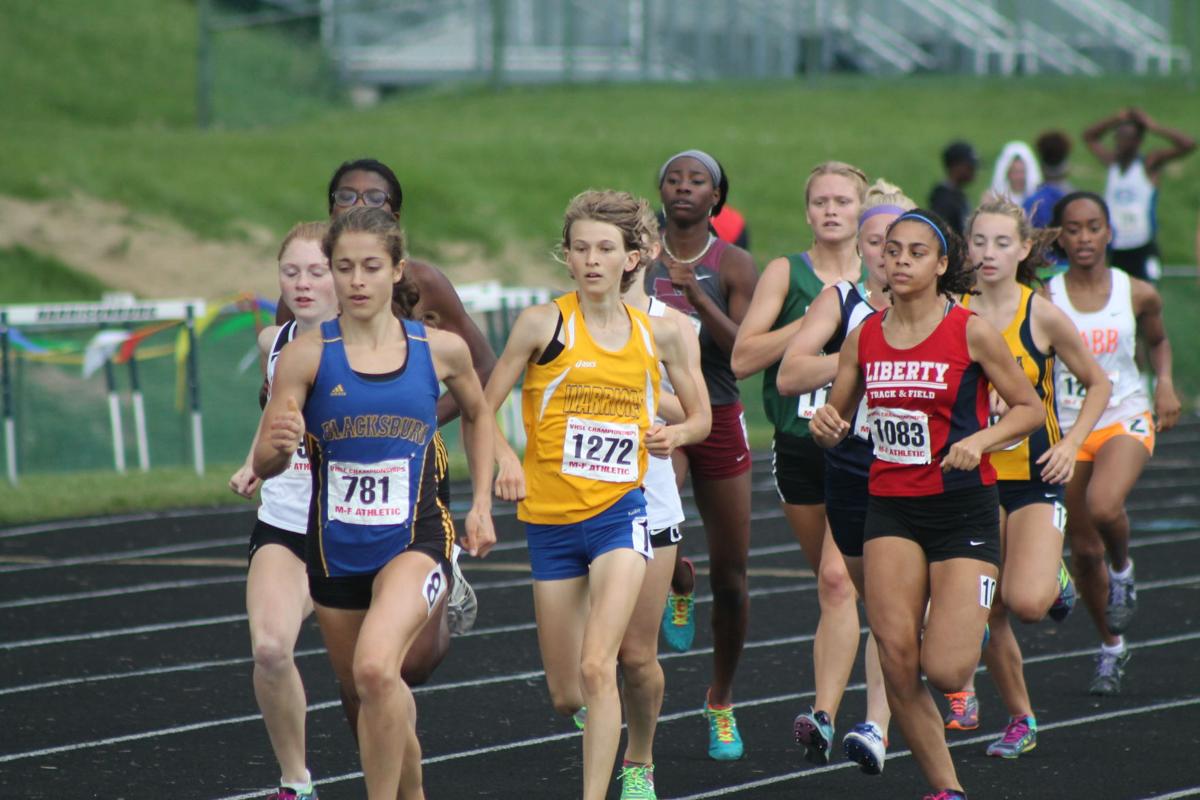 HARRISONBURG — Saturday's 3A/4A state track and field meet was bittersweet for Western Albemarle endurance runner Gannon Willcutts.
Willcutts added another state championship to his already impressive high school resume, but, save the New Balance outdoor nationals on June 17, it was his last time suiting up with his fellow Warriors.
"It is pretty emotional," Willcutts said. "[On Friday] I ran the last 4x8 relay I'll ever run with my team. We've run together most of our lives and we're really close, but I think we're all excited to move on to the next stage of our lives."
Willcutts is heading to Princeton, where he'll focus on cross country and he already owned six state championships coming into the annual meet at Harrisonburg High School, but there's always more room in his trophy case.
"Just because you've won a bunch of state titles, it doesn't detract from the feeling of winning one," Willcutts said. "I do this because it's what I'm passionate about. I want to run and push myself as long as I possibly can."
Willcutts won his second 1,600-meter title Saturday with a time of 4:17. He also owns three 3,200 titles, an individual cross country championship and a cross country team title. The 4x800 team finished fourth in 8:05.52.
Named the 3A state male athlete of the year by the VHSL in May, Willcutts opted not to go for his third 3,200 title over the weekend, deciding instead to work on his speed in the 800 in preparation for the national meet.
Heavy rains and lightning halted the action before he got to run the 800, but Willcutts won't be alone at the national meet in Greensboro, North Carolina.
Western sophomore Zoe Clay brought home a 3,200 state title, set a pair of personal records and qualified for the national meet with a time of 2:18 in the 800, which was good enough for fourth place. She won the 3,200 in 10:54.
"I know in those races I have to clear my mind and not focus on the things going on around me," Clay said. "We have great distance runners, and we push each other every day in practice so we can come out and perform like this."
Western's girls were in third place when the weather halted the event. After waiting more than two hours for the skies to clear, officials decided to scrap the final three events and not crown team champions this season.
Led by Madison Masloff and Sarah Tolman, who both cleared 11 feet, 3 inches, Western's girls swept first through third in the pole vault, while the 4x800-meter relay team took fourth in 9:49.46. Katrina Barredo took third with a leap of 11-0.
Averi Witt took fifth in the 1,600 in 5:17.
For the boys, Trevor Stutzman took fourth in the 800 and Jackson Smith tied for fourth with a leap of 12-0 in the pole vault.
Patriots' Mayo defends title
Albemarle's Kathryn Mayo locked up her second straight 800-meter state title Saturday at the 5A/6A state track meet in Newport News.
Mayo crossed the finish line all alone in 2:11.77.
Teammate Ryan Helmers finished third in the 3,200 in 11:12.57 and seventh in the 1,600 in 5:17.46.
Simmons leads Hornets at 5A meet
Orange County's Dequan Simmons led the Hornets at Saturday's 5A/6A state meet with three top-four finishes.
He took second in the 400 in 48.91 seconds, and the triple jump with a leap of 46-01.5. Simmons also finished fourth in the 300 hurdles in 39.55 seconds.
Long jumpers lead Louisa County
Louisa County's Brandy Brown and Aaliyah Clark train together every day, and it showed on Saturday.
"We're pretty competitive, so we always push each other at practice," Brown said. "It helps to have someone pushing you to be your best."
Brown took fourth in Saturday's 4A long jump with a leap of 17-04.25, and Clark finished sixth with 17-03.75.
Kiana Richardson took third in the 100-meter dash in 12.65 seconds, while Taylor Robinson took third in the 110-meter hurdles in 15.07.
Carrington powers Charlottesville
Charlottesville sprinter Tarig Carrington ran the field's third fastest time Friday in 100-meter prelims, and finished fourth Saturday in 11.13 seconds.
He took fifth in the 200-meter dash.
Ron Counts covers Central Virginia high school and prep sports for The Daily Progress and C'ville Varsity.​ Contact him at rcounts@dailyprogress.com, (434) 978-7245, or on Twitter @Ron_CDPsports.