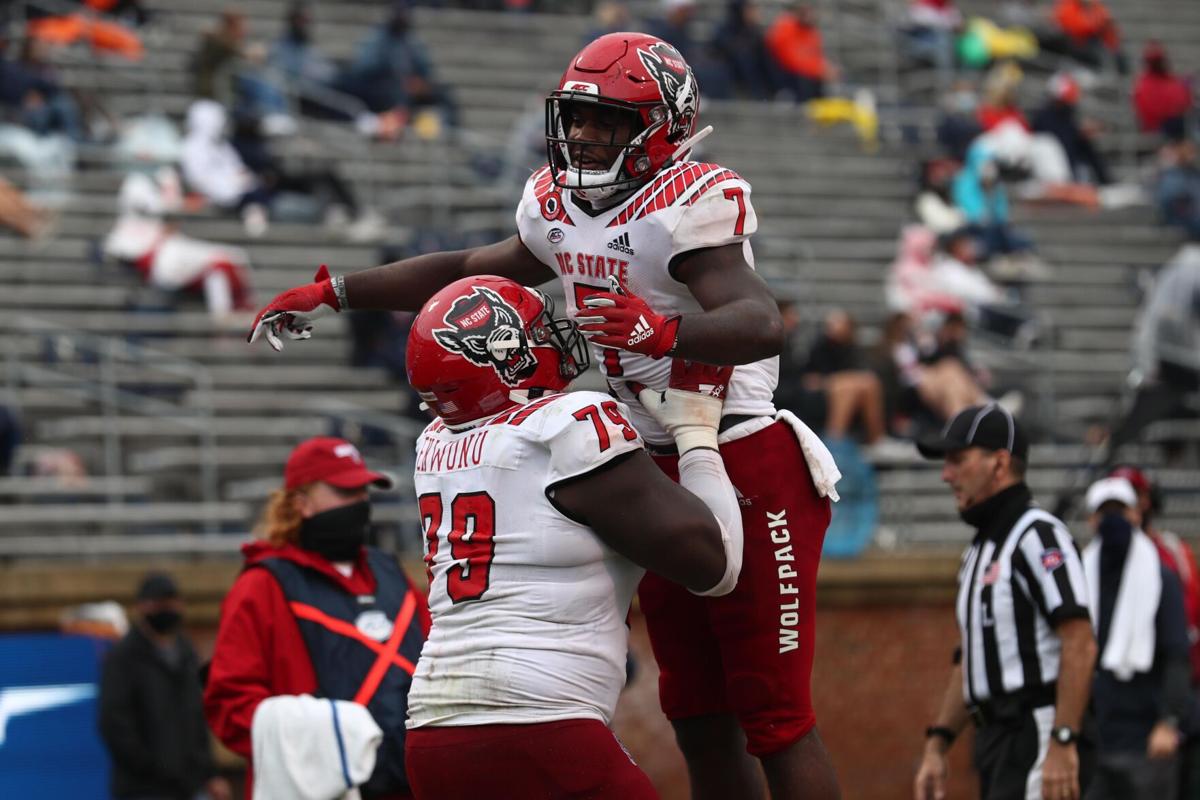 There were seven ACC matchups last weekend. Six were decided by at least 10 points.
Fans were treated to a thriller between Boston College and Pittsburgh, but the other seven games lacked the same intrigue. Virginia Tech, which fell by 11 to North Carolina, put up an impressive fight despite numerous players out due to COVID-19, but there were times when the game was close to a North Carolina blowout.
Miami didn't put up much of a fight at all in its 42-17 loss to Clemson. Dabo Swinney's team is the clear-cut No. 1 team in the league for another week, and it's not all that close.
Let's hope this week brings a few more competitive matchups.
1. Clemson (4-0, 3-0 ACC, No. 1 last week)
Clemson thwarted Miami last Saturday, showing that the Hurricanes are far from being an ACC title contender. The Hurricanes' up-tempo offense stalled, and Trevor Lawrence and Travis Etienne bullied the Miami defense in the 42-17 victory. The Tigers are the best team in college football until proven otherwise. Up next: at Georgia Tech, Saturday, noon
2. North Carolina (3-0, 3-0 ACC, No. 5 last week)
Take a bow, Sam Howell. North Carolina's sophomore quarterback shredded a depleted Virginia Tech secondary, completing 18 of his 23 passes for 257 yards and three touchdowns in a 56-45 win. Don't forget about Michael Carter, who rushed for 214 yards and a pair of touchdowns on just 17 carries. If UNC can play more consistently on defense, the Tar Heels could push Clemson in the ACC title game should they qualify. Up next: at Florida State, Saturday, 7:30 p.m.
3. Notre Dame (3-0, 2-0 ACC, No. 2 last week)
Unsurprisingly, the Fighting Irish moved the ball well against Florida State in a 42-26 victory. Notre Dame was far from perfect, especially on defense, but it rushed for 353 yards and four touchdowns after a long COVID-19 related layoff. That'll work. Up next: vs. Louisville, Saturday, 2:30 p.m.
4. Virginia Tech (2-1, 2-1 ACC, No. 4 last week)
The Hokies' win over N.C. State looks better each week, and the team rallied to nearly shock North Carolina on Saturday. Given the personnel losses related to COVID-19, we've yet to witness a fully healthy Virginia Tech team. When the Hokies return everyone and play a full roster, they might be the second-best team in the conference. The schedule sets up beautifully for Virginia Tech to be in the mix come November. Up next: vs. Boston College, Saturday, 8 p.m.
5. Miami (3-1, 2-1 ACC, No. 3 last week)
Fortunately, we can stop with the Miami hype for a week. The Hurricanes, which have played well this fall, were demolished by Clemson, losing 42-17. D'Eriq King threw for just 121 yards while tossing a pair of interceptions. The performance effectively ended the Heisman campaign some media pundits said King was building. Up next: vs. Pittsburgh, Saturday, noon
6. N.C. State (3-1, 3-1 ACC, No. 7 last week)
The Wolfpack forced four Virginia turnovers and jumped out to a 24-0 lead in their 38-21 road victory over the Cavaliers. Devin Leary only completed 11 passes, but N.C. State added 101 rushing yards from Zonovan Knight to cruise by Bronco Mendenhall and company. The Wolfpack are sneaky good. Up next: vs. Duke, Saturday, 3:30 p.m.
7. Boston College (3-1, 2-1 ACC, No. 9 last week)
Jeff Hafley deserves credit for leading Boston College to a 3-1 start. The Eagles are a competitive group with a shockingly effective passing attack. Phil Jurkovec posted his second consecutive 300-yard passing performance in a 31-30 overtime win over Pitt. He's thrown for at least 300 yards in all three of Boston College's ACC games this fall. Zay Flowers is an All-ACC caliber wide receiver. Up next: at Virginia Tech, Saturday, 8 p.m.
8. Pittsburgh (3-2, 2-2 ACC, No. 8 last week)
Make it two heartbreaking defeats in a row for the Panthers. After N.C. State scored in the final 30 seconds to beat the Panthers by one point two weeks ago, Pitt missed an extra point in overtime to lose by one against Boston College. That's a tough couple of results. Up next: at Miami, Saturday, noon
9. Virginia (1-2, 1-2 ACC, No. 6 last week)
It seemed like the Cavaliers might be destined for a 3-1 start before a fun showdown at Miami. Instead, Bronco Mendenhall's team looked more like the 2016 version of UVa in a 38-21 loss to N.C. State. The Cavaliers committed four turnovers and fell behind 24-0. Quarterback Brennan Armstrong is day-to-day this week as he recovers from a concussion. Up next: at Wake Forest, Saturday, 4 p.m.
10. Georgia Tech (2-2, 2-1 ACC, No. 13)
Fighting for a full 60 minutes might come to define this Georgia Tech team. The Yellow Jackets aren't the most talented ACC team, but they erased a 21-7 deficit last Friday against Louisville, rallying for a 46-27 victory. The Yellow Jackets have two ACC wins by mid-October a year after going 2-6 in the conference. Up next: vs. Clemson, Saturday, noon
11. Wake Forest (1-2, 0-2 ACC, No. 11 last week)
The Demon Deacons flew by Campbell 66-14 in their last game. Wake Forest was off last week, using a bye week to prepare for UVa. Up next: vs. Virginia, Saturday, 4 p.m.
12. Louisville (1-3, 0-3 ACC, No. 10 last week)
It's hard to think of many positives for the Cardinals. They lost to Georgia Tech by 19 points despite leading by 14 late in the first half. Louisville's defense is a concern, and it faces a massive test this weekend. Up next: at Notre Dame, Saturday, 2:30 p.m.
13. Florida State (1-3, 0-3 ACC, No. 14 last week)
When losing by 16 points feels like a decent showing, there's something amiss. That's the state of Florida State's program in 2020. The Seminoles lost to Notre Dame, 42-26, but they were good in the first quarter and certainly have played worse in games this season. Up next: vs. North Carolina, Saturday, 7:30 p.m.
14. Duke (1-4, 1-4 ACC, No. 15 last week)
The Blue Devils won a game! It took five tries, but the Blue Devils took advantage of a bad Syracuse team to win, 38-24. Sticking to its identity, however, Duke lost the turnover margin 4-0. A total of 645 yards made up for the three fumbles and interception. Up next: at N.C. State, Saturday, 3:30 p.m.
15. Syracuse (1-3, 1-3 ACC, No. 12 last week)
The Orange won the turnover battle by four and lost by 14 last week. That's a special kind of bad. Add in reports that quarterback Tommy DeVito is likely done for the season with a leg injury and things may get worse for Syracuse before they get better. They enter this week as a home underdog against Liberty. Up next: vs. Liberty, Saturday, noon
Be the first to know
Get local news delivered to your inbox!