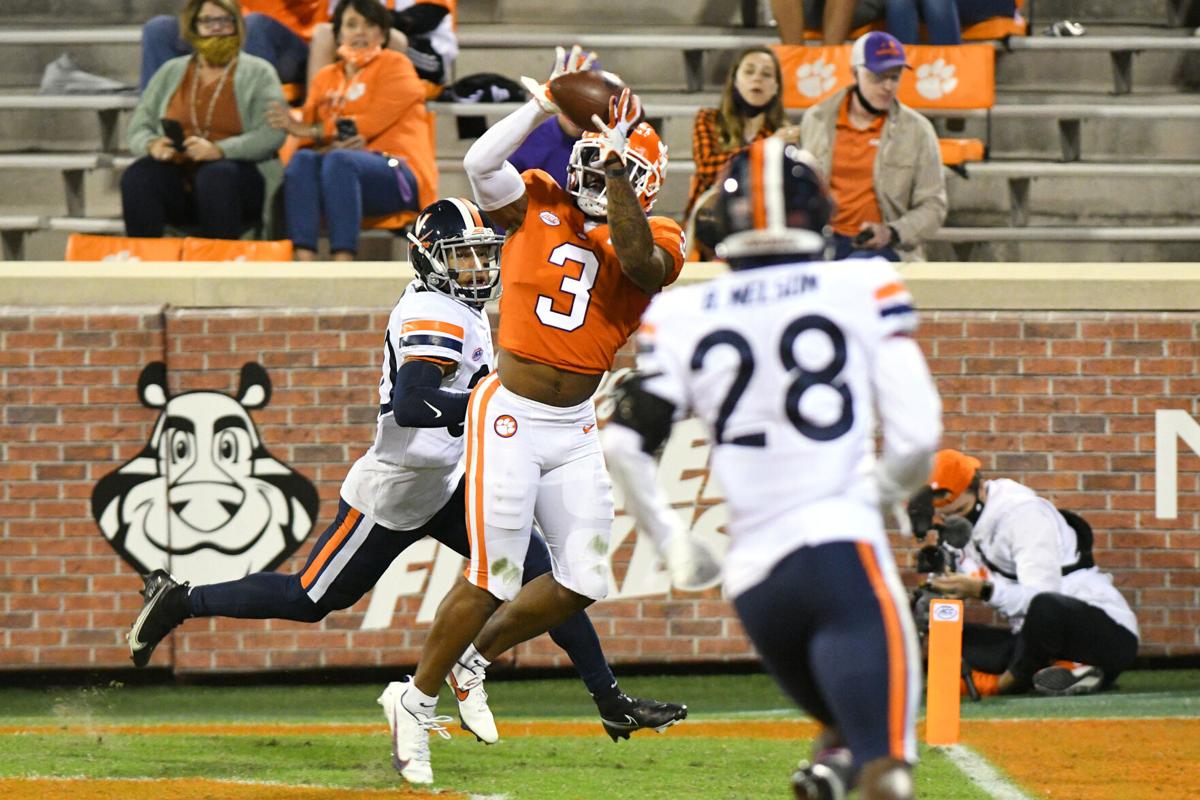 Watching ACC football this fall offers fans a chance to watch their favorite teams after an offseason of uncertainty surrounding the COVID-19 pandemic.
Through the first few weeks, from an on-field perspective, there haven't been many fireworks. Louisville vs. Pittsburgh was a quality matchup, but the Cardinals are up to two losses this fall and the Panthers laid an egg against N.C. State last weekend.
Miami looks impressive through three games, but its schedule leaves fans and experts wondering just how good the Hurricanes are, even with Houston transfer D'Eriq King excelling at quarterback.
Fortunately, the ACC matchups improve this week.
Miami travels to Clemson for a primetime showdown, and North Carolina hosts Virginia Tech in a noon battle between top-25 teams. It's a good week to be an ACC football fan. There's even bonus Friday action with Georgia Tech hosting Louisville.
For those who enjoy watching Florida State flounder, the Seminoles travel to South Bend to face an undefeated Notre Dame team. That game might get ugly in a hurry.
Ahead of a great slate of games, let's check out the latest power rankings for the Power 5 league.
1. Clemson (3-0, 2-0 ACC, No. 1 last week)
The Tigers beat a scrappy Virginia team 41-23 last week, but the game didn't come without concerns for Dabo Swinney. UVa amassed more than 400 yards of total offense, showcasing an ability to move the ball effectively both through the air and on the ground. Clemson's defense needs to stiffen up against a high-powered Miami offense. On the flip side, Trevor Lawrence and Travis Etienne remain elite, giving Clemson the potential to score 50 points against any program. Next: vs. Miami, Saturday, 7:30 p.m.
2. Notre Dame (2-0, 1-0 ACC, No. 2 last week)
Notre Dame hasn't played a game since Sept. 19 due to issues with COVID-19. Fortunately, the Fighting Irish return to the field to face Florida State, a team that looks to be among the worst in the ACC. Brian Kelly's team should be just fine. Next: vs. Florida State, Saturday, 7:30 p.m.
3. Miami (3-0, 2-0 ACC, No. 3 last week)
D'Eriq King and company enjoyed a bye last week. That's good news for a team preparing to face Clemson this Saturday. Memorial Stadium won't be full, but even with limited attendance, it's an intimidating venue. King and the Hurricanes need to be at their best to have a chance against the Tigers. Next: at Clemson, Saturday, 7:30 p.m.
4. Virginia Tech (2-0, 2-0 ACC, No. 6 last week)
N.C. State's upset victory over Pitt makes the Hokies' 45-24 win over the Wolfpack look even better. Virginia Tech followed up its season-opening victory with a 38-31 win over Duke. Khalil Herbert ran for 208 yards and two touchdowns on just 20 carries. While North Carolina might still be a better team, Virginia Tech has looked more impressive through two weeks and earns the No. 4 spot in the power poll. Next: at North Carolina, Saturday, noon
5. North Carolina (2-0, 2-0 ACC, No. 5 last week)
The Tar Heels looked a bit rusty in their second game of the season, surviving a road scare at Boston College, 26-22. UNC's secondary struggled at times, allowing 313 passing yards and a pair of touchdowns. Offensively, Sam Howell completed just over 50% of his passes. It wasn't crisp, but the Tar Heels won after multiple weeks off. Next: vs. Virginia Tech, Saturday, noon
6. Virginia (1-1, 1-1 ACC, No. 7 last week)
I'm moving UVa up after the Cavaliers lost by 18 to Clemson because they answered some of my questions. The offensive weapons — ranging from 5-foot-9 Billy Kemp IV to 6-7 targets Lavel Davis Jr. and Tony Poljan — are reliable. Quarterback Brennan Armstrong appears ready to lead an ACC attack. The defense seems steady and should create havoc against inferior offenses. The Cavaliers aren't a major threat to make the ACC title game yet, but by mid-October, they very well may be in the mix. Next: vs. N.C. State, Saturday, noon
7. N.C. State (2-1, 2-1 ACC, No. 11 last week)
Take a bow Devin Leary. N.C. State's quarterback torched Pittsburgh's defense in a 30-29 win over the Panthers. He found the end zone four times through the air, and he appears to be the answer at quarterback for the Wolfpack. He also added 165 yards and a touchdown in a 45-24 loss to Virginia Tech. He's thrown five touchdowns and no interceptions over 60 passes this fall. Next: at Virginia, Saturday, noon
8. Pittsburgh (3-1, 2-1 ACC, No. 4 last week)
The Panthers were in an ideal position to start 4-0 and 3-0 in the ACC. Instead, the team's defense let it down in a 30-29 loss to N.C. State. The Wolfpack scored the go-ahead touchdown with 23 seconds left to cap off a 336-yard, four-touchdown passing performance from quarterback Devin Leary. Kenny Pickett threw for 411 yards, and the Panthers still lost. That's shocking. Next: at Boston College, Saturday, 4 p.m.
9. Boston College (2-1, 1-1 ACC, No. 8 last week)
Somewhat surprisingly, Boston College put a scare into North Carolina the week after nearly losing to Texas State. The Eagles fell to UNC, 26-22, but came within a two-point conversion of tying the game at 24 with 45 seconds left in the contest. Boston College is far from a pushover. Next: vs. Pittsburgh, Saturday, 4 p.m.
10. Louisville (1-2, 0-2 ACC. No. 9 last week)
The Cardinals are still a dangerous team, but they've started the season slowly. Fortunately, they face Georgia Tech on Friday. It's a winnable game for a team in desperate need of a positive result after lofty preseason expectations. Next: at Georgia Tech, Friday, 7 p.m.
11. Wake Forest (1-2, 0-2 ACC, No. 13 last week)
That's more like it. Even though it came against an FCS team, Wake Forest earned a much-needed win in a 66-14 rout of Campbell. The Demon Deacons looked strong in the victory, and their two losses this season don't look too shabby after N.C. State upset Pitt. Wake Forest fell to Clemson and the Wolfpack to start its ACC slate. Next: Bye
12. Syracuse (1-2, 1-2 ACC, No. 10 last week)
Syracuse beat Georgia Tech before its bye to avoid starting the season winless through three games. They host winless Duke at 12:30 this Saturday in a game almost guaranteed to be overshadowed by Virginia Tech-North Carolina and N.C. State-UVa, which both start at noon. Next: vs. Duke, Saturday, 12:30 p.m.
13. Georgia Tech (1-2, 1-1 ACC, No. 12 last week)
On the bright side, Georgia Tech has a win over Florida State. On the flip side, the Yellow Jackets also have a terrible 17-point loss to Syracuse on their resume. They hope an extra week of preparation pays off Friday night. Next: vs. Louisville, Friday, 7 p.m.
14. Florida State (1-2, 0-2 ACC, No. 15 last week)
Hey, look! A Florida State win! Despite trailing early against Jacksonville State, an FCS team, the Seminoles rallied for a 41-24 victory. It's going to take time for this program to turn things around. Next: Saturday, at Notre Dame, 7:30 p.m.
15. Duke (0-4, 0-4 ACC, No. 14 last week)
Duke lost to Virginia Tech 38-31 last week, allowing 324 rushing yards. Despite the defeat, there were some positives. Chase Brice only threw one interception. Next: at Syracuse, Saturday, 12:30 p.m.
Be the first to know
Get local news delivered to your inbox!