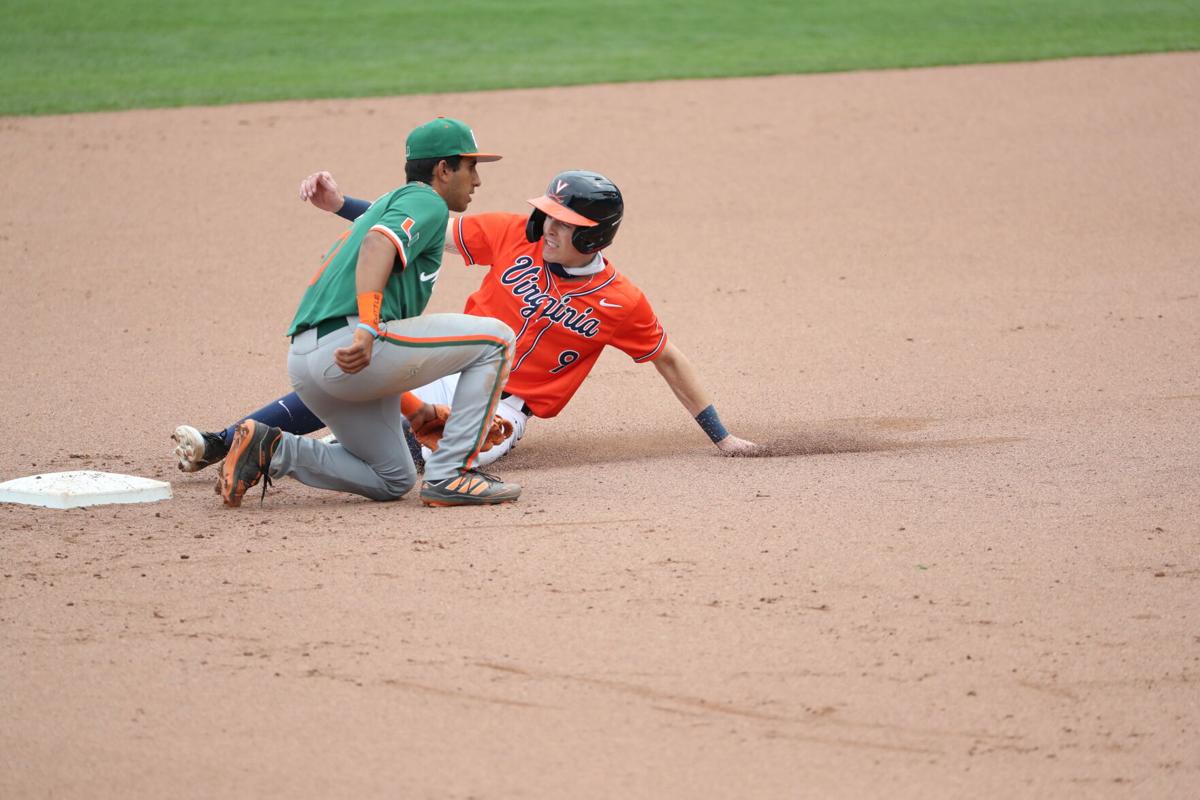 The Virginia baseball team took a different path this weekend, but the result of a lost ACC series was the same.
The Cavaliers finally entered a conference series finale with a shot to win the series after picking a Saturday win. They were close to winning again Sunday, but came up short in a 4-2 loss to No. 19 Miami. Virginia drops to 10-13 overall and 4-11 in the ACC with the hard-fought loss.
"We're all extremely frustrated," outfielder Brendan Rivoli said. "This is obviously not the start that we all wanted and hoped and planned for and worked for."
Miami (12-8, 7-7 ACC) scored quickly Sunday, taking advantage of a sloppy Virginia start. An error from sophomore second baseman Max Cotier allowed sophomore outfielder Jordan Lala to reach first base for Miami. An off-target pickoff attempt from junior starting pitcher Mike Vasil sent Lala to second base. A groundout and a sac fly put the Hurricanes up 1-0.
Vasil and Miami starting pitcher Jordan Dubberly cruised through the next two frames.
Dubberly, a redshirt sophomore right-hander, faltered in the fourth. Junior infielder Nic Kent smacked a ball through the left side of the infield, and he hustled into second base with nobody covering the base due to a unique defensive alignment to cover the right-handed hitter.
"I mean that's something that I feel like we need to do more of, giving out those hustle plays and having more competitive at-bats," Rivoli said.
Rivoli, a senior, drove Kent home with an RBI single to left field.
In the fifth, Miami gifted Virginia a run. Senior infielder Devin Ortiz ripped a double to right field. A throwing error on a ground ball hit to the shortstop by sophomore outfielder Chris Newell allowed Newell to reach first and Ortiz to score.
UVa's 2-1 lead was short-lived.
The Hurricanes were able to string together solid at-bats against Vasil in the sixth. A single and bunt put a runner in scoring position for Lala. The outfielder put a ball in left-center field to knot the game at 2-2.
Two singles and a sacrifice fly in the seventh inning helped Miami extend its lead to 3-2. UVa nearly answered in the bottom half after putting runners on first and second base, but Newell struck out and Kent grounded out to the pitcher to keep Miami in front.
"We just couldn't cash in when we had our opportunities offensively," Virginia head coach Brian O'Connor said.
Freshman infielder Yohandy Morales launched a solo home run over the right-center field fence in the top of the eighth to give Miami a two-run edge. Vasil exited after allowing the home run. UVa's starter tossed seven innings, allowing four runs, three of which were earned.
"He did his job and gave us a chance to win," O'Connor said. "The guy went seven innings, gave up four runs. We would all take that every day for our starters."
Needing a rally in the eighth or ninth, UVa failed to even put a runner on base. Miami defeated the Cavaliers 4-2 in the game that could've gone either way.
"I feel bad for Mike because he competed his butt off today, and he did really well for us and we just didn't come up with enough runs to help him out," Rivoli said.
UVa plays at George Washington on Tuesday. The two teams met earlier this season in Charlottesville, with Virginia winning 11-1.