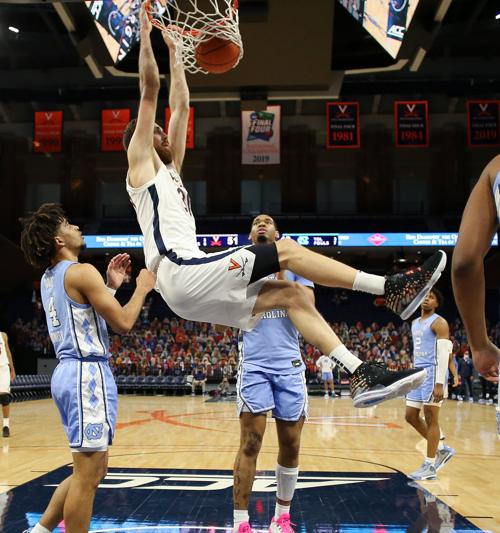 During the week, North Carolina coach Roy Williams told media members his team hoped to get Virginia senior forward Jay Huff into a foul trouble in their upcoming matchup. Huff's father saw those comments on Twitter and made sure to let his son know to expect.
Saturday night, Huff scored 18 points and grabbed 12 rebounds for his second double-double of the season. And he did it all while committing just a single second-half foul.
"I was definitely proud of the one foul," said Huff. "[My dad] sent me something where UNC's plan was to get me in foul trouble, which is understandable, because I've had some games this year where that's been a problem. Luckily, we were able to avoid that."
Huff and fellow forward Sam Hauser, who scored 17, combined to lead No. 9 UVa to a 60-48 win at John Paul Jones Arena, the Cavaliers seventh straight win over UNC.
Going into the game, Williams had called the face-off with first-place Virginia — and Huff and Hauser, a pair of slick-shooting frontcourt players — "the biggest challenge" his team would face this season.
Saturday night, his concern proved warranted.
The duo hit seven of their team's 10 3-pointers, stretching Carolina's defense to create space and opportunity for each other to operate.
Virginia (15-3, 11-1 ACC) took control early against Williams' Tar Heels and never looked back, using a 21-2 run to take the lead, and its defense and ball security to make sure it stayed out front.
"They were a little cold and we got into a rhythm offensively," said UVa coach Tony Bennett. "Then we got that separation."
Just like a year ago, when UVa ended the season with eight straight wins heading into the ACC Tournament, which was canceled before the Cavaliers could play a game, Bennett's club is heating up down the stretch.
Virginia has won four in a row and still sits atop the ACC standings, a game ahead of Florida State, which it plays on Monday night in Tallahassee, Fla. And, as usual, the biggest reason has been its defense.
Its last time out, UNC (12-7, 7-5) scored 50 points in the second half of its win over rival Duke. Saturday, the Tar Heels failed to hit that total for the entire game, struggling to hit shots or score in transition against the ACC's top defensive team.
"When we're playing great defense, I feel like our offense is much better," said freshman guard Reece Beekman, who had seven assists. "Coming from defense and that leading to the offense, that's what helped us. When a couple of shots go in, we get more energy and that leads to defense, too. It all comes back to the defensive department."
Virginia, which had seen its turnover total go up in each of its previous four games — from nine against Virginia Tech on Jan. 30, to 11 against North Carolina State, 12 against Pittsburgh and then 17 the last time out against Georgia Tech — was far better with the basketball Saturday night.
It committed just six turnovers against the Heels and assisted on 16 of 19 baskets.
After scoring 41 first-half points in its last game, the 91-87 road win over the Blue Devils, the Tar Heels managed a season-low 18 points before the break Saturday at Virginia.
UVa and UNC opened a combined 0-for-8 shooting, and neither team scored for the first 2:45. Carolina was first on the board when Caleb Love picked off a pass from Beekman and took it for a fast-break dunk.
The Cavaliers didn't get on the board for the first 3:29, finally scoring on a catch-and-shoot 3-pointer from Huff. That play started the 21-2 run for Virginia as it built a lead it would hold the rest of the night.
UVa went up by as many as 17, taking a 21-4 lead on a 3-pointer by Tomas Woldetensae 10:09 before the break.
But in a cold stretch for the Virginia offense, it missed eight straight shots and the Heels took advantage, using an 8-0 run to close to 22-15. The Cavs didn't score for the final 4:18 of the half, missing 11 of their last 12 shots before the break and headed to the locker room up 27-18.
North Carolina shot 25% in the first half, going 0 for 9 beyond the 3-point arc.
The Tar Heels were better in the second half, but never got closer than 9 points to Virginia after the break.
Trey Murphy III hit a 3-pointer from the wing with 3:09 to play to put UVA up 56-42 and effectively put the game away.
Carolina hadn't played since the Duke win. Its game against Miami on Monday was postponed after a video surfaced showing players celebrating the victory at a party without wearing masks.
Williams said the team handled its discipline internally, and the players involved — including Richmond native Armando Bacot — were not suspended.
About an hour before tipoff, the Tar Heels learned that their next game — at home Tuesday against No. 20 Virginia Tech — had been postponed because of a COVID-19 outbreak in the Hokies' program.
Once the game started, UVa did what Williams had elected not to – publicly punishing the Tar Heels. And as he had feared, Huff and Hauser were a big part of it.​