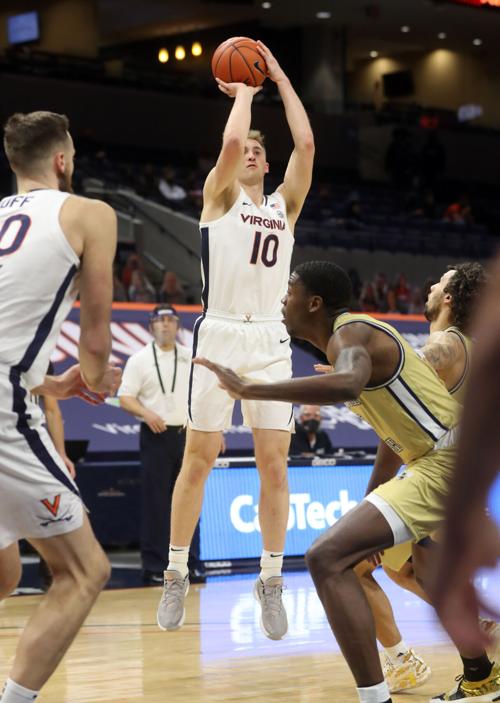 Virginia senior forwards Sam Hauser and Jay Huff and Virginia Tech junior forward Keve Aluma were all named All-ACC basketball selections Monday, and Hokies coach Mike Young was named the league's coach of the year.
Hauser, a transfer from Marquette who leads UVa in scoring averaging 15.8 points, earned first-team honors and finished fourth in the player of the year voting.
Georgia Tech senior forward Moses Wright won that award.
Huff, who averaged 13.1 points — second on the team — and lead Virginia with 6.9 rebounds per game, made the league's second team and was also selected to the All-ACC defensive team.
Aluma, a transfer from Wofford, leads the Hokies scoring 15.9 points and 8 rebounds per game.
Virginia Tech sophomore guard Tyrece Radford and UVa junior guard Kihei Clark earned honorable mention recognition.
Young, in his second season at Virginia Tech, led the Hokies to the No. 3 seed in this week's ACC Tournament in Greensboro after a 15-5 regular-season that included a 9-4 conference mark.
2020-21 All-ACC team
First team: Moses Wright, Georgia Tech; Justin Champagnie, Pittsburgh; Carlik Jones, Louisville; Matthew Hurt, Duke; Sam Hauser, Virginia.
Second team: Keve Aluma, Virginia Tech; Jose Alvarado, Georgia Tech; Jay Huff, Virginia; M.J. Walker, Florida State; Aamir Simms, Clemson.
Third team: RaiQuan Gray, Florida State; Isaiah Wong, Miami; Quincy Guerrier, Syracuse; Prentiss Hubb, Notre Dame; Armando Bacot, North Carolina; Scottie Barnes, Florida State
Honorable mention: Michael Devoe, Georgia Tech; Kihei Clark, Virginia; Alan Griffin, Syracuse; David Johnson, Louisville; Nate Laszewski, Notre Dame; Jericole Hellems, N.C. State; Tyrece Radford, Virginia Tech.
All-defensive team
Jose Alvarado, Georgia Tech; Manny Bates, N.C. State; Jay Huff, Virginia; Jordan Goldwire, Duke; Moses Wright, Georgia Tech.
All-freshman team
Scottie Barnes, Florida State; D.J. Steward, Duke; Day'Ron Sharpe, North Carolina; Jae'Lyn Withers, Louisville; Caleb Love, North Carolina.
Individual awards
Player of the year: Moses Wright, Georgia Tech
Coach of the year: Mike Young, Virginia Tech
Freshman of the year: Scottie Barnes, Florida State