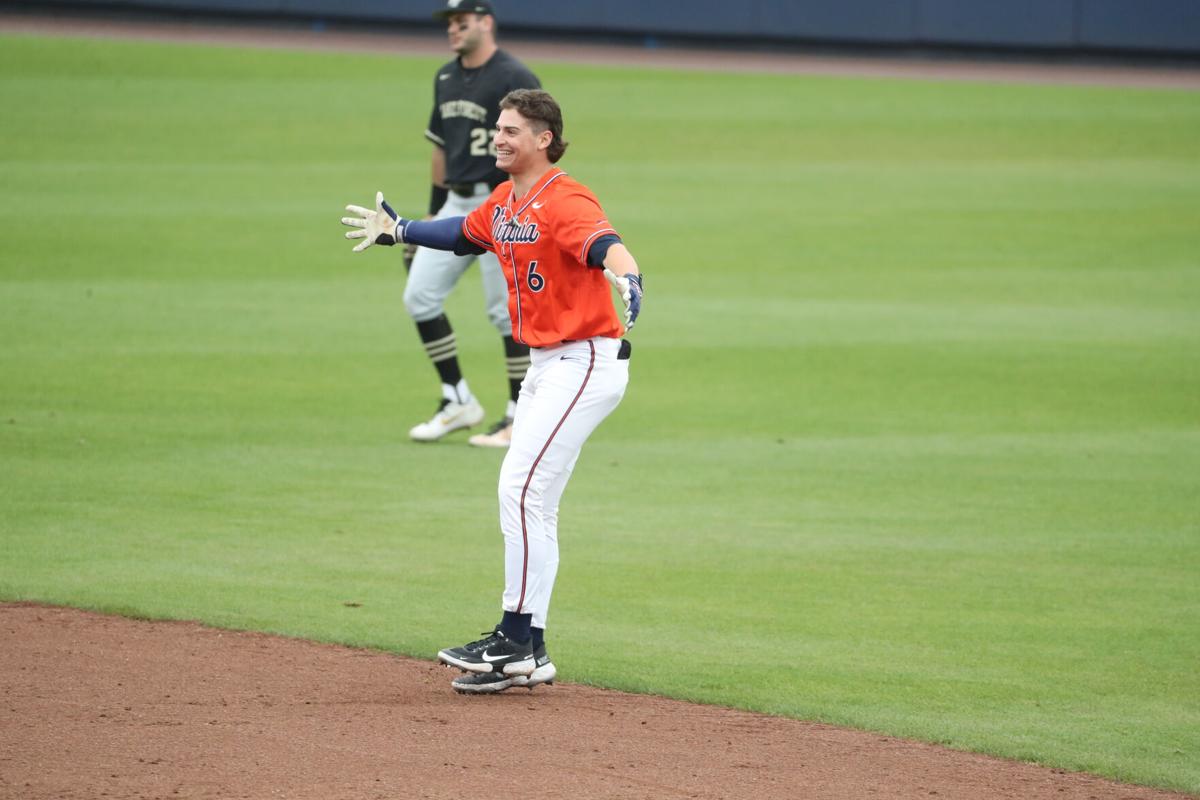 Christian Hlinka didn't feel alone in the batter's box Sunday afternoon.
Hlinka stepped to the plate in the bottom of the ninth inning with no outs and a runner on first. The game with Wake Forest was tied at 4, and Hlinka had the chance to give Virginia its first series sweep of the spring.
Two months earlier, one of his closest friends, Sean Hanczaryk, died in a car crash. Hlinka wore an arm band with Hanczaryk's initials and number Sunday — as he has in numerous games since Hanczaryk's death — carrying his friend with him during each emotional at-bat.
After receiving the bunt signal and failing to place a sacrifice down, Hlinka was given the green light to swing on a 3-2 pitch. Freshman Jake Gelof took off from first base on the pitch, and Hlinka lifted the ball into the right-center field gap for a walk-off RBI double on Senior Day.
"When I hit that, I was running, I just had the biggest smile on my face," Hlinka said. "I didn't really know what to do. I had the arm sleeve on for him, and I just gave it a kiss and kept patting it and then all the guys came out and it was just an unbelievable moment."
As the team's closer, Stephen Schoch, worked out of a ninth-inning jam to keep the series finale tied at 4-4, Hlinka admittedly looked ahead to the bottom of the ninth. He knew he shouldn't focus on the future, but the senior would come up second in the inning, and he couldn't help but think about the chance for a special moment.
He thought about his friend. He thought about the Senior Day that Hanczaryk, a baseball player at DeSales University, missed out on this spring.
"Once I heard about that, my dad gave me the call, I was playing the rest of the season for him," Hlinka said. "I'm at a loss for words, just because of how special it was, and I know Sean was right there with me and I'm just so glad I could honor him and do that for him and remember him in that way."
Baseball formed the bond between Hlinka and Hanczaryk. They played on the same Little League teams — both of their dads helped coach — and they were high school teammates in Frenchtown, New Jersey.
Talented players, they played a huge role on the Delaware Valley Regional team that won a state sectional championship in 2016. It was the school's first state sectional title in 57 years.
"Those two are the gold standard," Marty White, the team's head coach, said. "To have two of them at once, it was phenomenal."
White applauded the baseball abilities of both Hanczaryk and Hlinka, but it was the leadership traits that stood out the most to the coach. Hanczaryk was outgoing, always making his teammates smile. White describes him as friendly with everyone. He was always at school sporting events outside of baseball, supporting his peers.
The positivity of both players helped create relationships that sparked the high school team to historic success.
"Those guys were close," White, who is in his 18th year coaching the program, said. "That team was close. They had great chemistry, and they were two great leaders. Two of the best kids I've ever coached."
A few years removed from high school stardom, both players remained close friends in college. The news hit Hlinka hard.
After Hlinka learned of Hanczaryk's death, he went to Disharoon Park alone. He tried to collect his thoughts as best he could, standing at home plate and looking out at the field. Before he left the stadium, he put Hanczaryk's initials in the dirt.
"Ever since then, he's just been with me and been guiding me throughout each game and throughout each day," Hlinka said.
It was around that same time in early March that Hlinka decided he'd not only play the rest of the season for Hanczaryk, but he'd tried to play the games with his friend close to his heart.
With baseball season in full swing and it being his senior season, Hlinka talked with family and friends and decided to stay at UVa after Hanczaryk's death. He missed the funeral, knowing Sean would've wanted him to stay with his team.
"After talking with my parents, it was tough to get home, we're in season, you gotta play, and I knew Sean would've been like, 'Why would you come home? You're playing baseball at UVa. You're playing in this amazing stadium. Just take me there with you,'" Hlinka said.
Through wearing Hanczaryk's number and initials on his hat and arm band, Hlinka tried to bring Hanczaryk and his memory to Charlottesville. Hlinka delivered for his friend Sunday.
"I was like, 'Listen, I know you're gonna be with me no matter what happens, I want you to be out on this field and enjoy this opportunity and this time with me,'" Hlinka said.
Sunday proved to be a special moment. Hlinka's Senior Day ended in center field, as his teammates chased him down from the dugout and celebrated.
"You can't script it any better," Hlinka said. "It was just unreal. I miss him. I miss him a lot, but I'm happy I was able to share this moment with him."