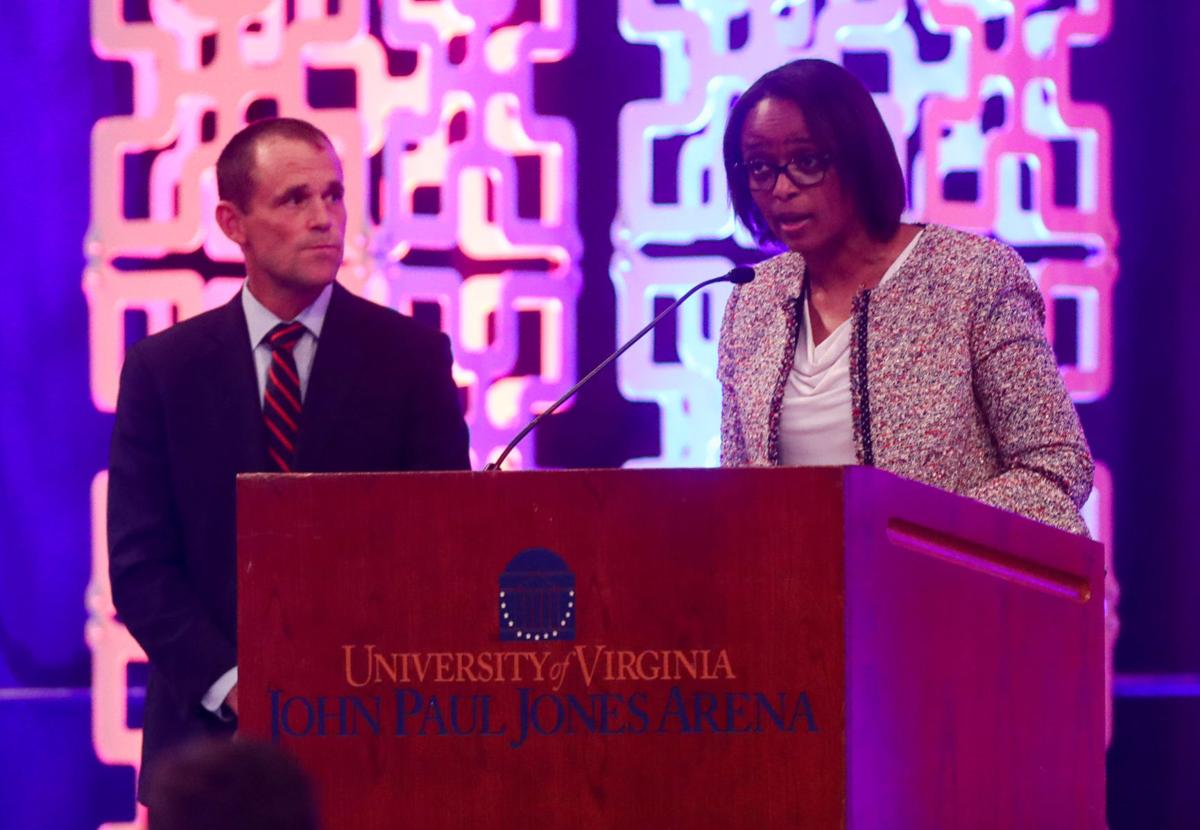 Carla Williams is not going anywhere.
Virginia's athletic director issued a statement on social media Friday afternoon to clarify that she is not a candidate for the athletic director vacancy at the University of Georgia, her alma mater.
"I have received many inquiries about my interest in the opening as Director of Athletics at my alma mater, the University of Georgia," Williams wrote. "I love Georgia and it will always be a very special place to me. I am confident that President [Jere] Morehead and his team will make an outstanding hire."
Current Georgia athletic director Greg McGarity recently announced that he is retiring at the end of this year. Senior deputy athletic director Josh Brooks will serve as the Bulldogs' acting athletic director until McGarity's replacement is hired.
Following McGarity's announcement, Williams was listed a potential candidate for the job by multiple media outlets. A quick look at her resume shows why.
Williams grew up in LaGrange, Georgia, and was a three-year starter for the UGa women's basketball team. Following her playing career, Williams was an assistant coach on Andy Landers' staff at Georgia from 1991-96, helping the Bulldogs reach the Final Four twice (1995, 1996).
Following Georgia's second Final Four run in 1996, Williams shifted from coaching into athletic administration, serving as the Bulldogs' assistant director of compliance from 1996-97 before moving on to administrative jobs at Florida State and Vanderbilt.
Williams returned to Georgia in 2004 to become the program's associate athletic director. She was promoted to senior associate athletic director in 2008, then executive associate athletic director in 2011 before being promoted to deputy director of athletics in 2015.
Following a 13-year stint in Georgia's athletic department, Williams was hired as Virginia's athletic director in October of 2017.
When she was hired at UVa, Williams became the first female African-American athletic director at a Power Five conference program. She made it clear Friday that she is planning on staying in her current role with the Cavaliers for the foreseeable future.
"The University of Virginia and President Jim Ryan gave me a transformative opportunity to lead one of the nation's premier athletic programs at one of the nation's best academic institutions," Williams said. "I love UVa, our coaches, our staff, our supporters and our amazing student-athletes."
The Virginia athletic program has thrived under Williams' guidance, capturing national championships in men's basketball and men's lacrosse while also earning the Capital One Cup for men's sports in 2019.
Williams also has worked to upgrade the Cavaliers' athletic facilities. In 2018, she announced the "Master Plan," a $180 million project that will upgrade the school's football and Olympic sports facilities. Earlier this year, the Virginia softball program opened Palmer Park, its new state-of-the-art facility.
"We have a bold vision for how the University of Virginia can lead the ever-changing landscape of intercollegiate athletics," Williams said. "To be both great and good in all we do. I am determined to see that happen at UVa."
Williams had guided the the Virginia athletic department through a trying year that has included the cancellation of the 2020 spring sports season due to the COVID-19 pandemic and challenging fall and winter seasons that have been hampered by postponements, cancellations and no fans in the stands as the pandemic rages.
With hope for better days to come in 2021, Williams will continue leading the Virginia program forward.
"I consider myself blessed beyond measure to be here," Williams said, "and I look forward to the important work we have ahead of us."