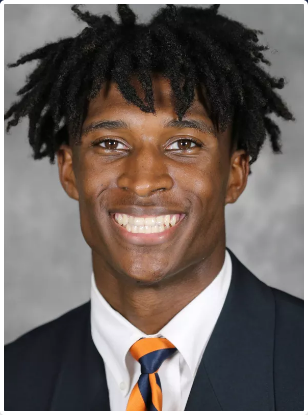 The Virginia football team's roster has suffered a major blow this spring, losing two potential starters for at least most of the fall season. Head coach Bronco Mendenhall announced Monday that sophomore wide receiver Lavel Davis Jr. and junior outside linebacker Chico Bennett Jr. have suffered ACL injuries.
"That's always the risk of spring practice," Mendenhall said.
The earliest return for the two impact players is November. UVa's head coach said those are the only two major injuries suffered this spring.
Mendenhall added that Davis' injury occurred when the receiver became tangled up with a defensive back during a practice session. Bennett's injury came in a non-contact setting.
Neither injury occurred during a full-contact period, but Mendenhall wouldn't change anything about how the Cavaliers handled their practice routine.
"The only way to really avoid that is not practice in the spring," Mendenhall said of the significant injuries.
Davis was expected to be a starter at wide receiver for UVa after a tremendous first season. The 6-foot-7 target caught 20 passes for 515 yards and five touchdowns as a freshman. Davis was not only one of the best deep threats for UVa, but he was also one of the ACC's most dynamic receivers on long passing plays.
A starter in seven of his eight games played as a freshman, Davis led the ACC in yards per reception, averaging 25.8 yards per catch. Davis was the only FBS player with 500 or more receiving yards on 20 or fewer catches. His 515 receiving yards placed him seventh nationally among freshman wide receivers.
"He's a really good player," Mendenhall said. "We expected and knew that he's capable of even more than he did a year ago."
Davis suffered an ACL injury in high school, according to Mendenhall, so the wideout is familiar with the rehab process.
Ra'Shaun Henry and sophomore Dontayvion Wicks are potential replacements at the outside receiver position. Henry, a transfer from Saint Francis, played in nine games for UVa last season. He only caught seven passes last fall, but four of those catches went for touchdowns. He averaged nearly 30 yards per reception.
Wicks missed the 2020 season with an injury suffered last preseason. He caught three passes for 61 yards and a touchdown as a true freshman in 2019.
"What I have seen is Ra'Shaun Henry has had an amazing spring, and Dontayvion Wicks, who sat out last year basically is doing a really nice job also, and so unfortunately we're kind of trading Lavel for Dontayvion one for one," Mendenhall said. "Our hope was to have both."
At outside linebacker, Bennett performed well in spring practices. The Georgia Tech transfer suffered a lower-body injury in 2019 that cut his season short. Before the injury, Bennett led the Yellow Jacket freshmen with 17 tackles.
Mendenhall said the Cavaliers were "counting on" Bennett to play at the outside linebacker position and that the impact defender was "off to a really nice start" at UVa. Instead, he'll miss most, if not all, of the 2021 season.
Hunter Stewart, a sophomore, is currently listed as a starter at outside linebacker. Mendenhall also hopes sophomore Josh Ahern, who is out of spring practice currently with injury, will make a significant impact at linebacker in the fall.
There's hope the tandem of Davis and Bennett could return for pivotal late-season games — the Cavaliers play Notre Dame, Pitt and Virginia Tech in November — but that's not promised. The next step for both players are months of rehab as they attempt to return to full health.
"Both are in good spirits and anxious to return as soon as possible," Mendenhall said.