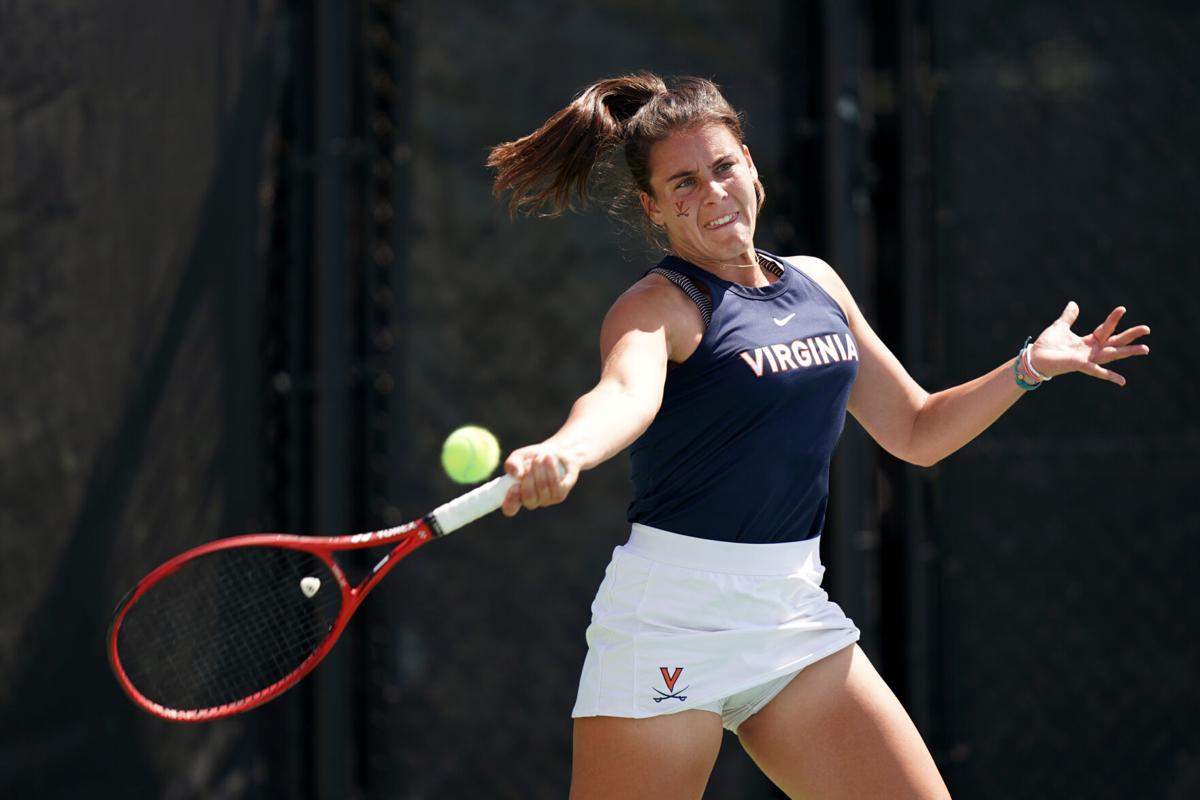 The No. 13 Virginia women's tennis team saw its season come to an end on Sunday with a 4-1 loss to No. 3 Georgia in the NCAA Tournament Round of 16 in Orlando.
The Bulldogs (22-1) won the doubles point and picked up singles victories on courts two, three and five to advance to the Elite Eight. Freshman Hibah Shaikh earned the lone point for UVa (16-7) with a victory on singles court four.
Georgia held an early advantage in doubles thanks to a 6-2 win on court two, but senior Vivian Glozman and Shaikh countered with a 6-2 victory on court three. Freshman Emma Navarro and senior Rosie Johanson were edged 6-4 on the top court by the doubles team of Katarina Jokic and Ariana Arseneault to give the Bulldogs the doubles point.
In singles, Georgia took a 2-0 lead with a straight-set victory on court three. On court five, O'Dell dropped her first set in a tiebreaker against No. 52 Marta Gonzalez, then fell 6-3 in the second set to give Georgia a 3-0 lead.
The other four courts were all three-set battles.
Shaikh won her first set 6-4 but lost her second 6-0 on court four against Morgan Coppoc. She battled back to win the third set 6-2 to put the Cavaliers on the board.
On court two, Natasha Subhash won her first set 6-2 against Lea Ma, but dropped the second set 6-3. The two battled to a 6-6 deadlock in the second set, forcing a tiebreaker. Subhash held an early 2-0 lead, but Ma rallied and won 7-4 to close out the victory.
Court one featured a head-to-head showdown between Navarro, ranked No. 3 in singles, and Jokic, ranked fourth. The match was abandoned with Jokic leading 5-3 in the third set.
"Congrats to Georgia. They played a fantastic match," Virginia coach Sara O'Leary. "It was such a battle out there on every single court."
Now the Cavaliers turn their attention to the NCAA Singles and Doubles Championships, which will run from May 23-28. Navarro and Subhash will compete in the singles championship for UVa. The Cavaliers also will have two doubles teams — Navarro and Johanson and Subhash and Sofia Munera — in the tournament.
Despite the disappointing end to the team portion of the season, O'Leary was pleased with what the Cavaliers accomplished during a COVID-19-altered season.
"I'm extremely proud of our team," O'Leary said. "We have faced a lot of adversity all season and to see this team always stay together, continue to believe in each other and end our season leaving everything they had out there on the court is something I'm incredibly grateful for. They are a resilient group and have had unbelievable leadership from Vivian and Rosie. Those two have meant so much to this program and have been outstanding examples. I'm just incredibly thankful to my team, my staff and all of the UVa support within the athletic department and the community."