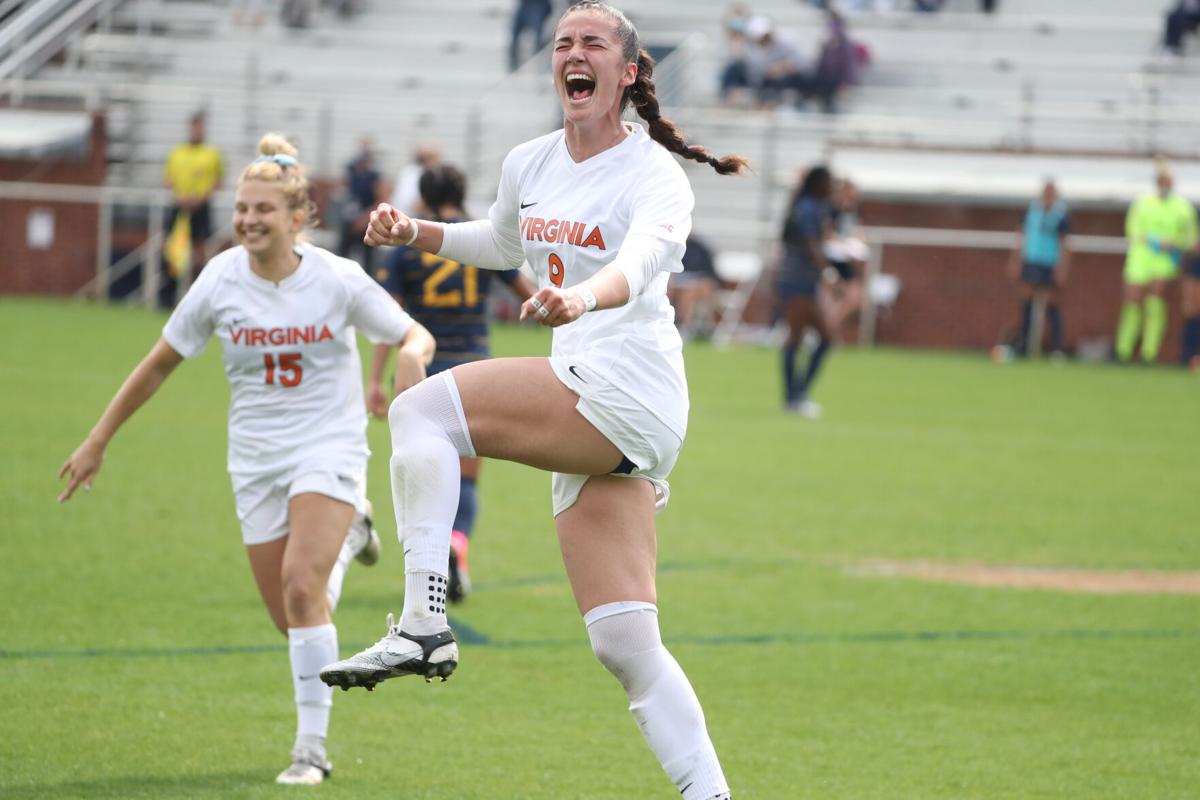 Eight teams remain in the NCAA women's soccer tournament. Several of the favorites entering the tournament are still in contention, but just one unseeded team is still in the field.
That's the Virginia Cavaliers, and they still feel a chip on their shoulder.
"I think we had a lot to prove, and I think we're doing that," sophomore forward Diana Ordoñez said. "I think everyone knows we are the only unseeded team left in the tournament, so that's kind of exciting just being able to come out here and make a statement and show that it didn't matter whether we had a number next to our name or not. We're here. We're ready to compete."
UVa has played three games this tournament, outscoring its opponents 8-1. The Cavaliers used a 3-0 win over Rice, with every goal coming from Ordoñez, to punch their ticket to the Elite Eight. Sunday's 5 p.m. match against TCU will provide the Cavaliers with their toughest tournament test yet.
The Horned Frogs are the No. 4 seed in the event, and they've only lost once this season. TCU is 12-1-2 this year, going an impressive 8-0-1 in the Big 12. Sunday will be TCU's first Elite Eight appearance in program history.
"They're going to be a handful," Virginia head coach Steve Swanson said.
TCU defeated New Mexico 6-2 in the second round to advance to the Sweet 16. The Horned Frogs fell behind 1-0 in the game before rattling off six consecutive goals to take a commanding lead. Five different TCU players scored goals in the victory.
In the Sweet 16, it was stellar goalkeeping that helped push the Horned Frogs into the next round. They beat Georgetown in penalty kicks after erasing a 1-0 halftime deficit. Senior goalkeeper Emily Alvarado allowed just one goal on four Georgetown penalty kick attempts.
"Emily was phenomenal," TCU head coach Eric Bell said after the game. "She was absolutely fantastic. You only ask your goalkeeper to come up with one and she came up with two and then one hit the post. You can't ask for more than that."
While UVa will be challenged by TCU, it won't be unlike anything the Cavaliers have seen in the regular season. Virginia has played top-seeded Florida State and second-seeded North Carolina this season.
Through the first rounds of the tournament, it is clear the ACC provided a stern test for every team in the league. Five of the eight teams in the Elite Eight are ACC teams, and there's a chance the Final Four could be comprised of entirely ACC squads.
"For me, it's the more, the merrier," Ordoñez said.
UVa's leading goal scorer understandably wants to play a role in getting four ACC teams in the Final Four. Ordoñez also has a personal connection to Sunday's foe.
A Texas native, TCU was the first collegiate program Ordoñez visited when she was in high school. Ordoñez lived just 45 minutes away from the school.
UVa is glad she's on its side this weekend.
"[Ordoñez] really has been somebody who we feel strongly that almost any game she's gonna get a goal, and she's usually created enough chances to do so," Swanson said.
Swanson stressed that Ordoñez is far from the only player contributing offensively. Junior forward Alexa Spaanstra has four goals across three NCAA Tournament games, and she made an impact against Rice, even without scoring a goal.
He also liked the play of junior forward and midfielder Rebecca Jarrett. Her speed on the outside often creates chances for the Cavaliers, and she was a matchup issue for Rice.
With the entire offense clicking — and the defense pitching two shutouts in three postseason games — Virginia feels like it has a shot to make its first College Cup appearance since 2014.
"We're gonna have to be at our best," Swanson said. "I think that's what these games now demand. You have to play well, and you have to get almost your whole team playing well at the right time."