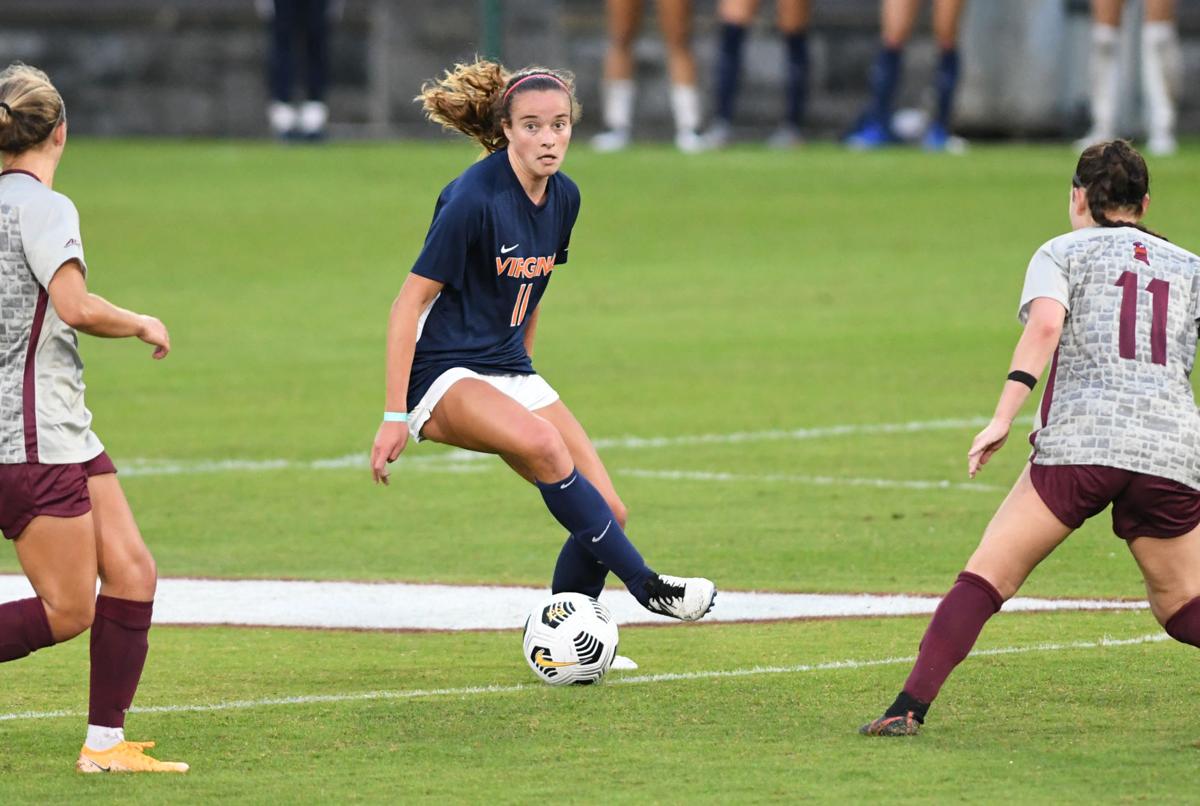 The Virginia women's soccer team has two wins over Virginia Tech, but it's still seeking its first conference victory.
As if the 2020 sports season couldn't become more unusual, both of UVa's wins over the Hokies are designated as nonconference matchups this fall. The odd scheduling comes due to scheduling changes caused by COVID-19 and a shortened fall season.
Despite a strange fall slate, the Cavaliers (2-1-1, 0-1-1 ACC) have completed four games amid a pandemic. They're competing at a time when they weren't sure they would.
Regardless, they want ACC win No. 1.
"There's a real appreciation for where we are and how far we've come, but there's also this more singular focus of trying to prepare for each game and to try to maximize as much as you can out of the season not just in terms of results, but in terms of your performances and developing your players and those kinds of things," head coach Steve Swanson said. "I'm proud of the team. I'm always proud of the team, but I'm proud of the team even more so now just because they're managing the times as well as they possibly can."
Making it to the season was a challenge. COVID-19 protocols still remain in place, as does the need to perform well on the field.
Through four games, Swanson feels confident in his group. He does, however, wish they took better advantage of scoring chances.
After opening the year with three goals against Virginia Tech, UVa has found the back of the net just twice in the following three games.
"I think we've actually played some really good soccer," Swanson said. "If you kind of look at all these games and say, 'What's the key component?' We're not scoring goals. That's gonna always leave you in trouble in our game, if you can't finish your chances."
Swanson felt his team did enough to beat Duke, but the game ended in a 1-1 draw. He feels a 3-0 loss to Clemson certainly could've been closer, and the 1-0 overtime win over Virginia Tech in the second meeting featured a few missed opportunities that could've ended the game earlier.
Virginia will need to convert its chances Thursday night when it hosts Pittsburgh. The Panthers are 6-0 this season and 1-0 in the ACC. They've outscored their opponents 17-2 through six contests, and they've posted four shutouts. Beating Pitt and earning ACC win No. 1 requires a complete team effort.
Pitt presents a good test for the Wahoos, who have given a few underclassmen chances to shine this fall.
Redshirt freshman goalkeeper Cayla White started for the Cavaliers in their latest win over Virginia Tech, posting a shutout victory. Without a spring season, Swanson wanted to give his young goalkeeper a chance to see game action. She has responded well.
Freshman forward and midfielder Lia Godfrey has also impressed throughout the fall, using her speed to create consistent scoring chances for UVa. Defender Samar Guidry has logged 320 minutes for Virginia through the first four matches.
Virginia hopes with time the underclassmen will develop and the upperclassmen will take advantage of scoring chances more consistently. While the record might not accurately reflect it, Swanson is pleased with his team's performance. The Cavaliers just need to turn chances into goals.
They'll hope to finish opportunities Thursday against a good defensive Pitt team.
"I think we're all very confident with what this team's capable of doing, but we just have to get much more precise and much better quality in and around the goal in order to consistently win," Swanson said. "That's probably our biggest challenge right now."
Be the first to know
Get local news delivered to your inbox!