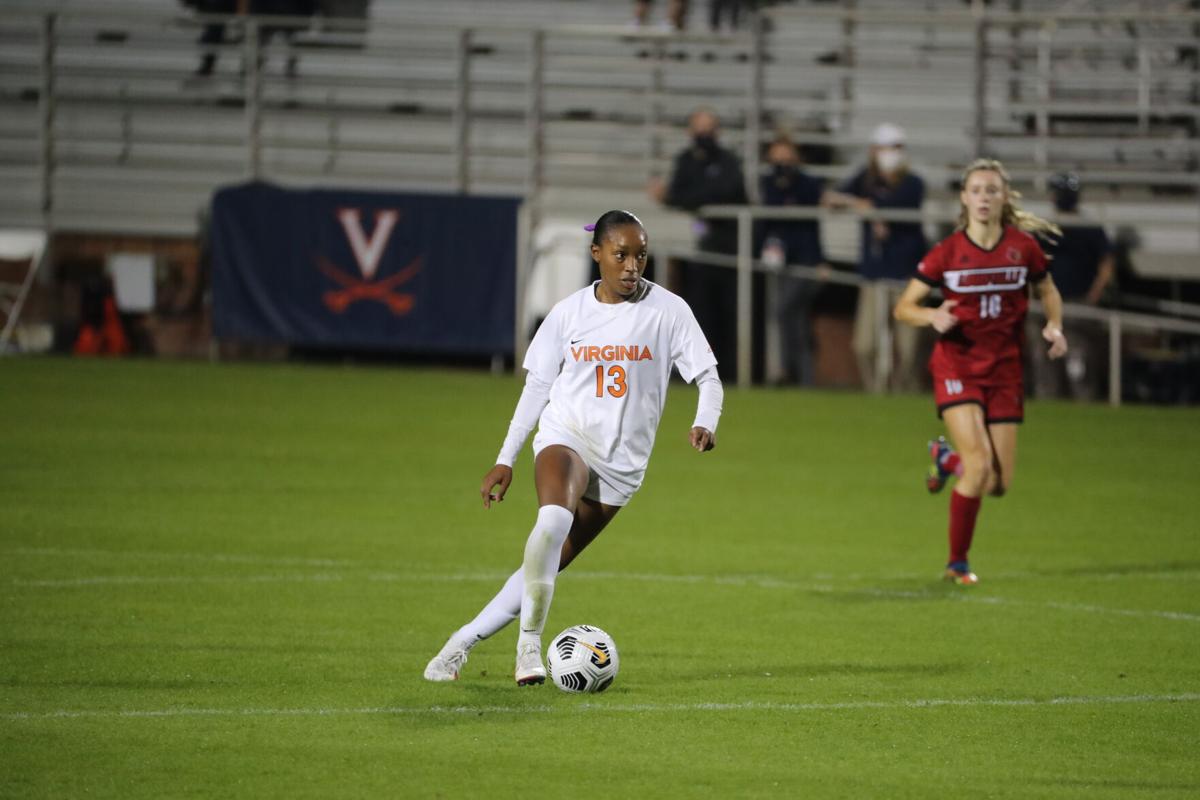 Rebecca Jarrett's season is over, Virginia women's soccer coach Steve Swanson told media members Wednesday.
Jarrett tore her ACL and meniscus in a practice session prior to the team's Sept. 2 match against Santa Clara.
"She had surgery today, and she's on her way back," Swanson said.
The senior plans to play for the Cavaliers next fall once she's recovered, Swanson shared.
Jarrett's loss is a tough blow for a team in the national title hunt. The third-ranked Cavaliers are a perfect 6-0 on the season, having defeated No. 18 West Virginia and No. 8 Santa Clara. Virginia faces No. 14 Penn State on Thursday night.
Virginia still possesses plenty of firepower without Jarrett, but the speedy forward had scored three goals and chipped in three assists through four games this year. Jarrett was a contributor for the Wahoos in previous seasons, but she seemed poised for a career year prior to the injury.
"That one hurt," goalkeeper Laurel Ivory said. "I think every single person on the team felt that when we saw it happen in training."
Ivory suffered a jaw injury prior to the team's 2019 NCAA Tournament run, which ended abruptly in the second round with her on the sidelines. She understands what it's like to be sidelined, and knows there's nothing anyone can say to take away the heartbreak of missing important games. Her focus is supporting Jarrett however she can the rest of the year.
"I know she is getting all of our love and all of our support throughout this injury, and she's going to be more than fine," Ivory said. "She's gonna be coming back stronger than anybody I've ever seen come back from this injury."
With Jarrett out, players like Lia Godfrey and Diana Ordoñez have stepped up to score goals. Other standouts, including Haley Hopkins and Alexa Spaanstra, will need to be sharp as Virginia navigates a challenging schedule.
Losing Jarrett also hurts the team from a leadership perspective. Few players bring consistent energy like Jarrett, and teammates looked up to the star forward.
"As a player, she's obviously special, you can see that on TV, you can see that on stat lines," Ivory said, "but what's unique about her is that she is such a core piece of the heart of this team."
Ivory believes several players will help fill the leadership void left by Jarrett as the season progresses. There's still confidence within the UVa locker room about the team's prospects this fall, but they're disappointed for a key player and leader.
"I think the best thing we can do if we have feelings for her, which we all do, is play for her, play hard for her," Swanson said. "We have to do that for all our injured players. I think that's what good teams do."