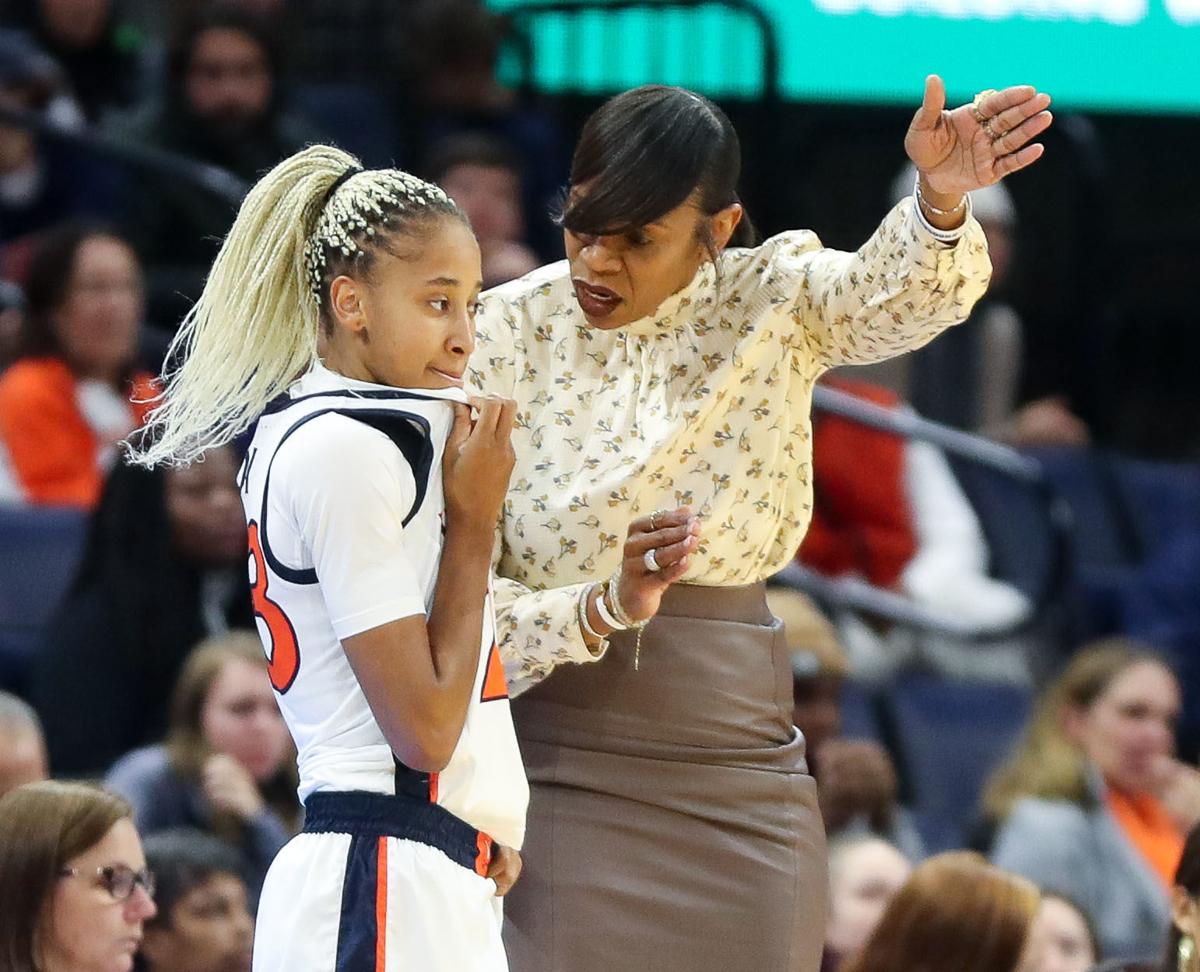 The word of the season for the Virginia women's basketball team is patience.
Tina Thompson's team lost Jocelyn Willoughby to graduation and the WNBA. While they didn't receive as many headlines, fellow seniors Dominique Toussaint and Lisa Jablonowski also played valuable minutes for the Wahoos and their presence will be missed.
The transfers of rising sophomores Shemera Williams and Kylie Kornegay-Lucas leave the Cavaliers even younger and less experienced entering the season than expected.
For Thompson, there's a need to win games. The Cavaliers are 25-36 in two seasons under her watch. At the same time, the head coach understands the need to balance immediate on-court success and being patient with an extremely young roster.
"There is definitely an imbalance, and most of the weight is being put on patience," Thompson said. "We have to be really, really, really patient. We're a young team in general, even with our returners."
Ten of the team's 13 players are underclassmen. The three upperclassmen are transfers, with a combined two years of playing experience at UVa.
Given the relative inexperience on the roster, a few of the team's sophomores are expected to take on leadership roles. Carole Miller, who played in all 30 games as a freshman with 26 starts, figures to step into a key role.
Fortunately for Miller, this feels like charted territory. As a high schooler, Miller played as a freshman on a team with four seniors. Her sophomore year, she was tasked with becoming a leader in hopes of taking her team to a state title.
"I wouldn't say I expected this when I arrived here last year, but it just kind of reminds me what I went through in high school, so I'm just trying to rekindle what I went through and apply it here," Miller said.
Redshirt sophomore Amandine Toi, who missed both the 2017-18 and 2018-19 seasons with a knee injury, expects to play a major role for the Cavaliers. She played 30 games last year, starting 28, but she said she didn't fully feel comfortable with her knee until the last handful of games.
Now fully healthy, she's looking to slide into a leadership role while also improving upon on her 4.3 points per game average. She's also preaching patience as the team develops underclassmen.
"We have a lot of young players, and I think it was gonna be a long process for everybody to get adjusted to the level in the competition," Toi said.
As the players and coaches stress patience in long-term development, Miller says that's also a key to finding success each possession. Throughout practices, the guard-heavy team looks good when playing deliberately and letting the offense set up.
When rushing and allowing the defense to speed up the offense, turnovers and mistakes come. Patience offensively is a focus for the Wahoos.
"We all bring a speed aspect, but we have to remind ourselves to kind of slow it down," Miller said. "We tend to get a little anxious and we lose patience, so that's been a key word for us, just patience, slowing down, waiting for screens and stuff like that."
It's easy for fans to forget the human aspect of playing in a pandemic, but even adjusting to college life offers a stressful test for Virginia's young team.
Typically, underclassmen come to UVa and experience life as a basketball player, while also enjoying other experiences with their teammates or classmates. They meet new friends through classes and social activities. Those events aren't nearly as prevalent with the pandemic forcing people to socially distance, making college a very different experience in 2020.
"We saw a lot of tough days," Thompson said. "College is where you come to be social, to get to know people, to have new experiences and to kind of be out and experience things anew so that being taken away from them made it really, really tough."
Adjusting to ACC basketball is a test. Adjusting to college life during a pandemic is another test of its own. For a young team, challenges are abundant.