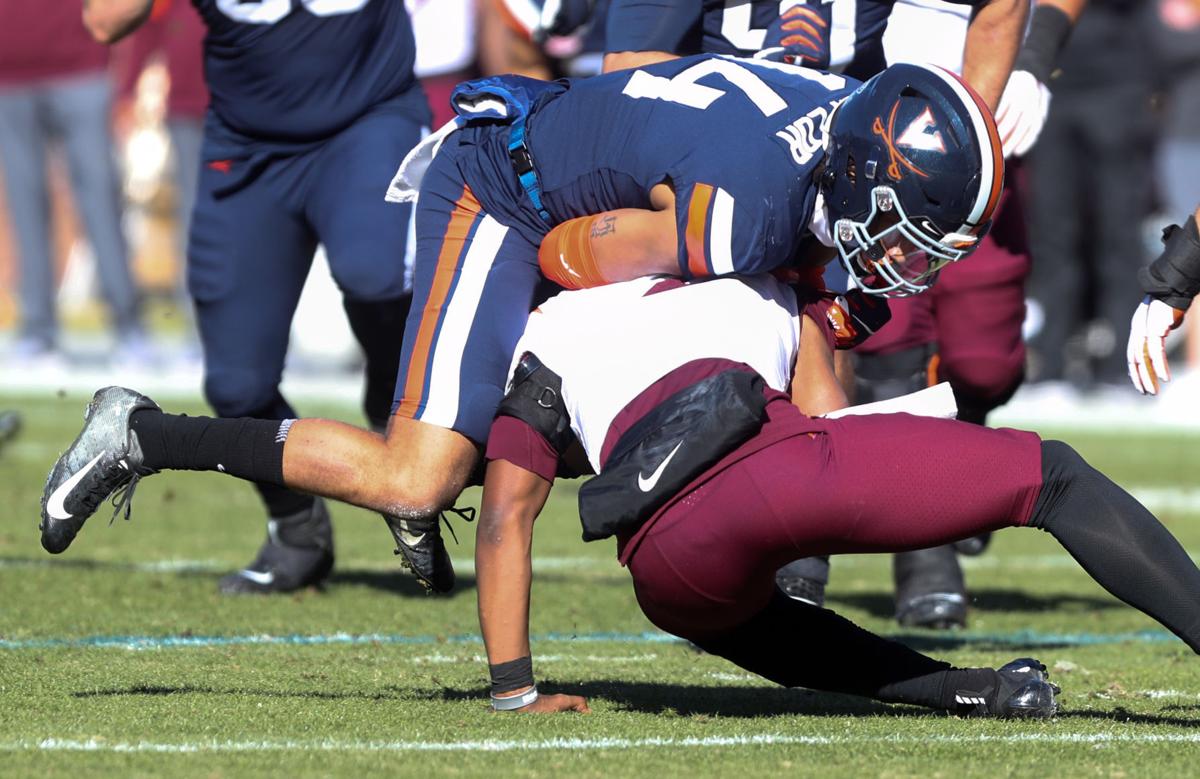 Barring any scheduling changes, Virginia and Virginia Tech will open their 2020 football seasons against each other in the Commonwealth Cup.
The ACC announced game times for the first two weeks of the 2020 season, and the Cavaliers and Hokies will face off on Sept. 19 at Lane Stadium on ABC. The game will kick off at either 3:30 or 7:30 p.m., with the final determination taking place after the games on Sept. 12.
A matchup between Miami and Louisville also is set for 3:30 or 7:30 p.m. on Sept. 19. After the opening week games, one of the contests will earn a prime-time slot while the other contest will be held at 3:30 p.m.
The announcement of game times makes the season feel more tangible.
COVID-19 caused the Pac-12 and Big Ten to cancel their fall football seasons, but the ACC, Big 12 and SEC remain on course to play this fall. With the calendar flipping to September, UVa's football season is less than three weeks away from starting.
Increases of COVID-19 within the athletic program or campus community still threaten the season, but the ACC believes it can start on time and play football this fall. That means months of following stringent health protocols could leave the Wahoos with the reward of opening the season with a critically important game.
"It's gonna be exciting to get there," safety De'Vante Cross said Tuesday. "I can't wait for that day just because all we've been through, living in the bubble, going through the different protocols and measures … it's just gonna be a blessing to be able to play the game that we love."
Attendance for the opener with the Hokies will be low, given the state's current guidelines on large gatherings. Mike Barber of the Richmond Times-Dispatch reported earlier this week that crowd noise will be allowed to be pumped into ACC venues. Virginia Tech also plans to offer cardboard cutouts of fans, similar to what some professional venues have allowed with in-person attendance limited.
It's going to be an unusual Commonwealth Cup. Fan attendance may be low, but fan interest from the outside will be high. Even with fan engagement, it won't be the same feel as a typical season when the programs meet at the end of the season for a showdown around Thanksgiving.
"Not having a build up to Tech week is kind of different," cornerback Nick Grant said. "Nobody's ever done this before, but I feel like having them coming off of what we've been through with quarantine, with being home since after spring break, with not having spring ball, no contact football really until these past couple weeks, I feel like that puts it in a different context for the urgency of this season."
The Cavaliers haven't jumped into Virginia Tech preparation just yet — the focus lies on improving as a team before diving into film study — but Grant and company expect an intense few weeks. A season opener demands attention.
A nationally televised season opener against your biggest rival after months of uncertainty surrounding the season brings an even greater sense of urgency and pressure.
The players eagerly await the game's arrival and the expectations that come with it.
"I feel like starting with them is very, very rewarding," Grant said, "especially because everything we've been though and everything this team has sacrificed to play football this year."
Be the first to know
Get local news delivered to your inbox!