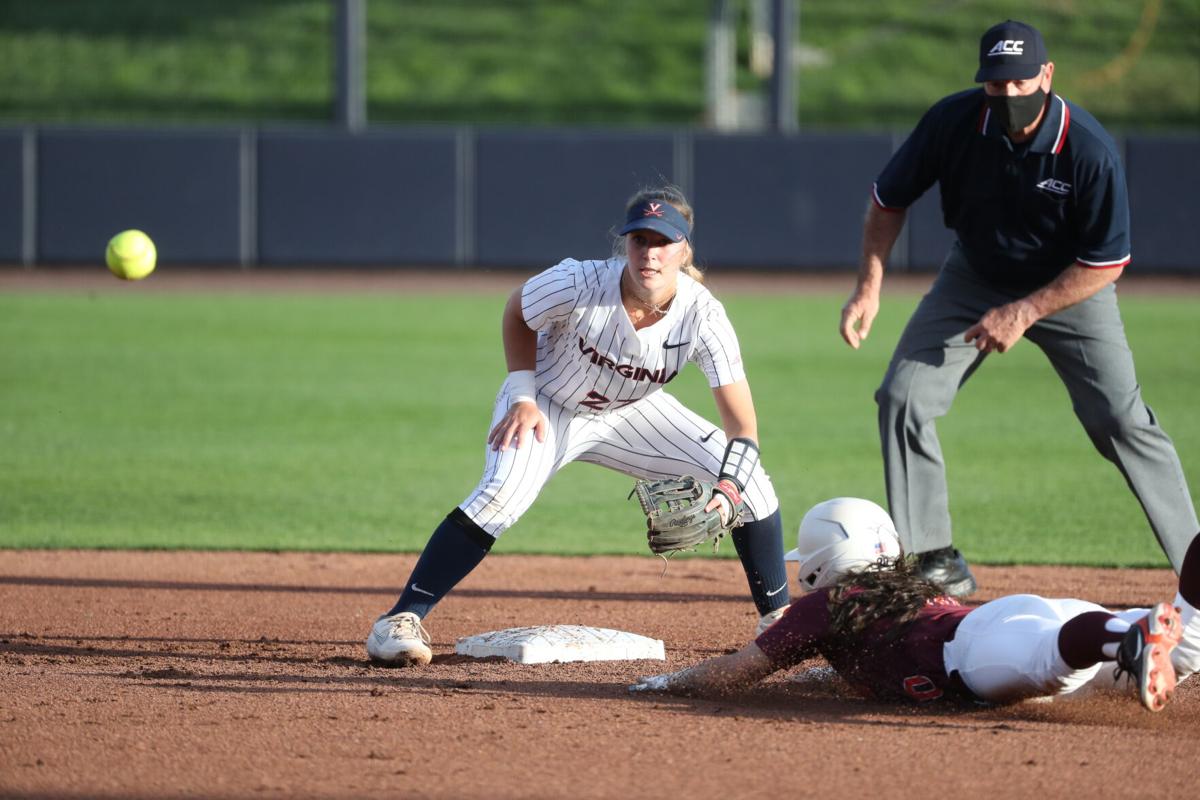 The Virginia Tech softball team boasts an elite pitching staff. Junior right-hander Keely Rochard entered Tuesday as one of 24 Division I softball pitchers with an ERA under 1.00.
Virginia's best bet to upset the 19th-ranked Hokies came by stacking together timely hits and pitching a gem in the circle.
Putting that idea into practice proved impossible for UVa.
The Hokies defeated UVa 9-1 on Tuesday at Palmer Park, marking their second dominant win in the Commonwealth Clash in the last week. Virginia Tech (20-5, 13-5 ACC) won 7-0 in Blacksburg last Wednesday, and the Hokies have won 12 consecutive games in the series.
UVa's scoreless inning streak, which dated back to the final five frames of a March 21 win over N.C. State, extended to 23 innings before the Cavaliers finally pushed a run across in the fifth inning of Tuesday's loss. An RBI single from junior infielder Emma McBride put Virginia (8-17, 4-13 ACC) on the board after consecutive shutout losses.
Rochard, who pitched a complete game shutout against UVa last Wednesday, tossed six innings Tuesday. She struck out 11, allowing just the one run, four hits and a walk.
Offense wasn't UVa's only issue Tuesday.
The fielding was sloppy, with the Wahoos recording three errors in the first three innings. Even when plays didn't go down in the scorebook as errors, a few bobbles and mistakes turned potential outs into base knocks.
The pitching wasn't quite what UVa imagined, either, as the Hokies scored in six of the game's seven innings.
UVa starting pitcher Aly Rayle allowed four runs in three innings, although three runs were unearned as her defense did her few favors. The junior was relieved in the top of the fourth by sophomore Mackenzie Wooten. The youngster had a tough day, allowing three runs without recording an out.
Virginia Tech scored one run in each of the first three innings before breaking the game open with a four-run fourth inning. Sophomore utility player Jayme Bailey smoked a triple down the left-field line with the bases loaded. The play put the Hokies up 6-0, and Bailey scored when sophomore infielder Kelsey Bennett singled to right field.
An additional run in the fifth inning helped give the Hokies the eight-run lead needed to complete a mercy-rule win. UVa fought off a potential mercy-rule defeat with McBride's RBI single, which cut the lead to 8-1.
The top of Virginia Tech's lineup did significant damage against UVa, with leadoff hitter Kelsey Brown, a sophomore outfielder, going 3-for-4 with two runs scored. The No. 2 hitter, freshman infielder Addy Greene, went 3-for-4 with an RBI and run scored.
Greene's RBI double in the top of the seventh inning put the Hokies up 9-1.