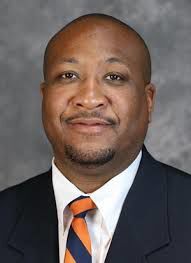 Virginia special teams coordinator Ricky Brumfield will also coach the Cavaliers' tight ends beginning this season, the program announced on Wednesday.
Brumfield, who is entering his third season at UVa, has done this before. During his time at the University of Texas at San Antonio, Brumfield coached the tight ends and special teams unit. He served in both roles during the 2016 and 2017 seasons.
With Joe Reed returning kickoffs, Virginia's special teams unit thrived in 2019, ranking as the 13th-most efficient special teams unit in the FBS, according to ESPN's metrics.
Offensively, UVa's tight ends were rarely used in the passing game. Tanner Cowley brought in 28 receptions a season ago, but the receivers were significantly bigger factors through the air. Grant Misch checked in with one reception, but it went for a touchdown.
The tight ends can prove useful in the running game, and the Cavaliers appear to have one of their better running back rooms in recent memory. The tight ends may play a critical role in rushing when UVa takes the field.
Interestingly, tight ends also played a valuable role on special teams. Cowley was used at times when the Cavaliers wanted to fake punt. Brumfield will now direct both tight ends and special teams.
In additional UVa football coaching news, C.J. Stalker will be the team's defensive analyst starting in 2020. He served as a graduate assistant following the end of the 2019 season. Drew Meyer, a previous graduate assistant, slides into a special teams analyst role where he will help Brumfield's unit. Both Stalker and Meyer will aid Matt Edwards directly. Edwards is the team's director of sports analytics.
Virginia also announced its graduate assistants for the 2020 season. Donte Wilkins and Kirk Garner will help out on defense, while Joe Spaziani and Charles Mack will help out the offense.
Be the first to know
Get local news delivered to your inbox!