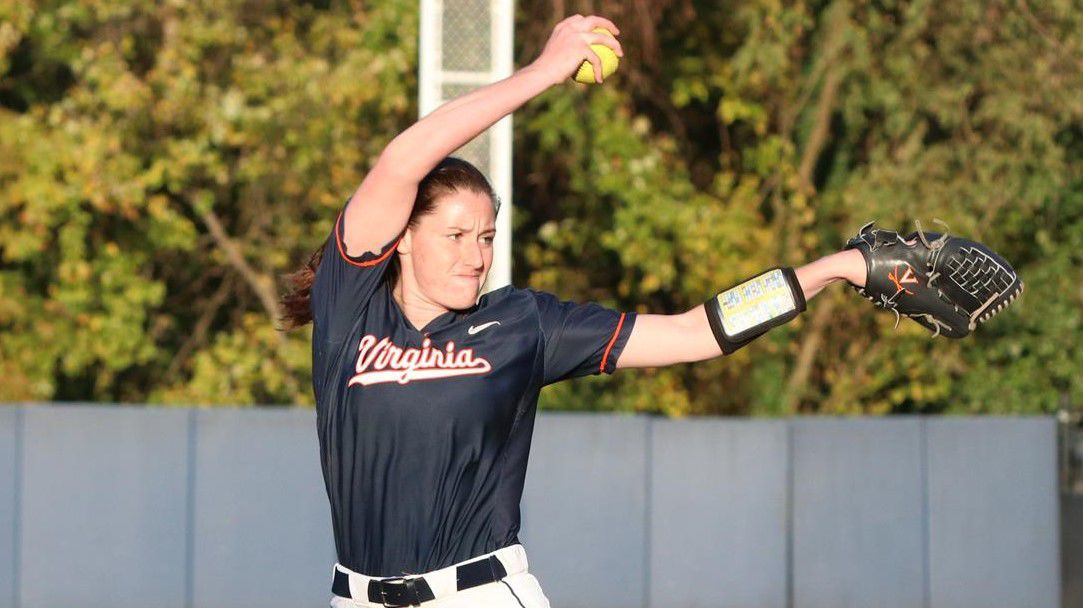 When the news broke that the spread of the coronavirus led to the suspension and ultimately the cancellation of all spring college sports seasons, the Virginia softball team was preparing for a weekend series with North Carolina.
The Cavaliers were deep into their scouting report when head coach Joanna Hardin broke the news.
Silence and tears followed.
For Riley Wilkinson, a graduate transfer pitcher from Princeton, the news hit differently.
Wilkinson is the team's lone senior. To her, the news meant the end of her softball career. While some spring sports athletes may take advantage of eligibility relief granted by the NCAA, Wilkinson has plans to attend Louisville's school of medicine next year.
As the news hit Wilkinson that her career was ending, she asked a question.
"She's so sweet," Hardin said. "She asked if she could throw on the field, you know, one more time. We said, 'Absolutely, get out there' and she just went and threw a couple pitches."
Wilkinson, who had been battling an injury recently, didn't play in the team's most recent games at Palmer Park. Her last appearance came against JMU on March 3.
"It just didn't feel like I got that closure," Wilkinson said.
So the graduate student took the field as her teammates followed. Junior catcher Madi Traver stood in the batter's box and gave her teammate a proper sendoff.
"She swung over the ball so I could strike someone out for my final time," Wilkinson laughed.
In a matter of moments, Wilkinson went from preparing for North Carolina to realizing her collegiate softball playing days were coming to an end. Her teammates were there to show support.
The group watched as Wilkinson struck out Traver in the final at-bat at Palmer Park this season. It didn't count on the score sheet, but to the team, it might be the most memorable home at-bat this season.
"It was really special for all of us to be together and to support her in that time because she's definitely given our team a lot this year in her transfer here," junior Kate Covington said.
While Wilkinson didn't light up the stat sheet in her one season in Charlottesville, the pitcher acted as a steady veteran presence on a team that lacked experience.
Her expertise was particularly valuable among the pitching staff, where many of those asked to contribute in the circle were underclassmen, including sophomore ace Aly Rayle.
During her time at Princeton, Wilkinson served as a reliever and left the program with a program-record nine career saves. She helped the team win the 2017 Ivy League title and make the NCAA Tournament that season.
Her experience was an asset to the UVa staff.
Seeing Wilkinson's senior season cut short was tough for Hardin, who spent the early portion of her career as a pitching coach.
"That was really, really tough," Hardin said. "Just for me, too, she's a pitcher and I work with her every day and she's been so impactful and so influential on the development of our young pitching staff mentally, emotionally and softball. Tactically, she's super intelligent, has great softball IQ. That was challenging and really heartbreaking."
Wilkinson's softball career ended in the blink of an eye as the spread of the coronavirus quickly led to the cancellation of spring sports.
The regular season had 29 games remaining when it was canceled.
Fortunately for Wilkinson, her teammates gave her one last memory to cap off her softball career.
"It was emotional," Wilkinson said. "I'm happy that I got that closure, and it was really intimate being with the team and the coaches. That was nice."
"That's been keeping me really grounded at least, knowing that while this chapter closes, there's an equally exciting one that's going to start pretty soon," Wilkinson said.
Be the first to know
Get local news delivered to your inbox!