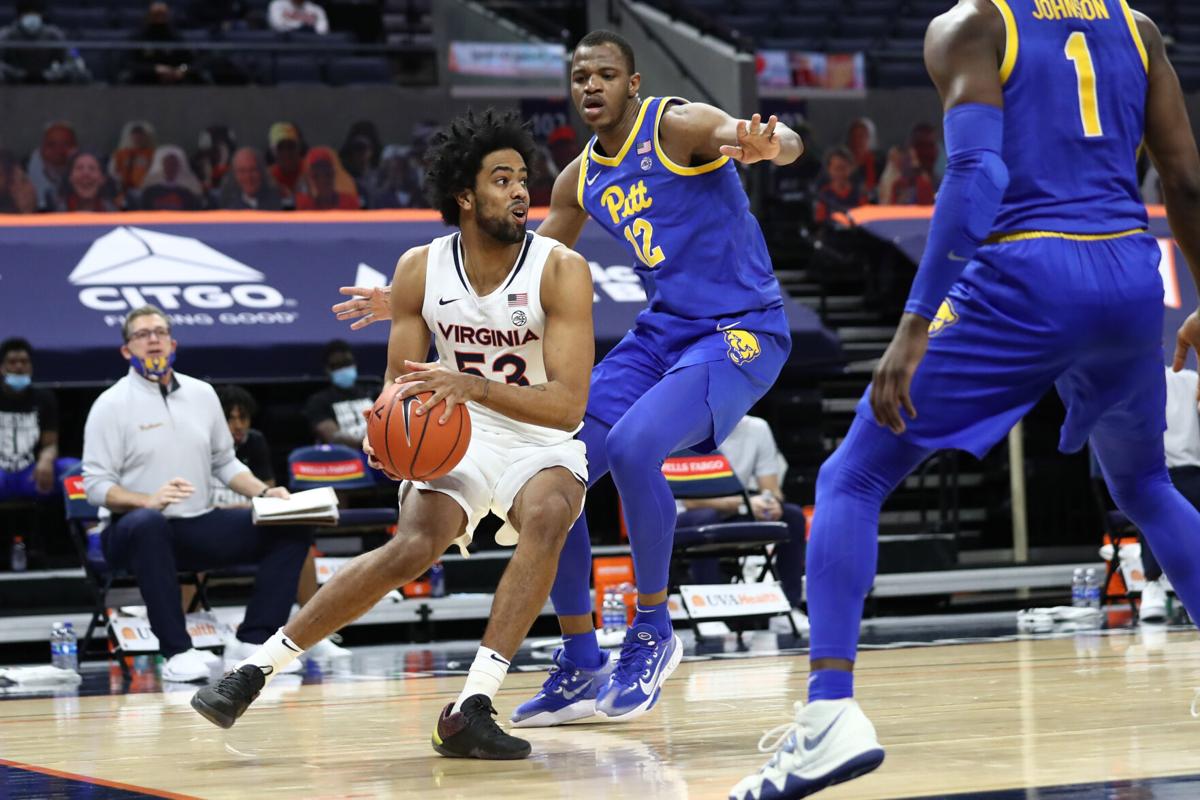 Tomas Woldetensae served as Virginia's most dangerous 3-point shooter last season, singlehandedly keeping the Cavaliers' offense afloat in some ACC games.
This season, Woldetensae barely sees the court.
Opportunities are sporadic for Woldetensae, who scored 14 points on 4-of-6 shooting in Saturday's win over Pittsburgh, offering a reminder of UVa's offensive talent and depth.
Unlike previous seasons under Tony Bennett, the Cavaliers are at their best this season with the ball in their hands.
Woldetensae and the Cavaliers drained 12 of their 24 3-point shots Saturday, beating Pitt 73-66 thanks to efficient offense and clinical shooting. The offensive onslaught included a 16-0 run sparked by four 3-pointers from Sam Hauser and Jay Huff that turned a 36-36 game into a commanding UVa advantage.
"That was the difference in the game," Bennett said.
Virginia's impressive offensive showing wasn't enough to please its head coach Saturday night when he addressed the media, though.
"There's that saying, don't accept in victory what you wouldn't in defeat," Bennett said. "You're grateful for the victory, but you go to work on those areas."
For Bennett, the area needing work is his patented Pack Line defense.
Virginia allowed 42 points in the paint against Pitt, giving up easy scores near the rim. The Panthers even tallied 16 fast-break points. A press late in the game created UVa turnovers and Pitt turned those giveaways into 17 points.
When the Cavaliers did generate stops, they failed to consistently end the possession. Pitt snatched 14 offensive rebounds, which led to 12 second-chance points.
"I think overall, we just gotta do better on the rebounding aspect," Hauser, who scored 23 points on 8-of-9 shooting, said. "Together we need to rebound as a team and really block out people inside of just going and trying to get the ball."
While the need for improved play to reach Bennett's defensive standards is clear, UVa still plays some of the best defense in the country. The Cavaliers have held three teams to 50 or fewer points this season, including a pair of ACC foes. KenPom lists Virginia as the ACC's most efficient defense in conference play.
UVa still defends exceptionally well, even if Bennett wants better. While Bennett harps on defensive improvement, it's impossible to ignore UVa's offensive firepower.
Huff, Hauser and Woldetensae combined for 50 points against Pitt, and they needed just 21 shots to do so. The trio went an impressive 17-of-21 from the field, making 10 of their 13 shots from 3-point range.
Woldetensae, who is up to 44.4% shooting from beyond the arc this season, is a seldom-used weapon. With so many offensive options in the team's starting lineup, Bennett often calls on Reece Beekman and Casey Morsell to play alongside Kihei Clark for their defensive prowess. When called upon, Woldentensae gives the team yet another lethal 3-point threat.
"It's definitely hard to just stay confident and willing to keep pursuing and be ready for the team, but at the end of the day, it's about winning," Woldetensae said of his role. "I'm always happy if the guys produce and win."
UVa shot 65% from the field in the second half thanks in large part due to Hauser, Huff and Woldetensae. The team drained 66.7% of its 3-point attempts after halftime. The Cavaliers also made 11 of their 13 second-half free throws, which is good for an 84.6% shooting percentage.
The second half wasn't even the team's most impressive offensive performance of the ACC slate. The Cavaliers shot 67.7% and 71.4% from 3-point range in the second half of an 85-50 win over Clemson on Jan. 16.
On the season, UVa's offense ranks as the ninth most efficient in the country, according to KenPom. The defense barely lags behind, checking in at No. 23. Virginia is the only ACC team to sit in the top 25 in both offensive and defensive efficiency.
The only other time in the Tony Bennett era that UVa's offensive efficiency outpaced its defensive efficiency? That came in the 2018-19 season, when the Wahoos hoisted the national championship trophy.
UVa ranked second nationally in offensive efficiency that season, coming in at No. 5 in defensive efficiency.
Bennett typically prefers gritty, defensive wins. Offensively, however, UVa is dangerous.
Unlike last season, Virginia can win games with its offense. The Cavaliers have scored 70 or more points in five of its 10 ACC games. The program reached that mark just twice across all 30 of its games last season.
Saturday's win improved UVa to 7-0 this season when it shoots 50% or better and 9-1 when it scores at least 70 points.
"You got to find different ways to win, but you have to shore up those areas that cost us," Bennett said.
Bennett won't feel content until Virginia's defense improves to his high standard, but the Cavaliers' offensive firepower has them leading the ACC.