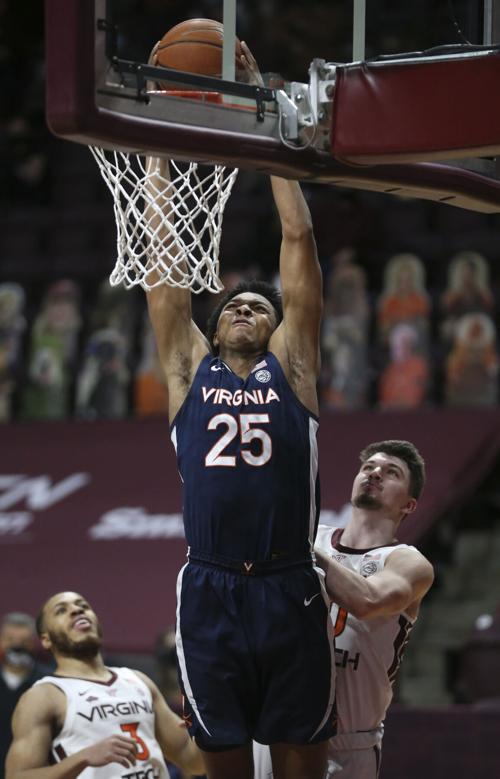 Wins over Tony Bennett and the Virginia men's basketball team are hard to come by.
N.C. State achieved the feat a season ago, beating UVa 53-51 in John Paul Jones Arena. Could the Wolfpack attempt to replicate their game plan when the two teams meet Wednesday night in Raleigh?
"There's absolutely nothing we can take from that game," N.C. State head coach Kevin Keatts said Monday.
Throughout Keatts' coaching career, he's leaned on veteran guard play. Three upperclassmen guards spearheaded the Wolfpack last season, helping them beat the Cavaliers.
That's not the case this season.
Markell Johnson and CJ Bryce graduated, and Devon Daniels, a senior this season, tore his ACL in January, sidelining him for the rest of the season.
The Wolfpack also were without standout post player DJ Funderburk on Sunday in a three-point loss to Syracuse. The school cited "university policy" as the reason for Funderburk's absence, and Keatts was unsure Monday if the senior big man, who scored 14 points on 6-for-8 shooting against UVa last season, would be available Wednesday night.
"It's a completely different squad," said Keatts, who played three freshman guards at least 15 minutes on Sunday.
A season after ranking 234th nationally in offensive efficiency, according to KenPom, UVa has surged to 11th in the metric this season. The improvement comes in part because of the addition of newcomers.
Transfers Sam Hauser and Trey Murphy both average over 10 points per game and have combined for 67 of the team's 126 made 3-pointers.
Despite significant personnel differences, both teams follow their same principles to try to pick up wins. N.C. State plays aggressive defense, relying on multiple guards to help generate turnovers. The Wolfpack create turnovers on nearly 25% of their opponents' possessions, one of the best marks in the nation.
Six N.C. State players have at least 10 steals this season.
"They're aggressive," Bennett said. "They'll come down the floor. They can press you. They can switch. They use their athleticism, and I thought they played really well and lost a tough one at Syracuse. They're active. Last year, they came into our place and really bothered us with their defense."
Fortunately for UVa, it only turns the ball over on about 14% of its possessions, one of the five best marks in college basketball.
Defensively, Virginia may be a step behind last season's squad. After leading the country in defensive efficiency last season, the Cavaliers check in at No. 17 this season, according to KenPom.
Despite the minor statistical drop-off, Keatts isn't buying that UVa and the Pack Line defense are any less impressive.
"When you pull the numbers and look at it, they're still one of the top defensive teams in the country and always will be because that's their calling card," Keatts said.
UVa will need a solid defensive showing Wednesday. After falling to Virginia Tech on Saturday and being unable to stop Keve Aluma in the post, N.C. State boasts 6-foot-11 Manny Bates at center.
It's another tall task for a defense that struggled in the paint last weekend.
"There were a lot of things that we didn't do right, and a lot of it was on defense," UVa center Jay Huff said after the loss to the Hokies. "I take a lot of responsibility for that. There were a lot of just missed assignments tonight, some stuff that we needed to do better, obviously."
Bates, a redshirt sophomore, presents a slightly different challenge than Aluma. He possesses less outside range, but is taller than Aluma and extremely lengthy. He leads the ACC in blocked shots, and he swats away 3.4 shots per game. He's also shooting 63.6% from the field and leads the Wolfpack in rebounds per game.
With Funderburk absent against Syracuse, Bates finished the night with 17 points on 7-for-9 shooting to go with 14 rebounds and four blocks over 38 minutes.
N.C. State lacks the experience, especially at the guard position, to recreate last year's defensive struggle with Virginia, but the Wolfpack impressed Bennett in their 76-73 loss to Syracuse. Even without Daniels and Funderburk, the young N.C. State roster nearly beat the Orange on the road, fighting for the duration of the 40 minutes.
"It always comes down to who can execute the best, who can play their game and has that hunger factor," Bennett said.