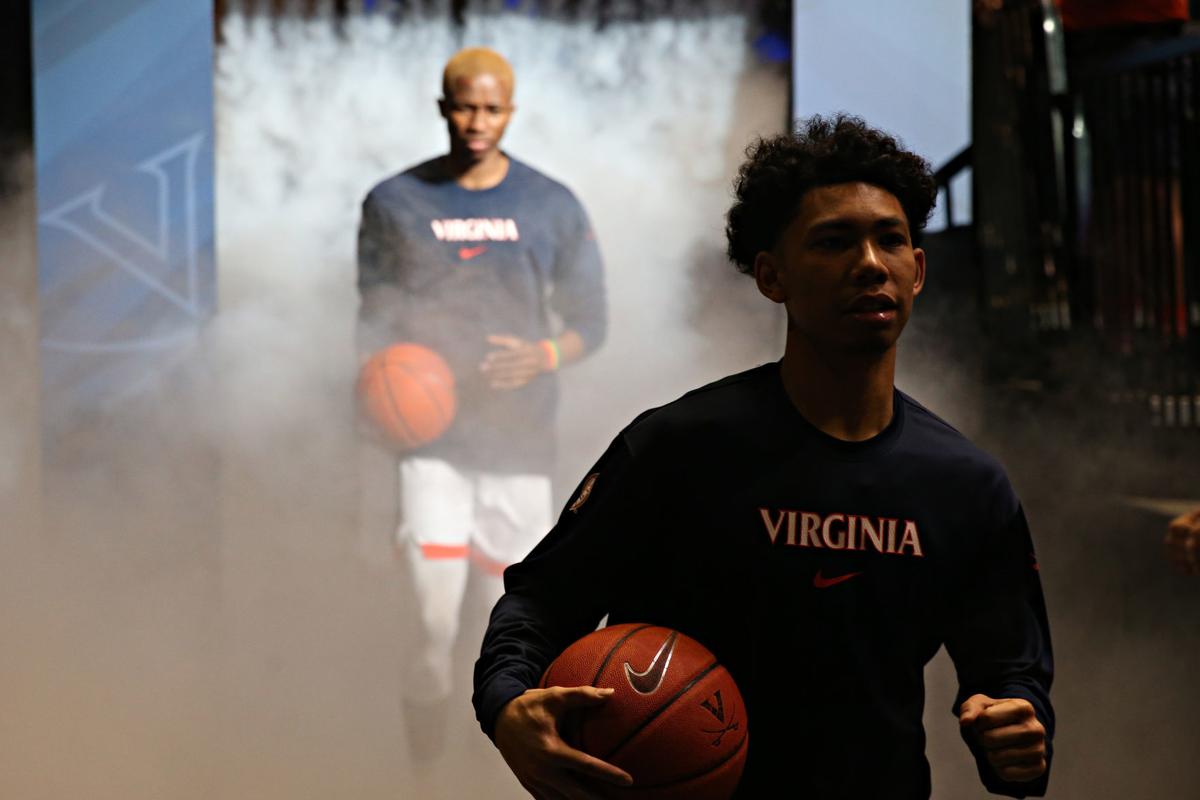 Virginia's Kihei Clark and Mamadi Diakite earned All-ACC men's basketball honors on Monday. Diakite made the All-ACC second team, and Clark made the All-ACC third team. Diakite also made the All-ACC Defensive Team.
Diakite, who averages 13.7 points per game, has scored in double figures in 12 consecutive games. The defensive menace also averages 6.8 rebounds per contest and has 38 blocks in 30 games this season. Diakite led the All-ACC second team in voting points received with 234.
He also earned ACC Player of the Week honors twice this season, including this past week for his performances against Miami and Louisville. UVa's leading scorer averaged 15.5 points, nine rebounds and 1.5 blocks per game last week.
The redshirt senior fell just short of the All-ACC first team, which included Duke's Vernon Carey Jr. and Tre Jones as well as Louisville's Jordan Nwora, Notre Dame's John Mooney and Syracuse's Elijah Hughes. Carey Jr. received the most votes of any player and won ACC Rookie of the Year. He was not on the Player of the Year ballot, and Duke's Jones won the honor.
Clark led the All-ACC Third Team in voting points received with 98. He fell just three points shy of making the All-ACC Second Team. UVa's sophomore point guard averages 10.8 points, 5.9 assists and 4.2 rebounds per game. He leads the ACC minutes and has scored in double figures in 18 games this season.
While the point guard didn't make the All-ACC Defensive Team, Clark did receive three votes for ACC Defensive Player of the Year. He finished fourth in that voting.
Tony Bennett finished second to Florida State's Leonard Hamilton in ACC Coach of the Year voting. Bennett helped guide the Cavaliers to the No. 2 seed in the ACC and an eight-game winning streak to finish the season. UVa won 11 of its final 12 games.
Jay Huff received one vote for the ACC's Most Improved Player, and Braxton Key received an honorable mention. He fell shy of All-ACC third team honors but did receive votes.
Virginia (23-7, 15-5 ACC) opens ACC Tournament play on Thursday night against the winner of Wednesday night's game between Notre Dame and Boston College.
Be the first to know
Get local news delivered to your inbox!