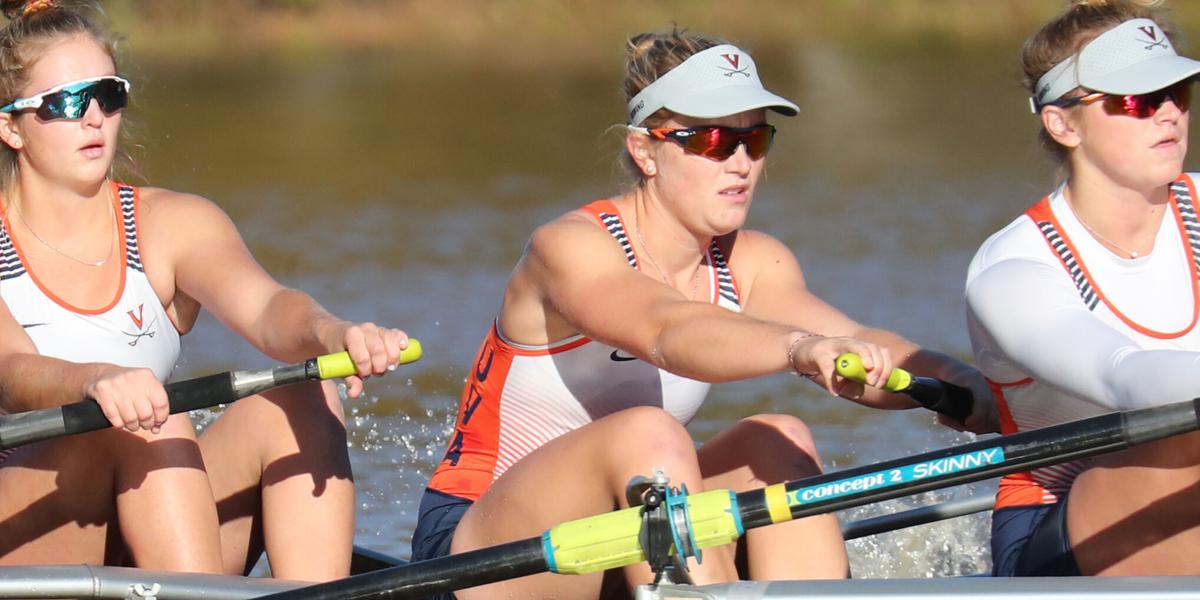 The Virginia women's rowing team dominates its sport.
The Cavaliers have won every ACC title since 2010, they won national championships in 2010 and 2012, and they've been a fixture in the top 10 nationally for more than two decades.
"Every now and then, you wonder like, oh, if I was playing basketball and we were this dominant everybody in the country would know about it," senior Sophia Kershner said. "You think about the dominant ACC sports teams and you think Duke basketball or UNC women's soccer or basketball, and we're on that list too, but it's not well known."
Despite the success, the sport flies under the radar compared to some of UVa's other athletic programs. The team grinds, often early in the morning, to reach the top of the sport.
After more than a year away from competition and intense offseason training despite uncertainty surrounding the spring season, the team returns to action Saturday for the Oak Ridge Cardinal Invite in Tennessee. Barring any COVID-19 complications — the team couldn't compete last weekend due to virus issues — the program will return to action seeking another successful spring.
"I'm honored to coach them," Virginia head coach Kevin Sauer said. "I think people just don't realize how much success we've had, and also how hard we work. It's brutal."
Rowing demands excellence.
From physical endurance to rowers operating in sync, it's a challenging sport. Sauer praises the effort of his team, which has followed strict health protocols just for the chance to compete this spring.
Among the many protocols during offseason training was distancing from teammates. Whether that meant during practice or after, it was a drastic change from the team's usual close-knit routines.
"The fact that I can't go up to a teammate and like boost them up, and I can't have a teammate around for dinner or can't hug a teammate if they've had a bad day is heartbreaking," senior Abbie Bird said.
Health protocols made the tough practices even more difficult for the team.
Both Bird and Kershner shared that they questioned the offseason training. They wondered why they were putting in so much work, knowing that the season might not even happen. As much time as they gave to their training routines, a voice in the back of their heads always wondered if they'd get the chance to compete.
"That fear … and underlying presence of OK, but what if this happens again, and prepping to be devastated hasn't really gone away, and I don't think it will," Kershner said.
Even with the emotional scars of last spring still there, the team embraced the little moments before this season. Sophie mentioned that the team spends hours upon hours training just for a race that can last as little as seven minutes.
That process encourages love of practice. The Cavaliers try to find joy in little moments when training and competing.
"Some of the sunrises we saw were amazing," Sauer said of early morning preseason practices. "Just stuff like that, they embrace that."
For Kershner, some of her best moments at UVa weren't in races that counted or championship events.
"My favorite memories of this team that I'll take with me away from college and through life and the friendships I've built, those were built at practice," Kershner said. "Those were built in the small, unscripted moments in the boathouse and Kevin goofing off on the water."
Races aren't guaranteed this spring. The Cavaliers know anything can be canceled at a moment's notice due to COVID-19.
When the races arrive, Virginia will enjoy them. They Cavaliers will also be sure to cherish every moment at practice with teammates. After a spring away from the team, even an uncertain spring together – albeit often from a distance – is an improvement.
"I can't say one or two silver linings because it actually is the small things that make it the best thing," Bird said.