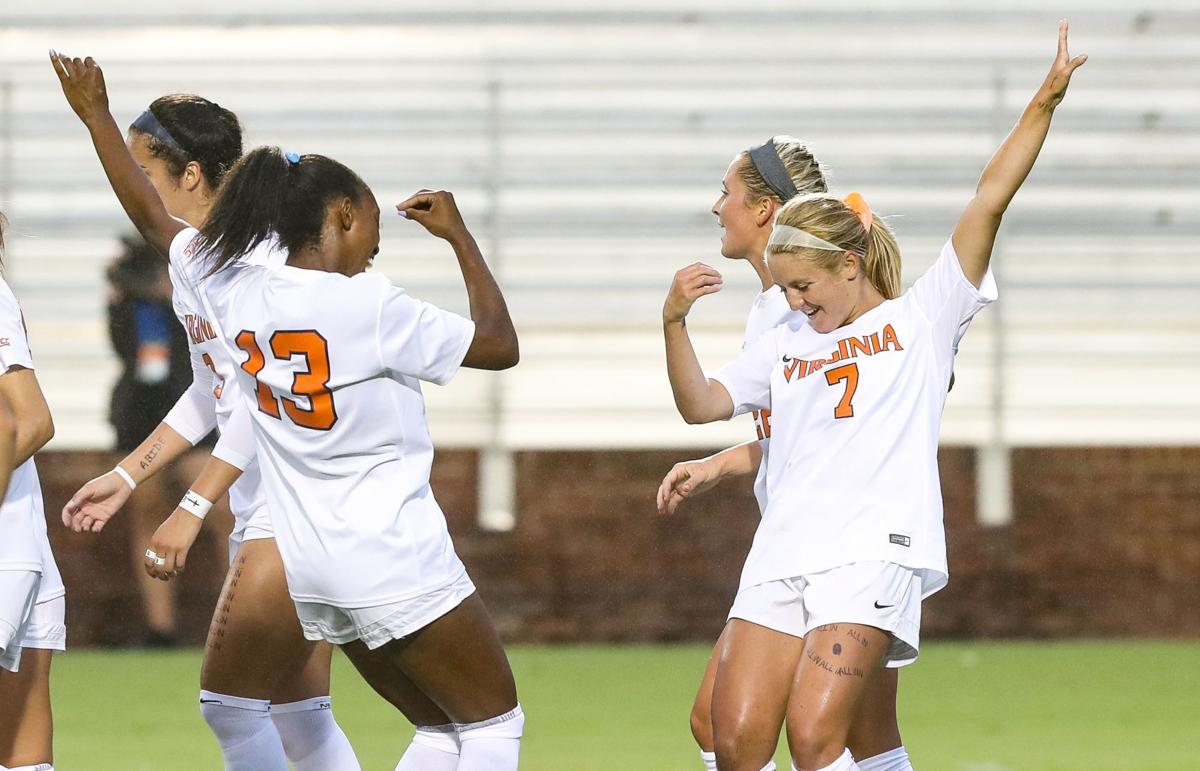 When the bracket was released for the NCAA Tournament, it wasn't hard to imagine the Virginia women's soccer team getting a third crack at West Virginia this spring.
The unseeded Cavaliers would need to win twice, including beating No. 12 BYU, but UVa was a top-15 team in the national polls all season and is a frequent visitor to the Sweet 16. No. 5 West Virginia would just need one win to advance to the Sweet 16 and a potential date with the Cavaliers after games on April 3 and 10.
"The idea of playing West Virginia for a third time was just like, 'Wow, really? This would be the third time in a month we would've had to play them,'" senior goalkeeper Laurel Ivory said.
Rice ended that narrative.
The unseeded Owls upset West Virginia, something UVa was unable to do in two meetings in April, with a 1-0 victory.
"Playing them would have been great, playing Rice is going to be great, and the fact that we're in a Sweet 16 is great," Ivory said.
The win sets up a matchup between UVa and Rice on Wednesday at 9 p.m. with a spot in the Elite Eight on the line. It's the only Sweet 16 match between two unseeded squads.
Rice, the Conference USA champion, was outshot 20-1 by West Virginia in the second-round game, but the Owls used tremendous defense and a penalty kick goal in the 74th minute to take down the Mountaineers. Rice beat Furman 3-1 in the opening round for the first NCAA Tournament win in program history.
On paper, the Cavaliers hold the edge over the 22nd-ranked Owls. Don't tell that to UVa's players and coaches, who see the win over West Virginia and a regular-season triumph over seventh-seeded Texas A&M and take notice of Rice.
"I think you have to be careful looking at the West Virginia game and saying, 'Well, West Virginia got 20 shots to one,'" head coach Steve Swanson said. "Well, it's whether they're dangerous or not, and Rice is very dangerous."
The Owls are indeed dangerous.
They're among the top 30 teams nationally in goals against average and goals per game. In Rice's overtime win over Texas A&M, it gave up two goals in a 20-second span in the middle of the first half. After that, the Owls outscored the Aggies 3-0.
Currently, Rice is on an 11-match unbeaten streak.
"They're on a high, and we're going to probably be getting their best shot," Ivory said.
UVa counters the red-hot Owls with an impressive group of its own. The Cavaliers took down Southern Illinois Edwardsville 3-1 in the opening round. They followed that win up by beating No. 12 BYU 2-0. Entering the matchup, BYU was one of only four teams nationally to average three or more goals per game this season.
BYU had gone 53 consecutive matches without being shut out until Ivory — who missed the 2019 NCAA Tournament with an injury — and the Wahoos held the Cougars in check.
"I haven't really hit my mark in a lot of areas this past year," Ivory said. "We've given up a lot of goals, and I take that — and the backline and the whole team — we take personally, and to get a shutout against a team like BYU, I think, is a huge confidence boost for me and for the team."
While the Virginia defense is brimming with confidence, so is junior forward Alexa Spaanstra. UVa has five goals in two NCAA Tournament games, and four have come from Spaanstra.
She scored both of Virginia's goals in the 2-0 victory over BYU.
Swanson believes the speedy forward benefited from BYU's wide-open playing style. Rice doesn't play quite the same way, but Spaanstra will certainly be a matchup concern for the Owls.
A win over Rice would give UVa its first Elite Eight appearance since 2015. The Cavaliers are 0-3 in their last three Sweet 16 games. On the surface, a matchup with an unseeded foe is all that stands between them and an Elite Eight, but after Rice's win over West Virginia, the Cavaliers know the Owls are plenty more than just an unseeded foe.
"If you get caught looking too far ahead, it'll bite you," Swanson said.