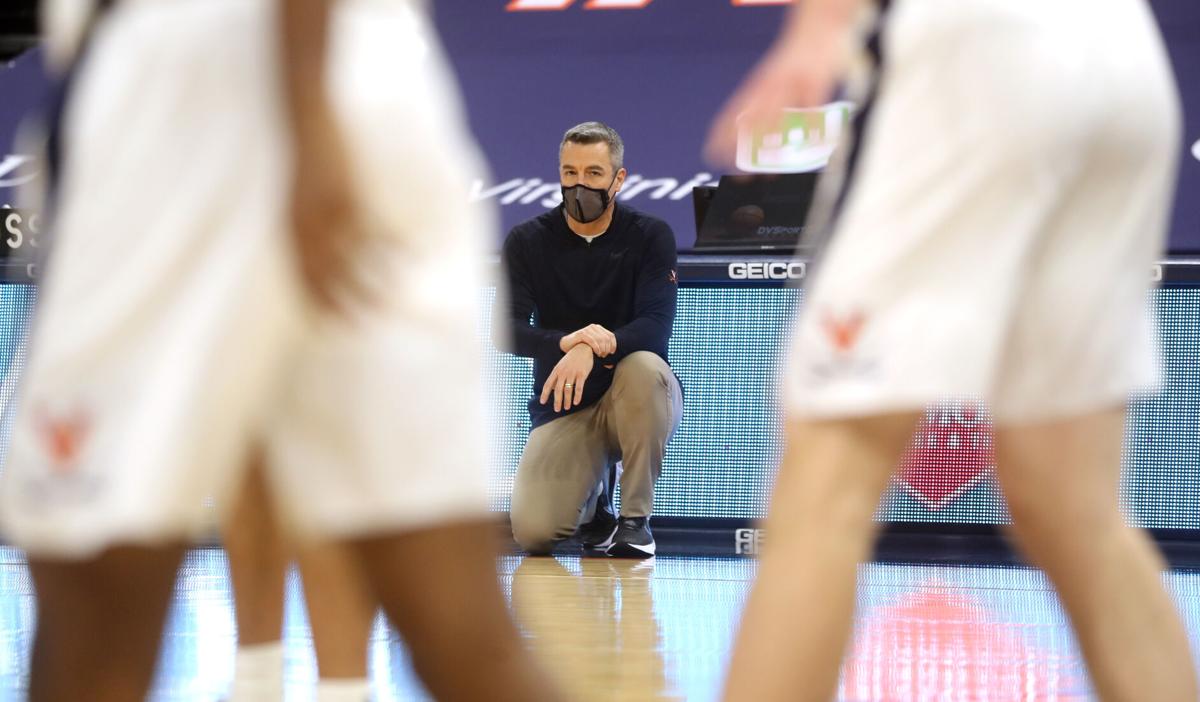 It's been an eventful 23 months since the Virginia men's basketball team won the 2018-19 national championship.
The Cavaliers won 23 games in 2019-2020, including their last eight of the season, but the year was cut short due to the COVID-19 pandemic. They returned this year with new faces, but still won the ACC regular-season title despite a season with frequent postponements and empty arenas.
About the only thing absent from UVa's historic and hectic past 23 months has been a single-elimination tournament game.
"It's pretty simple," redshirt senior Jay Huff said. "It's win or go home, so you gotta bring your 'A' game and just kind of have that understanding that this could be it."
Assuming COVID-19 doesn't cut the season short, UVa is still only guaranteed two games the rest of this season. Thursday at noon, the Cavaliers face the winner of Syracuse and N.C. State in the ACC Tournament quarterfinals. After that, the Cavaliers will be invited to the NCAA Tournament.
The pressure ramps up beginning this week. After nearly two calendar years away from it, Virginia returns to postseason play.
"Every possession matters even more this time of the year," redshirt senior Sam Hauser said. "We know that. I guess you just kind of have to come in and play free and let the chips fall where they fall and you live with it, but obviously you want to win."
Fortunately for UVa, its players have been in big moments over the last few years even without ACC Tournament or NCAA Tournament games in recent memory. Even some players who weren't with the program during the national title run, like Hauser and freshman guard Reece Beekman, still have big-game experience to draw upon.
Beekman won a state championship in Louisiana in 2020, posting a triple-double in the state title game. He won a state title every year during his high school playing days.
Hauser helped lead the Cavaliers to a regular-season championship this season, scoring his UVa career-high of 24 points in the regular-season finale at Louisville. He helped carry the team in a game with important stakes.
"In a way, the Louisville game for us was a single-elimination game in terms of, if you can win a conference regular-season title and how special that would be," head coach Tony Bennett said. "That was that mindset."
Other players on the roster, like Huff and junior guard Kihei Clark, were on the national title team. They've reached the peak of the sport.
Despite nearly two years away from single-elimination tournaments, they understand what's needed to win big games. Last season, Virginia went 9-1 in games decided by three points or fewer. UVa has also won eight consecutive games played in March with the last loss coming to Florida State in the ACC Tournament in 2018-19.
"Late in March, everybody is playing their best basketball," Clark said. "You got to be at your best and just try not to have those self-inflicted errors."
Clark stressed that avoiding turnovers and defensive lapses are crucial when it comes to advancing deep into tournaments. The margin of error can be thin this time of year, as the team learned well during its national title run.
UVa won all six of its NCAA Tournament games in 2019, including its last four in overtime or by four points or fewer. Virginia came close to losing on numerous occasions, only to make the clutch play or two needed to win the tournament.
Bennett shared that sometimes in a single-elimination format you just have to be fortunate. The Cavaliers had good fortunes in 2019, while also executing at a high level with a talented roster.
The year prior, UVa made history by becoming the first men's No. 1 seed to lose to a No. 16 seed when it fell to UMBC in the opening round of the NCAA Tournament. Postseason play brings with it tremendous highs and lows, and the Cavaliers know both sides well.
UVa hopes recent positive postseason results translate into this season as they aim for their first ACC Tournament title since 2018.
"I haven't won an ACC championship conference tournament," Clark said. "That'd be cool."