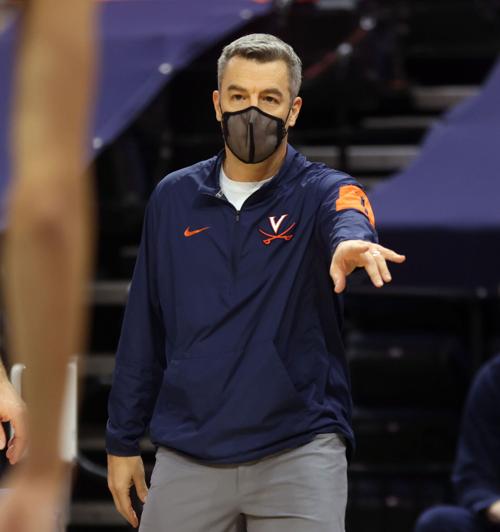 Tony Bennett is no stranger to Gonzaga basketball.
Virginia's head coach even made sure media members pronounced "Gonzaga" correctly in his most recent postgame press conference.
It's Gone-ZAG-uh, for those wondering.
"I lived out there, they don't like it when you say Gone-ZOG-uh," Bennett smiled. "It's the Zags."
Before arriving at Virginia, Bennett battled against Mark Few and the Zags four times as the head coach of Washington State, going 2-2 in those contests. The teams featured contrasting styles, with Gonzaga scoring at a high level and Washington State focusing most of its attention on defense.
Saturday, Bennett gets his first shot at Gonzaga as the coach of Virginia. The two ranked teams will meet Saturday at 4 p.m. on CBS.
"I've been fortunate enough as a coach at Washington State to play against the good Gonzaga teams," Bennett said. "We had great battles, and they've done a really great job with having threats offensively. They've always been good all over the court."
Expect a similar battle of contrasting styles Saturday.
No. 1 Gonzaga (6-0) ranks in the top five nationally in adjusted offensive efficiency, while No. 16 Virginia (4-1) ranks in the top five defensively, according to KenPom. The Zags operate at the sixth-fastest adjusted tempo in the country, while UVa works its offense at the slowest adjusted tempo in the nation.
This Gonzaga team will be unlike anything Bennett faced at Washington State, though. The top-ranked Bulldogs are loaded, possessing several NBA-caliber players and an offense that's proving close to impossible to stop.
The Zags, as their fans affectionately call them, score nearly 95 points per game. They're as dynamic against Northwestern State as they are against Kansas, West Virginia and Iowa.
"They shot very good against Iowa, so we're going to have to really make sure we lock in on that," Virginia forward Kadin Shedrick said. "Their bigs are also very good. They're really a complete team, and it will be a good challenge for us."
Gonzaga shoots an absurdly efficient 64.1% on 2-point shots, according to KenPom. It tests teams both inside and outside.
Forward Drew Timme averages 20.3 points and 7.5 rebounds per game. He stands at 6-foot-10, posing a challenge for UVa's frontcourt. Corey Kispert stands at 6-7, and he leads the squad by scoring 20.8 points per game. He's shooting an impressive 45.9% from 3-point range.
UVa center Jay Huff will likely battle at times with Timme, needing his A-game to slow down the impressive big man. Huff can certainly hold his own against Timme. UVa's center has shot at least 50% from the floor and blocked two shots in each of Virginia's games this season. Huff is a legitimate NBA prospect.
The game could come down to guard play. Both teams possess talent and experience at the position.
Gonzaga's guards are remarkable. Jalen Suggs, a freshman guard from Minnesota, might be the best player in the country. He averages 16.3 points, 5.8 assists and 5.7 rebounds per game. He's made 50% of his 3-pointers and shoots 56.9% from the field. He also leads the team in steals and blocks.
The Zags also have Andrew Nembhard, a Florida transfer who mans the guard position. He's averaging 9.7 points and 3.8 assists per game.
"When you play a team as talented and explosive as Gonzaga, I don't know what prepares you for that," Bennett said.
UVa counters with plenty of talent of its own.
In the backcourt, Kihei Clark won a national title as a freshman and led the ACC in minutes played as a sophomore. The junior is an emotional leader and standout for the Wahoos.
Other guards include Tomas Woldetensae, Casey Morsell and Reece Beekman. All three players will likely see minutes against the Zags, with Woldetensae making great defensive strides this offseason. Morsell looks more comfortable offensively, making 44% of his shots this year.
Along the wing, Trey Murphy and Sam Hauser are as dynamic as they come.
The two are the only UVa players with 10 or more made 3-pointers this season. They've combined to shoot 21-of-44 from beyond the arc this season and both average double figures in scoring.
Shedrick, Justin McKoy and Huff give the Cavaliers depth and talent in the frontcourt. Bennett needs the group to improve on the glass, as the team allowed 18 offensive rebounds in its first three games. The Wahoos allowed 24 offensive rebounds in their last two contests, including 14 to William & Mary in their first game in 17 days after a COVID-19 pause.
"I think you're going to have to be better in every area, not saying we were poor, but that's just the reality of that," Bennett said of facing Gonzaga. "I look at that 14 offensive rebounds, you have to have a level of urgency like you haven't had this year in terms of being back and set and then getting the shooters and everything."
UVa's talent can compete with Gonzaga, but the Cavaliers need a more complete team performance against the Zags to pick up a major victory.
Games against San Francisco and Kent State showed the Cavaliers can look mediocre when they aren't engaged and operating efficiently on both ends of the floor. The team's other three games — blowout wins over Towson, Saint Francis and William & Mary — showed the Cavaliers can look special when they're clicking.
Bennett and company want to win another national title this spring. To do that, they'll need to beat teams of Gonzaga's caliber.
"You always try to have a program or a team that prepares to play against the best, and we will have to be at our best with not a ton of prep or a lot of games, but again, grateful for this opportunity," Bennett said.