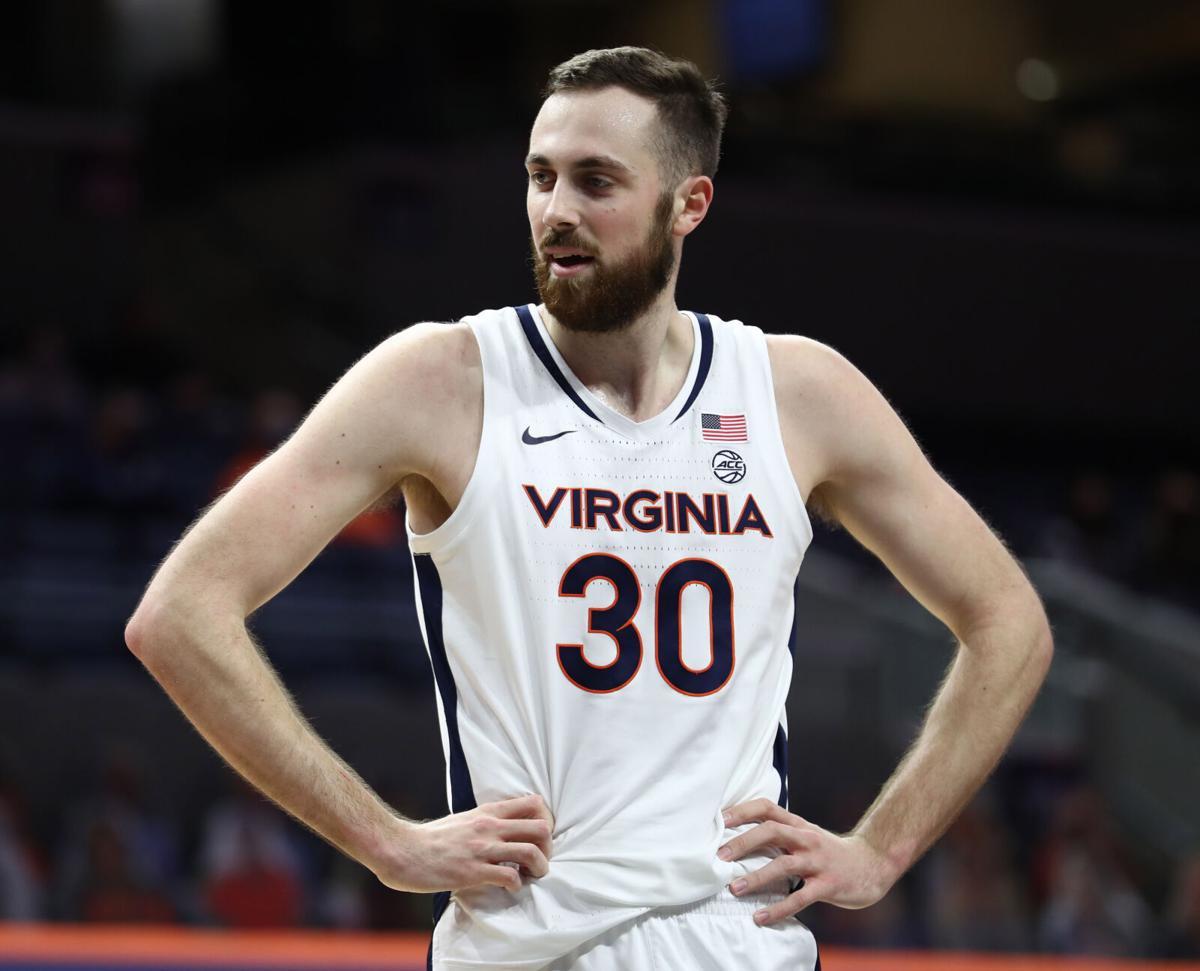 In numbers so small he had to squint to see them during his Friday morning media availability, Roy Williams saw a looming problem for his North Carolina basketball team — a Virginia frontcourt that can test a defense inside and out.
"This is the biggest challenge that we'll have all year long, there's no question," North Carolina's head coach said.
Redshirt seniors Sam Hauser and Jay Huff both stand at least 6-foot-8 and the two UVa standouts both shoot over 60% from 2-point range and over 40% from the 3-point line, as Williams pointed out Friday when looking over his stat sheet. They're versatile and joined by junior forward Trey Murphy III, who makes 48% of his 3-point tries as yet another tall scoring threat.
Williams and the Tar Heels (12-6, 7-4 ACC) face No. 9 Virginia (14-3, 10-1 ACC) on Saturday at 6 p.m. at John Paul Jones Arena, and they'll need their best to slow down Virginia's frontcourt. Fortunately for North Carolina, they'll have their best players available.
With North Carolina's full arsenal of players available, Saturday's game could very well come down to frontcourt performance. Virginia's frontcourt often succeeds with finesse; UNC's wins with brute force.
The Tar Heels lead the ACC in rebounding, and they secure a league-high 15.1 offensive rebounds per game. Williams' team leads the ACC in rebounding margin, outrebounding its foes by 10.9 rebounds per contest. Offensive rebounds could be particularly precious Saturday as UVa's slow tempo limits possessions for both sides.
"They're fantastic defensively," Williams said. "Every possession is more important because there's going to be fewer possessions during the game, but every possession is more important on both ends, not just the offense or defense, but on both ends."
Grabbing offensive rebounds and securing defensive boards against Virginia helps teams win the possession battle. That's valuable against a team in UVa that ranks in the top 20 nationally in offensive and defensive efficiency, according to KenPom.
At times this season, rebounding issues have plagued Virginia. The Cavaliers struggled on the glass last weekend against Pittsburgh, giving up 14 offensive rebounds that led to 12 second-chance points.
Wednesday's win over Georgia Tech was a different story. Hauser and Huff combined for 19 defensive rebounds, with Huff grabbing nine of those and blocking four shots.
"He played well," Tony Bennett said of the center. "He was blocking shots. We needed his activity. He was good. I thought we were active."
Bennett gave Hauser and Huff the stamp of approval following Wednesday's win over the Yellow Jackets. His two top scorers finished with just 14 combined points as Georgia Tech limited their shots, but they came through with 19 rebounds, six assists, four blocks and two steals.
"What I like between him and Sam is it was hard," Bennett said. "We couldn't get them as many open looks and to stay composed and impact the game in other ways. He was right tonight, and I was proud of him."
Williams called Hauser, a 6-8 forward with a versatile offensive game, the most difficult matchup Virginia presents the Tar Heels. While players like senior forward Garrison Brooks, Bacot and Sharpe all stand at 6-10 or taller, they lack the quickness to cover Hauser on the perimeter. The three UNC big men weigh at least 240 pounds and typically perform best in the post.
Leaky Black, a 6-8 wing player, may get the assignment of checking Hauser. Black is quicker than Bacot, Brooks and Sharpe, but he isn't quite as powerful.
As for guarding Huff, UNC will counter with one of its big men. Williams hopes the trio of Bacot, Brooks and Sharpe can also challenge Huff defensively.
"He causes us problems on both ends, and we've got to get out and guard him," Williams said. "But the other thing is we've got to try to do everything we can to be very strong with our moves inside and hopefully get Jay in foul trouble."
Huff is no stranger to picking up fouls. He fouled out of the win over Pitt, and he's picked up at least four fouls in five of Virginia's 11 conference games.
When Huff leaves the floor, Francisco Caffaro and Kadin Shedrick are the replacements at center. Caffaro, a redshirt sophomore, brings toughness, but lacks the same offensive firepower as Huff. Shedrick is a bit more slender than Caffaro, but he can shoot from mid-range.
It's unclear how much Shedrick can give the Cavaliers off the bench, though. The redshirt freshman missed eight games with a health issue before returning against Georgia Tech and playing just two minutes. He hasn't played 10 minutes in a game since Dec. 26.
On paper, UVa may hold the edge at the guard position. Junior point guard Kihei Clark brings experience to the position, and freshman guard Reece Beekman draws frequent praise for his on-ball defense. They'll square off against UNC freshman point guard Caleb Love, who is playing point guard for the first time this season with mixed results.
The game against UNC poses a stiff challenge for the Wahoos, especially in the frontcourt, and it's one of many ACC tests to come.
"I think every game in the ACC is tough," Clark said Wednesday. "I think our next upcoming games are pretty good competition. We just prepare as best as possible and just play the game we know we can."
After facing UNC on Saturday, UVa plays at Florida State and Duke next week. On the season, UVa has faced just two ACC teams in the KenPom top 50. They're scheduled to face three in the next eight days.
"These games are real crucial going down the stretch," Clark said.