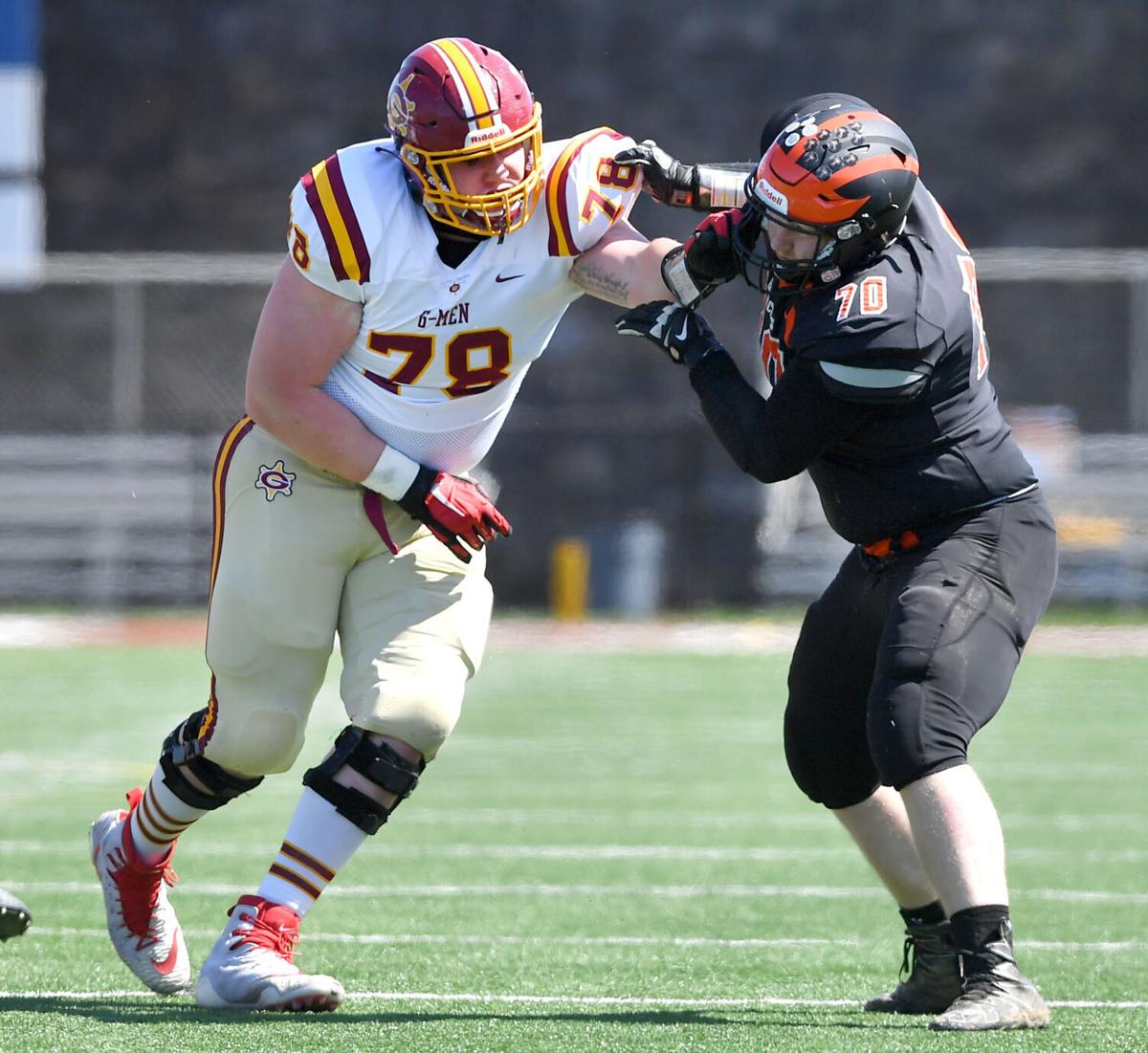 New experiences have come in 3s over the past week for Brody Meadows.
From horseback riding to deep-sea fishing, the rising senior at Graham High School in Bluefield has added to those new experiences by making a decision on his college future.
The 6-foot-7, 315-pound Meadows recently took a visit to Charlottesville to check out the Grounds at the University of Virginia. He will be returning there in the fall of 2022 as a member of the Cavaliers.
"The overall experience was great, I loved the coaches, the staff and even the players, I got to hang out with them a lot," said Meadows, who made his decision official via social media with a video taken at Mitchell Stadium in Bluefield. "You can really tell it is a family up there. I was with them all the time.
"It wasn't always about football. They separate your life and football, so it was actually cool. We talked about life, football, fishing, we went horseback riding, which is a new experience for me as well…
"It is a beautiful place, it is a special place," he added. "They have a lot of things changing for the football team, they have new facilities coming and I just think there is nothing else like it."
Meadows, who caught a 40-pound barracuda while deep-sea fishing for the first time recently, began receiving communication from Virginia head coach Bronco Mendenhall and offensive line coach Garett Tujague when he was a freshman at Graham.
"Coach Tujague has always kept in touch with me, calls me after games, especially my junior year when they could actually contact me," Meadows said. "He even went over some games with me and just gave me some pointers and really showed how he could change me as a student-athlete."
It was Graham head coach Tony Palmer who first noticed Meadows had the potential to play college football at the highest level.
"He said he wanted to play football. I told him he would be a Division I kid at that moment as an eighth grader and that is what he turned out to be," Palmer said. "I knew about his work ethic, I knew what he wanted and I knew he wanted it in his heart. I told him he would be a D-I kid and he is a D-I kid."
Meadows wasted no time making those words prophetic, helping the G-Men win the VHSL Class 2 state championship during his freshman campaign.
What was it Palmer saw in him?
"Heart, I would say. I had the will to do it," Meadows said. "Walking in your freshman year and starting was not an easy job. I had to beat out some kids so for me to be able to do that and gain confidence in myself to be a good player was what really helped me."
It wasn't long before college letters starting arriving, with West Virginia, Georgia Tech, Michigan State, East Carolina, Old Dominion and Marshall among his suitors. Yet, it was Virginia that stood out from the start.
"They committed through the recruiting process," Palmer said. "They formed a relationship with him. He liked the atmosphere, he has got a good relationship with the coaches and it just worked out real well for him."
Meadows has added 40 pounds since his freshman season at Graham, earning a 4-star recruiting ranking as an offensive lineman by Rivals and 3-star rating from 24/7 Sports.
"My body has changed 10 times I would say," Meadows said. "I was looking at pictures from freshman year to now and to see the growth, it is crazy. My experience, my footwork and my knowledge for the game has also changed."
Palmer certainly isn't surprised by the attention.
"It is everything he has got, he is the total package. He is 6'7, he is 315 pounds, he has got a 4.0 GPA, he is a good kid, causes no problems," Palmer said. "He is what you want at that level, especially with all the tools that he has got.
"He is a hard worker, he is going to try to continue getting better every day. He is the kind of kid that you want, and he has been nothing but a pleasure to coach at this point and we are looking forward to seeing what he can do his senior year."
That season isn't far off, with the G-Men rekindling its rivalry with Bluefield on Aug. 27, one year after that game wasn't played due to COVID-19 concerns. Graham played in the spring, finishing 5-1, falling in stunning fashion to Union in the Region 2D semifinals on a 59-yard touchdown run on the game's final play.
"We ended up coming short on the season, which hurt all of us, but now we are back to a full schedule. We have got Bluefield and other great teams to play so I am excited," he said. "That [game] was a heartbreaker for sure, but you have just got to come back from it."
Graham has become a Division I pipeline in recent seasons, with Cam Allen (Purdue), Devin Lester (Old Dominion) and Taymon Cooke (North Carolina A&T) already playing on college gridirons. Meadows is expected to be joined in the college ranks next fall by classmate Xayvion Turner-Bradshaw, the son of former Graham, Marshall and NFL standout Ahmad Bradshaw.
"To be honest it is a bunch of local kids getting another shot at football," Meadows said. "I think it is a great thing, especially with the small school that we are. In 2A, you don't see it happen a lot. To have all these players from a small town going to these big colleges is a good representation of Bluefield."
Meadows has long stood out on the field for Graham, even for no other reason his size, but knows there will be more players like him at the next level.
"It will be different, a lot more competition, but I have just got to go in with my head on straight and be prepared to fight honestly," Meadows said. "It is not going to be easy, we all know that, but I think I have the power to do it and I am going to go in thinking I have the power to do it.
"It is going to be exciting, I love the challenge, there is nothing like it. More of a challenge makes you grow. When you play against somebody better than you or equal to you, then you really have to step it up."
That goes for more than just football. He has a 4.0 grade point average, with early plans to be a pre-med student at Virginia.
"I was told my freshman year, even the coach at UVa told me, if you don't have the grades then they won't take you and it was just that simple," Meadows said. "For me it is time management, I had to know when to do my school work and football, and then also to have a life outside of school and football."
He has been given instructions by Virginia on what to focus on in the season ahead.
"Just keep driving, hit the weight room and get stronger, quicker and mentally prepared, know the game, know what you have to do and know how to prepare for it," he said.
That isn't a problem. That was the plan all along.
"Definitely a lot of weight room and being a team leader," said Meadows, whose brother, Brayden, is also a key member of the Graham football team. "You need 11 guys on both sides of the ball to come out with all heart and a will to win so I definitely want to lead us and come in prepared."