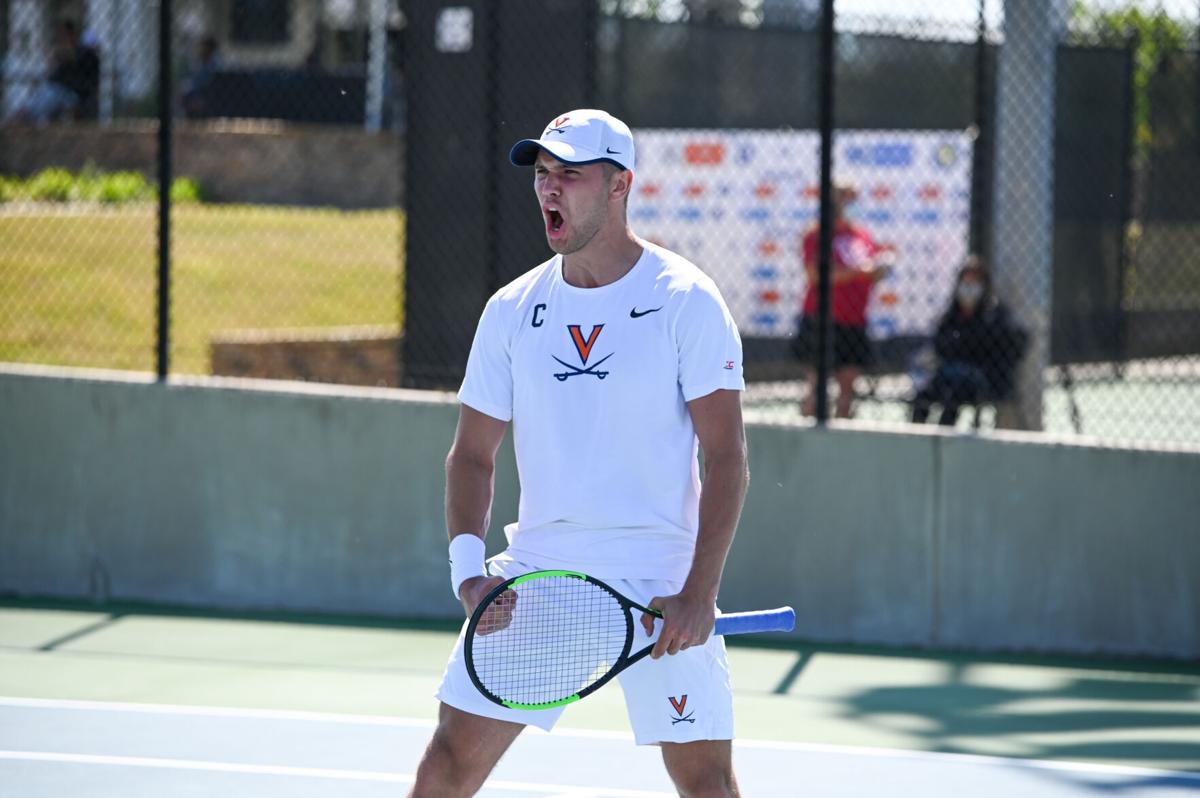 For the first time since 2017, the Virginia men's tennis team is back on top of the mountain in the ACC.
The top-seeded Cavaliers defeated North Carolina, 4-3, on Sunday in the ACC Tournament championship match in Rome, Ga.
Sunday's victory gave Virginia (21-2) its 13th ACC championship in program history and its first under fourth-year head coach Andres Pedroso.
"Incredible tournament for the Wahoos," Pedroso said. "We're really excited."
Freshman Iñaki Montes clinched the victory for Virginia with a win on court four. Montes also clinched Saturday's semifinal victory against N.C. State
Virginia grad student Carl Söderlund, who was a member of the Cavaliers' last ACC championship team in 2017, was named the tournament's MVP.
In doubles, UVa's Ryan Goetz and Chris Rodesch opened the match with a 6-4 win on court two. North Carolina evened it up when second-ranked William Blumberg and Brian Cernoch won on the top court.
Court three went to a tiebreaker with the Tar Heels' Benjamin Sigouin and Josh Peck winning it 7-4 to give North Carolina the doubles point a 1-0 lead heading to the singles matches.
"Doubles was tough," Pedroso said. "We came a point away from winning that doubles point."
The Tar Heels went up 2-0 with a win on singles court two before Söderlund finished off a 6-3, 6-0 win against Sigouin to put the Cavaliers on the board.
Gianni Ross tied the match 2-2 with a 6-1, 6-4 win on court six. North Carolina pulled back ahead with a victory on court three before Goetz knotted the match at 3-3 with a 6-1, 6-3 victory against Logan Zapp on court five.
On the last remaining singles court, Montes had won his first set 6-2 and was serving with a 5-2 lead in the second set against Simon Soendergaard on court four.
Soendergaard broke Montes' serve and then held to make it 5-4. Again serving for the match, Montes jumped out to a 40-15 lead, then converted his first match point attempt to give the Cavaliers the victory and the ACC championship.
"These guys responded like they have all year, so credit to them," Pedroso said. "They've worked so hard, and built an amazing culture."
As the ACC champion, Virginia earns the conference's automatic berth in the upcoming NCAA Tournament. The full bracket will be announced on Monday, May 3 at 6:30 p.m. The NCAA Selection Show will stream online on NCAA.com.
Virginia will head into the NCAA Tournament on a 15-match win streak. The Cavaliers hope that streak continues and culminates with the program's fifth outdoor national championship.