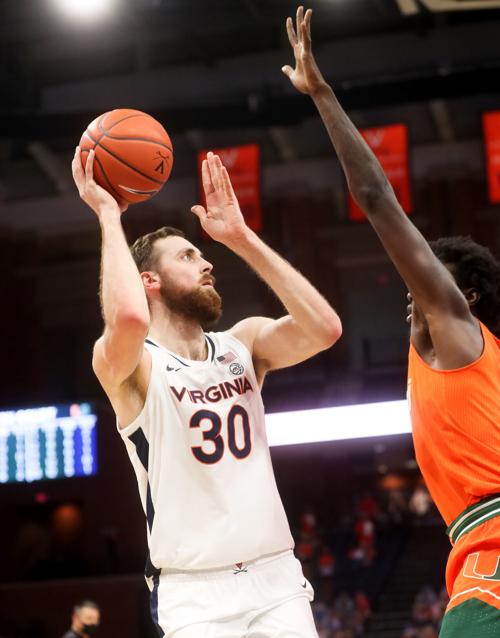 The calendar reads March, but the Virginia men's basketball team's resume still lacks signature wins.
Tony Bennett's group has a chance for a much-needed Quad 1 victory Saturday night at Louisville. The matchup comes against a top 50 team in the NET rankings in a hostile environment that will allow more than 5,000 fans for the matchup after Kentucky recently loosened COVID-19 restrictions. The Cardinals were previously allowing just over 3,000 fans per game.
"If the tequila bar is open, it'll be a pretty lively atmosphere I'm sure," Bennett joked on his weekly radio show.
Louisville (13-5, 8-4 ACC) is 26-2 at home since the start of last season, with its only home losses coming to Florida State. The Cardinals beat Virginia 80-73 in Louisville a season ago. Five of UVa's six losses have come away from home or in neutral site games.
Should UVa (16-6, 12-4 ACC) win, it'll provide a boost to the team's NCAA Tournament seeding profile and confidence to a team that's lost three of its last four games.
The Cavaliers are 0-2 against teams in the top four in the ACC standings. They'll have a chance to beat one of the ACC's top four teams Saturday, and they'll need their best.
After losing to North Carolina by 45 points three games ago following a lengthy break from action due to COVID-19, the Cardinals rattled off wins over Notre Dame and Duke. Led by Radford transfer Carlik Jones, who averages 17.6 points per game, the Cardinals are one of the top teams in the conference.
"They had some pauses and they had some delays and they struggled, but they look like they're getting their stride back and they can play," Bennett said.
Jones leads the Cardinals' offense, while good athletes on the perimeter define the team's defense.
In conference action, Louisville's 3-point field goal defense has been exceptional. The Cardinals lead the conference in the category during ACC play, allowing the opposition to shoot just 28.9% from beyond the arc.
UVa excels from beyond the arc, ranking second in the league in 3-point shooting percentage. The Cavaliers make nearly 40% of their shots from deep.
"I think our coaches do a great job doing our personnel, just telling us who are shooters who are drivers, and I think the team has kind of took pride in learning our personnel," Jones said.
Film study is important to the Cardinals' efforts, Jones says. He believes they defend the 3-point line well because they know which players are threats to shoot it. With the team's midweek game against Virginia Tech canceled due to virus issues with the Hokies, the group had even more time to lock in on UVa film.
While finding quality 3-point looks might not be easy for the Cavaliers, Louisville struggles to stop 2-point shot attempts. Only Boston College allows a higher 2-point shooting percentage in ACC play than the Cardinals. With senior center Malik Williams out with injury, Louisville typically leans on 6-8 freshman Jae'Lyn Withers at the center position.
That opens up a potential mismatch for UVa redshirt senior center Jay Huff in the post. The ACC Player of the Year candidate is shooting 67.7% from inside the 3-point line. The Cavaliers may opt to toss him the ball in the paint, especially given the effectiveness of Louisville's 3-point defense.
"Every time I see him it seems like he grows," Louisville head coach Chris Mack said. "I'm anxious to see how tall he is this time around, but seven-foot-one I never feel like does it justice."
Mack praised Huff's 3-point shooting and finishing ability on lob plays. The center is about as efficient as any player in the ACC.
Without the same experienced size as Virginia, stopping Huff might be Louisville's biggest challenge. UVa has potential mismatch opportunities with its frontcourt standouts.
The Cavaliers hold the pieces to pick up a win on the road, but they'll need a better effort than the road performances at Virginia Tech and Florida State earlier this season. It'll be a challenge given the potential crowd environment allowed this weekend.