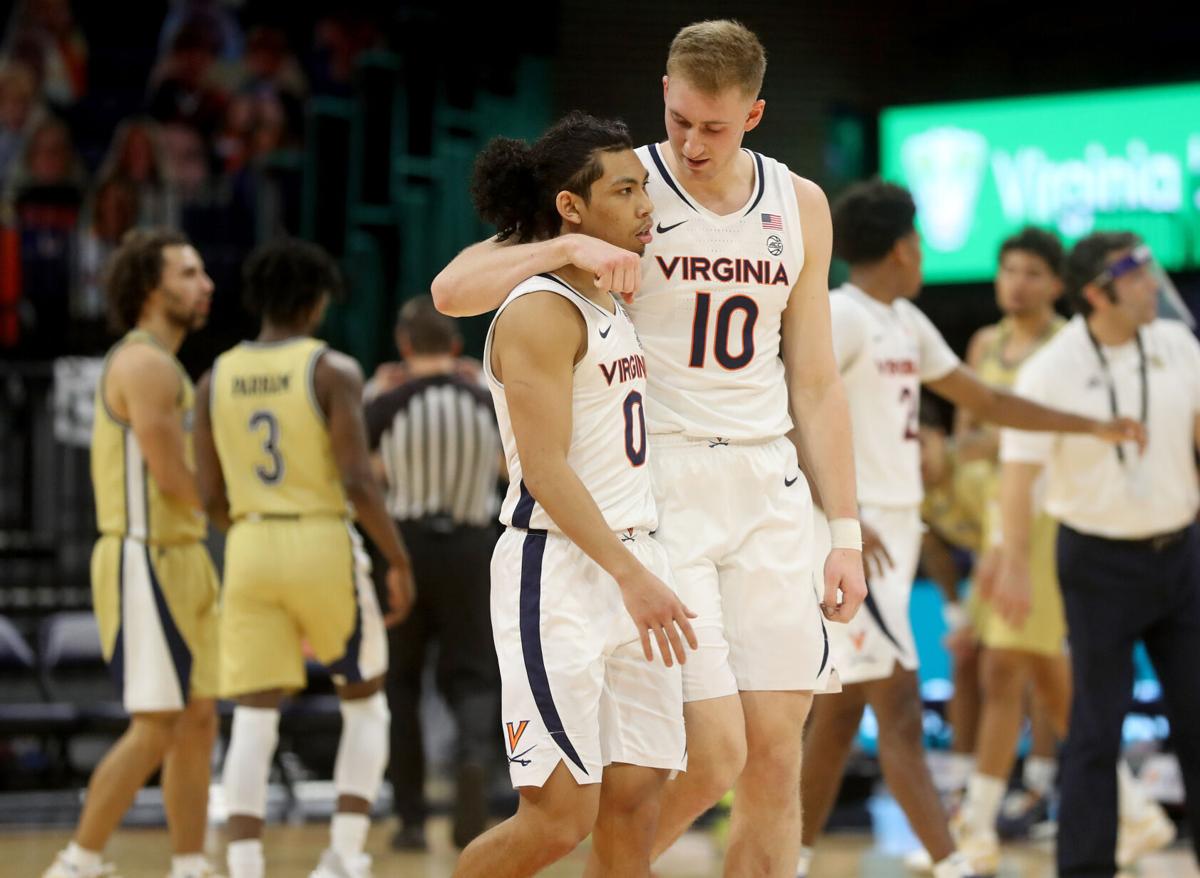 Through five ACC games, Virginia barely broke a sweat.
UVa (10-2, 6-0 ACC) beat its first five conference foes by at least nine points, and it came into Saturday's clash with Georgia Tech fresh off a 35-point walloping of Clemson. On Saturday night against the Yellow Jackets, the Cavaliers were finally pushed until the final buzzer.
Tony Bennett's team trailed by nine points entering the final 10 minutes but outscored Georgia Tech 19-8 down the stretch to earn a hard-fought 64-62 victory. The defense stepped up, and UVa's redshirt seniors — Sam Hauser and Jay Huff — scored 15 points down the stretch to put the Cavaliers on top.
"It was a game that you had to win," Bennett said. "Because they weren't gonna lose."
Faced with adversity in the final minutes for one of the first times this conference season, UVa responded. Kihei Clark delivered the game-winning shot with 1:08 left, hitting a mid-range fade away for his only made shot of the night.
The win marked UVa's first game decided by seven or fewer points since a 71-64 overtime victory over Kent State on Dec. 4. Saturday's victory is only UVa's second game decided by one possession this season, with the only other close call coming in a 61-60 loss to San Francisco in the second game of the season.
"I think it gets these guys ready," Huff said of the nail-biting conclusion. "Me personally, I've been in probably a million two-point games with one minute left in my five years here. It's pretty freaking ridiculous actually."
Virginia's veteran center, who complemented Hauser's 22 points with 18 of his own, didn't exaggerate by much.
Just last season alone, seven of UVa's last eight games were decided by one possession. Thirteen of the team's final 16 ACC games either went to overtime or were decided by five points or fewer.
For UVa's veterans, playing tight ACC contests comes as no surprise.
With a schedule that increases in difficultly in the coming weeks, more close calls may await the Wahoos.
On Monday, UVa welcomes Syracuse and the Orange's famous 2-3 zone defense to town with less than 48 hours to prepare.
Fortunately for Bennett's group, they started their homework early with their midweek game against N.C. State postponed. Huff credits UVa's scout team for readying the squad for the unique test of facing a Jim Boeheim-led team.
"They get us really ready for that zone, and I think they run it really, really well," Huff said. "We prepared some even over the past few days for that just because it's a quick turnaround."
Hauser, who played in the mock-up zone defense twice last season as a member UVa's scout team during his redshirt year, hopes to feel out Syracuse's unique defensive style as Monday's game progresses.
"It's definitely different than an ordinary 2-3 zone or whatever," said Hauser, who is 8-of-10 from 3-point range in his last two games. "As the game goes on, you kind of find your spots. You gotta go in aggressive."
Facing Syracuse's defense presents a challenge, especially with the Orange finding form in recent action. Syracuse has won its past two games by a combined 44 points, including a 78-60 win over Virginia Tech on Saturday.
Offensively, the Orange use a short but effective rotation. Six Syracuse players average at least 20 minutes per game, but nobody else sees the court for more than 10 minutes per contest.
"We have a lot of tough games in front of us, at Virginia on Monday," Syracuse's Marek Dolezaj said Saturday. "We just need to stay low, get ready for the next game and play some good defense. That's how we're going to win games. We have five guys who can really score double-digits, but if we can get stops, it's really hard to beat us."
Virginia responded well to a 40-minute test from Georgia Tech.
A new, equally formidable test comes to town Monday.